Now, these hamantaschen might be bending the rules a bit but hey, I'm all about putting a twist on the classics! Tonight's special is blood orange chicken & waffletaschen! Waffles and chicken are a great pair and with blood oranges in season (can you tell yet that I'm obsessed?!) I thought they might make a great addition to the recipe. Turns out they're especially helpful in making the parve buttermilk! If you can't find blood oranges near you — I know it can be a headache for me to find sometimes — feel free to sub in regular oranges. It's a great addition to your Purim plans and to keep in your back pocket for whenever you want a delicious and indulgent dinner of Chicken & I-can't-believe-they're-parve Waffles.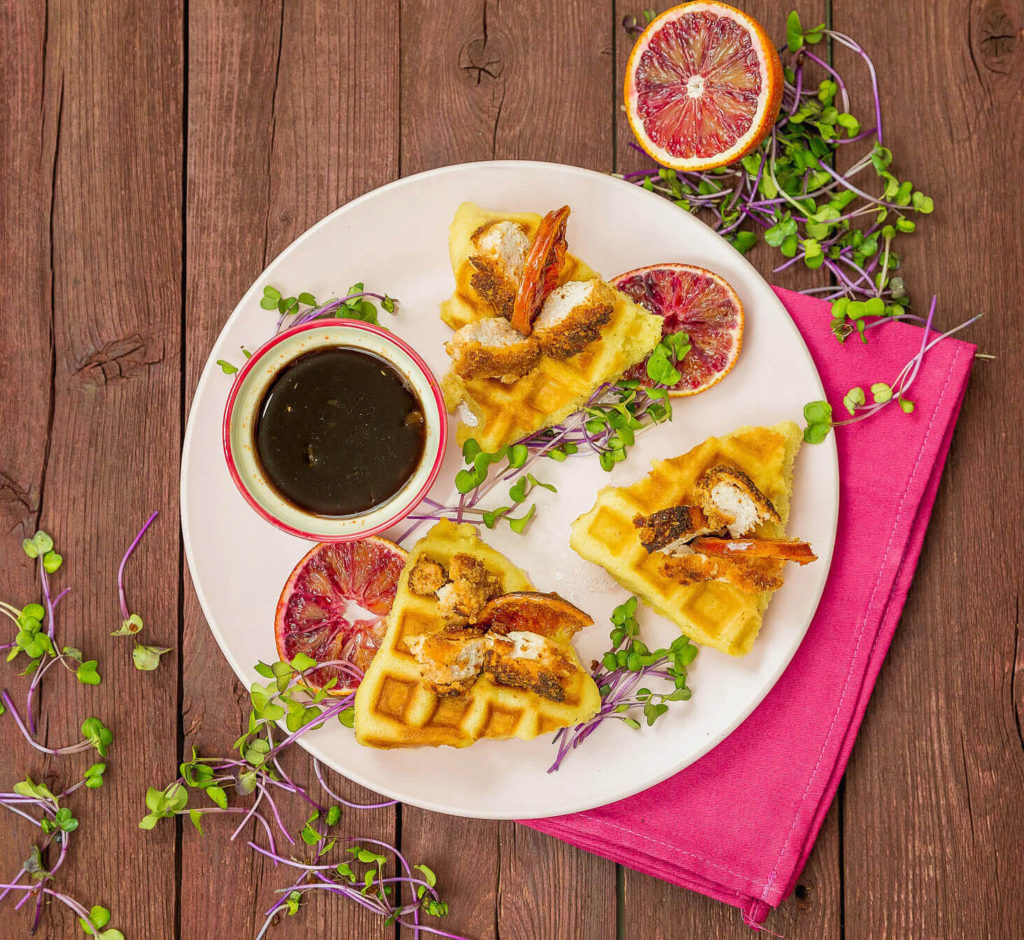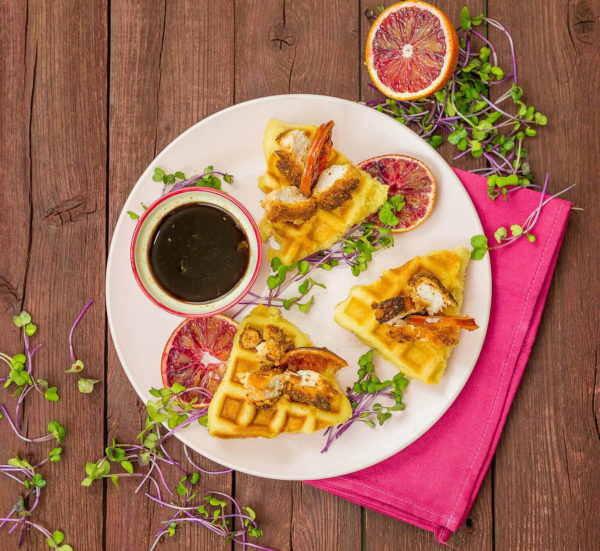 | | |
| --- | --- |
| | |
Combine the soy milk with the blood orange juice and let sit for 10 minutes. This will make a parve buttermilk.

Mix the dry ingredients together in a large bowl.

In separate bowl, beat the egg whites until stiff peaks form.

In another bowl, mix together the egg yolks, parve buttermilk, oil, and vanilla until combined.

Add the wet ingredients to the dry ingredients and mix well.

Oil the waffle maker. Place a triangle mold (or you can make your own, using aluminum foil, alternatively, you can also make regular square waffles and then cut them on the diagonal into triangles though they will be wider triangles) and pour around 1/4 cup batter into the mold. It will spill out a little but you can clean the edges up after. Cook in the waffle iron according to your waffle iron instructions, around 5-7 minutes, until golden.

Place on your serving platter and scoop out a little of the waffle from the middle of the waffle. Add your deep fried chicken and candied oranges and serve with the bourbon maple syrup.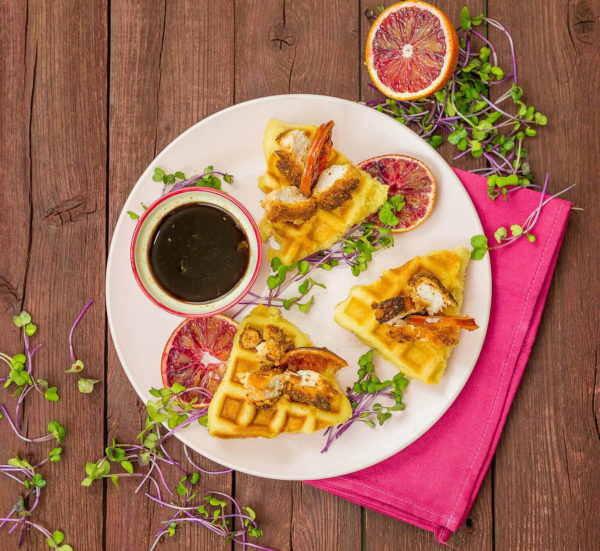 | | |
| --- | --- |
| | |
Place your chicken in a Ziploc bag and pour the buttermilk over it. Close up the bag and massage in the buttermilk, making sure it coats all of the chicken. Place in the refrigerator and allow to sit in the buttermilk mixture for at least an hour, up to overnight.

Prepare your breading station. In on bowl whisk together the eggs and sriracha. In another shallow bowl mix together the breadcrumbs, panko and all the spices.

Once your chicken is done marinating, remove the chicken from the buttermilk and discard the buttermilk.

Dip each chicken into the egg wash and then cover in breadcrumbs. Repeat to coat your chicken twice.

Heat up the oil in a large sauté pan over a medium-high heat. Fry the chicken, around 3-4 minutes per side.

Serve with parve waffles.
Mix one cup soy milk with 1 tbsp lemon juice and let sit for 10-15 minutes until the milk curds and becomes buttermilk