Since becoming a sabra, I have been trying to get into the sabra food too.
There are so many middle eastern foods that are so delicious like shakshuka, halloumi cheese, and shwarma and then there are others that I still don't like, for example, falafel, it's just not my thing. One of the classics that I am slowly falling for is chummus, and not chummus that you buy at the store but homemade chummus with all the works. If you live in Israel, you have to at least make your own chummus once. I was very daunted by this and thought it would never work out, but low and behold it was so easy. For a few weeks, I played around with the different flavors until I got to one I really like and now it is a staple at my Shabbat table.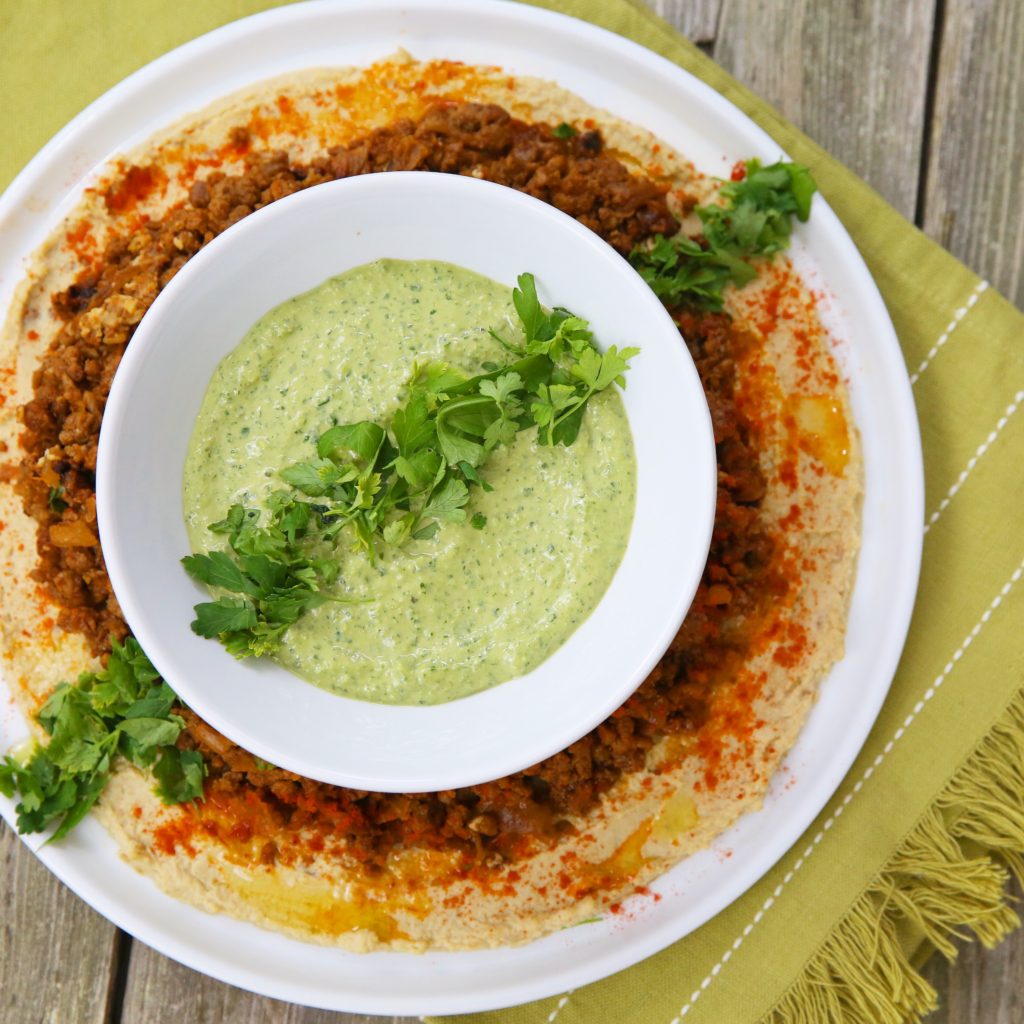 Once the chummus was conquered I really wanted to make Chummus V'Basar (hummus and meat), taking it up a notch. I looked up recipes to get inspired and decided to play around with different flavors until I got something that I thought would go really well with the garlicky and acidic taste of my chummus. Now once that was done, I wasn't happy with how brown it all was since I am all about the color and presentation—after taste, of course.  I just love colors in my food. Of course, tahini goes hand and hand with chummus so I decided a green herbed tahini was in order. If I was a true sabra I would make my own tahini paste from sesame seeds and water, but I went for the bottled tahini paste and blended it with water, lots of different fresh herbs, garlic and a little lime juice, so simple and beautiful.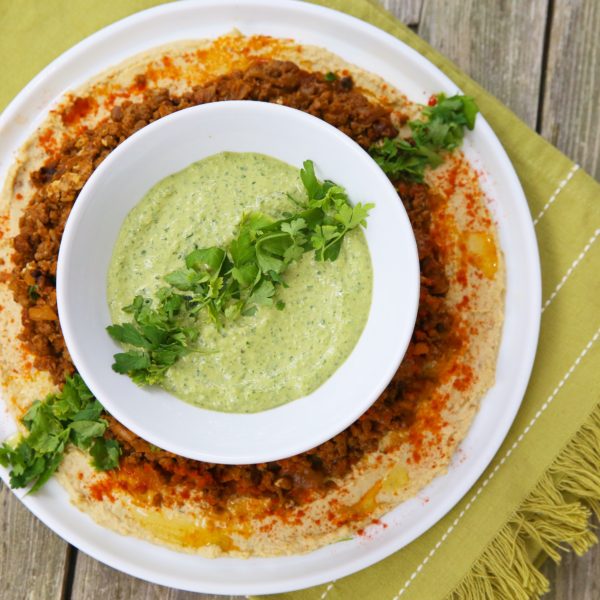 | | |
| --- | --- |
| | |
Instructions
Meat
Brown the meat in a large sauté pan. Discard the extra fat/liquid and put the meat on the side.

In the same pan heat up the olive oil. Add the onion and sauté until golden. Add the meat back in and then add in all the spices and mix well. Add the ketchup in, mix and remove from the flame.
Hummus
Add the lime juice and tahini paste to a food processor. Process for a minute and then scrape down the sides.

Add the garlic, olive oil, salt and cumin, process again and then scrape down the sides again.

Add in half the can of chickpeas plus 2 tbsp water and process until smooth.

Add in the other half of chickpeas and while the food processor is running add in half of the extra water.

Scrape down the sides and add the last bit of water if the hummus is still too chunky.
Herbed Tahini
Mix in the chopped up herbs to you favorite way of preparing tahini.