Purim and Chanukah are my favorite times of the year!
They are both holidays with so much opportunity to express creativity, so they speak to my soul! Chanukah flew by this year and I didn't really get so much time to experiment and come up with fun new recipes; it was a really busy time for me in my UX design course. So when I finished my course just a few weeks ago, I imagined I would have the time to really put effort into Purim and got really excited at the prospect. But as Purim grew nearer and nearer I got busier and busier with job searching and hadn't even started working on a single new hamentaschen recipe! Then the best thing that ever could have happened, happened — I got the dream job I was looking for in my field and suddenly had a few weeks before starting with nothing but time to work on Purim recipes! For the first time in a while, I'm completely free to work on my blog with no guilt or time pressure! And Purim is also going to be the one year anniversary of my blog, so having time to really dedicate to awesome new content is all the better.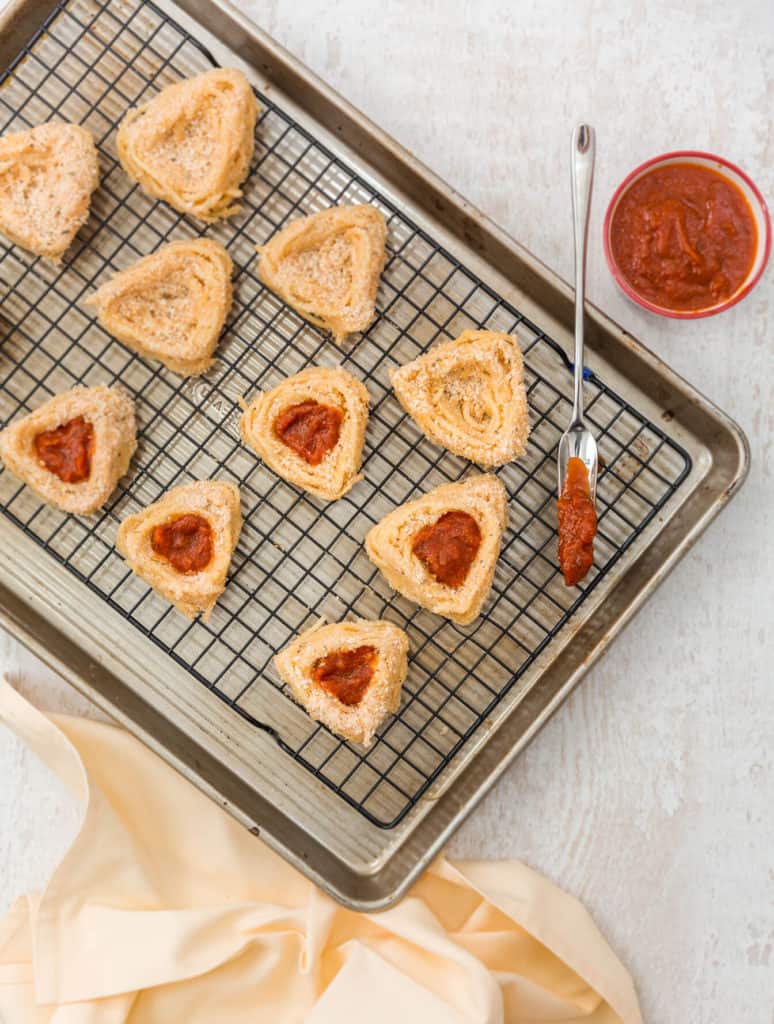 So with all this free time on my hand, I set my mind to come up with some fantastically new and creative hamentaschen ideas. I called my sister and we hashed out some ideas — she always helps me flesh these things out — and I came up with a list that I was really excited to try. First up is the Mac and Cheese Hamantaschen! Now you might be wondering why this Mac and Cheese isn't actually made out of macaroni, and there's a really simple explanation! It is really hard to find proper elbow pasta in Israel! The normal stores don't have it, they have this weird bigger Israeli version, which I think would not have worked for this purpose. After a few other failed attempts to find elbow pasta, I started thinking that spaghetti might actually be the better choice. I had much success making spaghetti nests in the past and knew that this form of pasta would allow me to manipulate the shape much easier then elbows would. When you're making mac and cheese balls you usually need to refrigerate the cooked pasta to get it to hold its shape, but by using spaghetti I removed that whole step because the spaghetti was much more pliable and held together perfectly. Adding the marinara in the middle was another great way to bring another level to just plain mac and cheese. Add this to your Purim Seuda if you're doing diary and your guests (and their kids) will thank you! It's also great as finger food if you're doing your seudah more causal. You can even make these ahead of time and freeze them! Just leave out the marinara sauce — add that right before baking and you made a spectacular dish for your seudah that took just minutes on the day of Purim itself.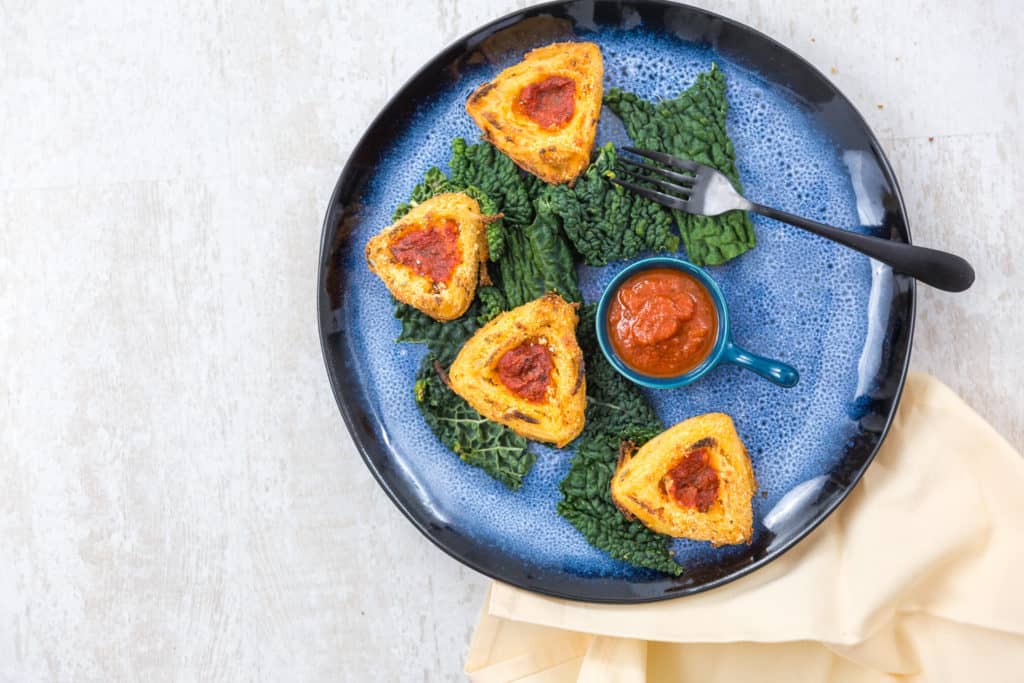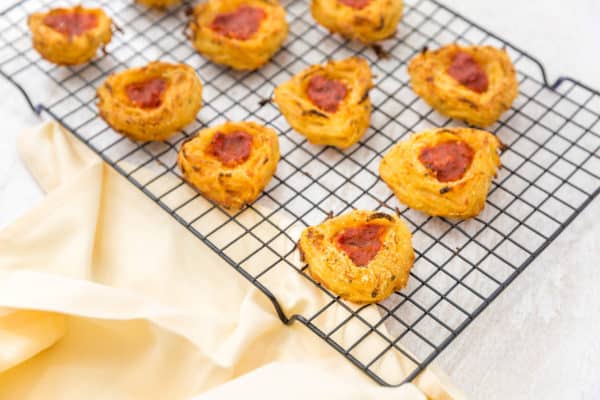 | | |
| --- | --- |
| | |
Preheat your oven to 400 F.

In a saucepan, melt the butter over a medium-high flame. Slowly add in the flour, mixing it into the butter, pouring a little flour at a time. Mix until you have a roué (a golden paste).

Add in all the spices and mix until thoroughly incorporated. Add in the milk and lower the flame to medium. Stir occasionally until the milk has thickened — around 5 minutes. Make sure to not let the bottom burn. Add in both cheeses and mix until melted.

Pour the cheese sauce over the pasta and mix well until all of the spaghetti is covered with cheese sauce.

In a small bowl, mix the breadcrumbs with the spices and parmesan.

Using around 1/4 cup spaghetti at a time, twirl with a fork to create round spaghetti nest. Using either a triangle mold or just your hands, pinch and tug the corners to form a triangle. Create an impression in the middle to hold the marinara sauce.

Place onto a parchment-lined baking sheet.

Form all the spaghetti into hamantaschen, then sprinkle breadcrumbs over the top of all of them.

Spoon around 1-2 tsp of marinara sauce into the middles of all the hamantaschen.

Bake for 15-20 minutes, then turn the oven to broil and broil for 2-3 minutes, just until golden and crispy.

The man 'n' cheese hamantaschen taste delicious right out of the oven, but hold up great to eat as finger food when they have slightly cooled down.