Presenting my newest Purim creation!
No, these aren't for St. Patricks Day, these are Matcha Mochi Hamantaschen with a homemade Anko (sweet red bean paste) filling.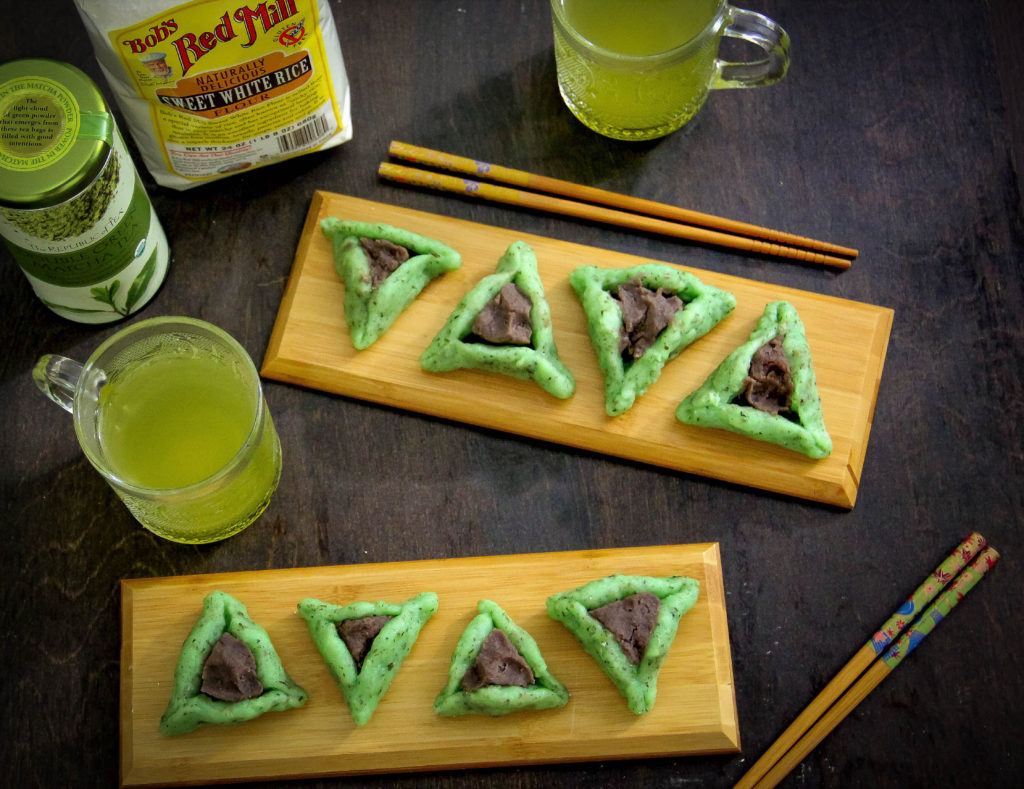 This classic Japanese dessert was easy enough to make, but getting the ingredients was a bit of a hassle! To make the Mochi I used Mochiko, a sweet rice flour made by Bobs red mill. After three unsuccessful attempts at getting the right item from Amazon (not to mention striking out at all eight supermarkets that I checked in person), the fourth delivery was a success and I was ready to get started—kudos to Amazon for their amazing customer service throughout. By that point the first batch of red beans I had pre-soaked had gone bad, so back to Wholefoods I went to get more Azuki beans for the paste. With all the ingredients finally in my kitchen, I attempted my first Japanese dessert with a Jewish spin and what a success! As the age-old marketing line goes, "new look, same great taste!" It's essentially the same dessert just in a more holiday-friendly form for Purim. And what goes better with Matcha flavored Mochi then Matcha tea from the Republic of tea.
For the recipes to this dessert, I turned to Just One Cookbook: Easy Japanese Desserts, a great resource for all your Japanese cooking.
I used this recipe to make my hamantaschen, but instead of rolling into balls, I formed triangles like you would any hamantaschen.
I used this recipe for homemade Anko.