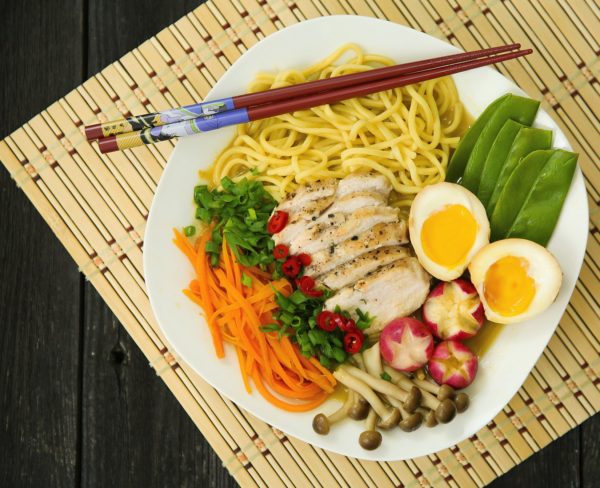 | | |
| --- | --- |
| | |
Place stock, water, ginger, onion, garlic, jalapeño, lemongrass, soy sauce, rice vinegar, mirin, salt, pepper and the curry paste if adding, in a pot and bring to a boil. Most people simmer their broths for 20-25 minutes but I like really strong flavored broths so I simmer mine for 40 minutes to really let the aromatics do their thing.

Remove the aromatics (ginger, garlic, jalapeno, and lemongrass) from the broth. Discard everything else.

Now is when you can really have fun with your bowl. Choose any vegetables you would like. I have choose, shredded carrots, snow peas, radishes, zucchini noodles, enoki mushrooms, bok choy, chili peppers and scallions. Theirs no limit to what you choose, you can do any kind of mushrooms, kale, radishes, carrots, peppers, you get the point.

Using a large mesh spoon, lower each veggie into the broth and cook to your desired tenderness and remove to a plate. I like most veggies pretty soft but a few things like radishes and carrots I like with a bite, so cook to your desired tenderness.

Now it's time to build your bowl. Choose a noodle. I used shiratake (tofu noodles) this time as it's literally no fuss, open the package, drain and it's ready, but I have used rice noodles, regular spaghetti, ramen noodles, udon etc. Prepare whichever you choose according to package directions.

Fill your bowl with the noodles and vegetables of your choice, ladle in the broth and top with a meat of your choice (I made sous vide boneless rib eye) and the soy sauce egg. To keep it vegan skip the egg and meat!