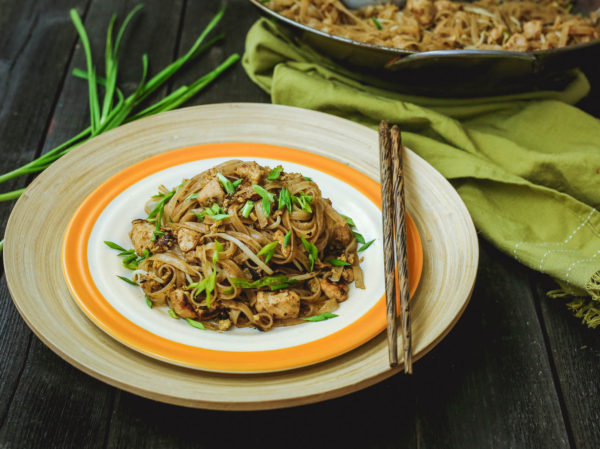 | | |
| --- | --- |
| | |
Soak the rice noodles in warm water until al dente. We don't want them to be perfectly cooked as they are going to continue to cook and soften in the final mixture.

Heat up 1 tbsp grapeseed oil in a large wok over a medium flame. Fry the shallots and garlic, until fragrant. Add the chicken pieces and keep stirring until the chicken is cooked through.

Crack the eggs into a cup and whisk with a fork. Add into the wok and stir until they are cooked.

Push everything to the side of the wok and add in the rice noodles, adding a little bit of water to allow the noodles to keep cooking for 5-7 minutes.

Whisk together the fish sauce, mushroom sauce, tamarind, sriracha and palm sugar and mix into the noodles. Stir everything thoroughly combined. Add the bean sprouts and garlic chives, stir quickly to mix and then remove from the heat.

Serve with lime halves, peanuts and crushed red pepper flakes.