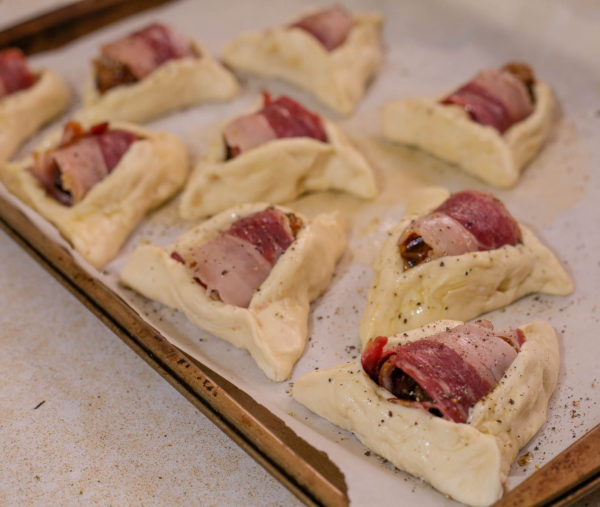 | | |
| --- | --- |
| | |
Place a ziplock bag into a measuring cup or glass cup, pulling the edges over the sides. Scoop the cookie butter into the bag. zip up the bag and snip of a corner.

Pipe the cookie butter into the center of the date, where the pit used to be. If you like crunch and nuts, first add in some nuts and then fill the rest of the space with cookie butter.

Prepare the pizza dough now, see below. You do not want to prepare it before you are ready to assemble and bake because we do not want to let the pizza dough rise at all. Once the dough is prepared, divide into 12 balls. Flatten each ball with your hand and the help of a small roller until you have a small disk, around 1/2 inch thick.

Preheat the oven to 450 F.

Wrap a peice of bacon around each stuffed date, place in the middle of each pizza dough circle and close up like a hamantaschen around the date.

Place the hamantaschen on a parchment lined baking sheet. Spray the hamantaschen with a Misto filled with olive oil and sprinkle freshly ground black pepper on top.

Bake for 7-10 minutes until golden. Top the fresh from the oven hamantaschen with maldon salt. The cookie butter and dates gets very hot, so be careful!
In a bowl of a stand mixer, mix together the water, yeast, and honey. Let that sit for 10 minutes. After 10 minutes, mix the flour and salt into the yeast mixture. Mix until the dough comes together in a ball around the dough hook, around 7-10 minutes with a KitchenAide. If the dough is still sticky, use 1 tbsp flour as needed until it becomes silky, you shouldn't need more then 1-2.