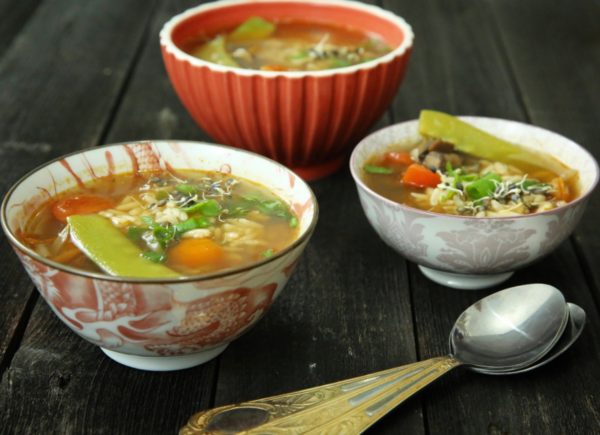 | | |
| --- | --- |
| | |
In a large stock pot heat up the olive oil over a medium flame. Add in the onions and scallion whites. Sauté for 5 minutes until golden. Add in the mushrooms and garlic and let sauté for 2-3 minutes, just until slightly softened.

Add in the water, the piece of ginger, black lentils, cherry tomatoes, jalapeno, soy sauce, sherry, salt, pepper, and paprika. Cover the pot and bring to a boil. Lower the flame and allow to simmer for at least 30 minutes. The longer it simmers, the more the tastes will become strong and the black lentils will absorb. They do not absorb like dried lentils do, only just a little.

Five minutes before serving add in the sugar snap peas.

Place orzo in individual bowls (do not mix this into the soup as it will keep absorbing and if you have leftover soup it will ruin it). Ladle in soup and top with scallion greens ad some fresh black lentils for garnish.