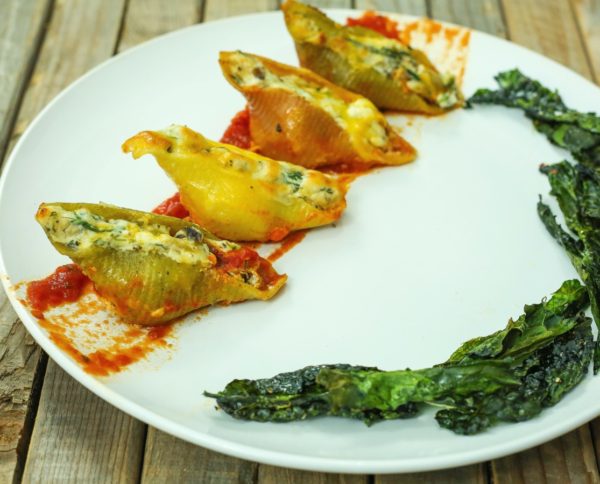 | | |
| --- | --- |
| | |
Preheat the oven to 400 F.

Drizzle the tomatoes with olive oil, sea sat, freshly cracked black pepper and oregano on a baking sheet. Bake at 400 for 20 minutes, until blistered.

Cook pasta shells according to package directions making sure to keep it al dente.

Heat up olive oil in a sauté pan over medium heat. Sauté the onion and garlic until golden. Add in the mushrooms, thyme and sage. Sauté until the mushrooms have shrunken and everything is golden. Add in the spinach and sauté until wilted.

Allow it to cool and then place in a mixing bowl along with the ricotta cheese, mozzarella, salt, basil, oregano, pepper and some freshly cracked black pepper.

Taste and once your satisfied with the seasonings add in the egg and mix really well.

Pour a small layer of tomato sauce on the bottom of your baking dish.

Place the cheese mixture into a ziplock bag and snip off a corner. Add a cherry tomato piece into each shell and pipe in the cheese to fill in the shell.

Lay the filled shells in a single layer over the suace.

Top with mozzarella and cheddar and cover.

Bake covered for 20 minutes and another 15 minutes uncovered.