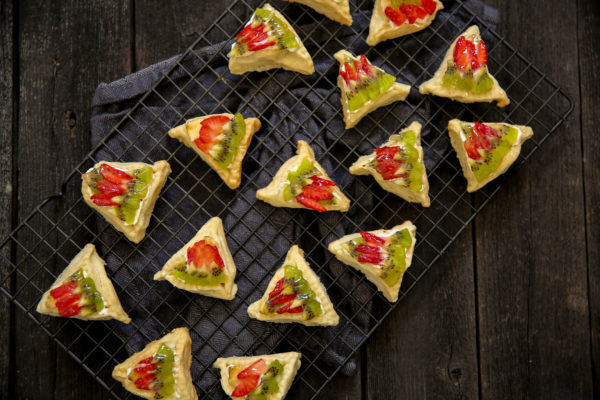 | | |
| --- | --- |
| | |
Preheat the oven to 350 degrees F.

In a food processor, combine the confectioners' sugar, flour, and butter, and process until the mixture forms a ball.

Separate the dough into 6 equal pieces. Roll out each piece one at a time on parchment paper near the edge. It shud be long and narrow enough to be able to only cut out one circle per row, you will need to peel off the parchment paper by lifting it so that the dough doesn't break. Using a cookie cutter or the top of a drinking glass cut a circle, peel it off, shape into a hamantasch and place on a parchment-lined baking sheet.

Fold aluminum foil into thin walls (see picture) and go around each hamantasch. Ball up aluminum foil, spray with PAM and insert into the empty center of the hamantaschen.

Refrigerate the baking sheet for 25 minutes.

Bake for 13-16 minutes, until very lightly golden. Set aside to cool.
Beat the cream cheese, sugar, and vanilla together until smooth. Separately beat the heavy cream until stiff peaks form. Fold the whipped cream into the cheese filling.

Pipe the filling inside the cooled hamantaschen and smooth out the top.

Arrange the thinly sliced fruit any way you would like.
Combine the limeade juice, cornstarch, fresh lime juice, and sugar in a small saucepan and cook over medium heat until clear and thick, about 2 minutes. Let cool.

With a pastry brush, glaze each hamantaschen tart.

Keep the tart hamantaschen in the refrigerator and remove about 15 minutes before serving.
You can use all non-dairy ingredients to keep this tart parve. Use Tofutti's soy cream cheese for the cream cheese, Smart or Earth Balance for the butter and a nondairy heavy cream.