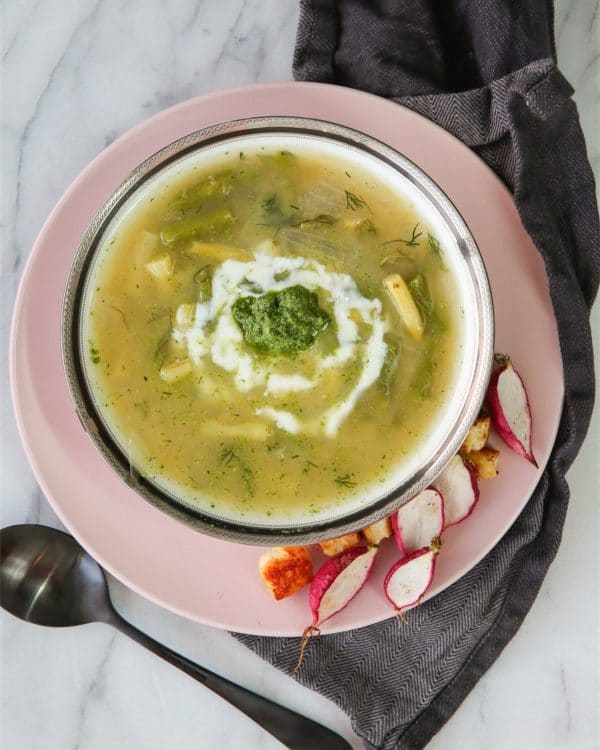 | | |
| --- | --- |
| | |
In a large stock pot, place the stock, water, onion, garlic, dill, parsley, and seasoning. Cover, place over a medium flame and bring it to a boil. Lower the flame and simmer for 20-30 minutes.

Add in the green beans and cook for an additional 5-15 minutes, depending on how crunchy or tender you want your green beans. Remove the soup from the flame and allow the soup to cool slightly.

Temper the buttermilk with a few ladles of the soup, whisking constantly. Transfer the buttermilk to the soup pot, whisking until smooth.

Ladle the soup into a bowl and swirl in some buttermilk and top with a dollop of pesto. Serve the soup hot, warm or chilled.
Pesto
You can use store bought pesto or make your own. I used a combination of parsley, dill and cashews.
Roasted Radishes
Halve the radishes and place on a parchment lined baking sheet. Drizzle with olive oil and lots of Himalayan salt. Roast at 400 F for 20 minutes. Serve next to the soup.
Fried Halloumi
Drain the halloumi and cube it. Heat up a frying pan over a medium flame and coat it with oil. Add in the halloumi cheese and fry on each side for around 2-3 minutes until golden brown. Serve hot.