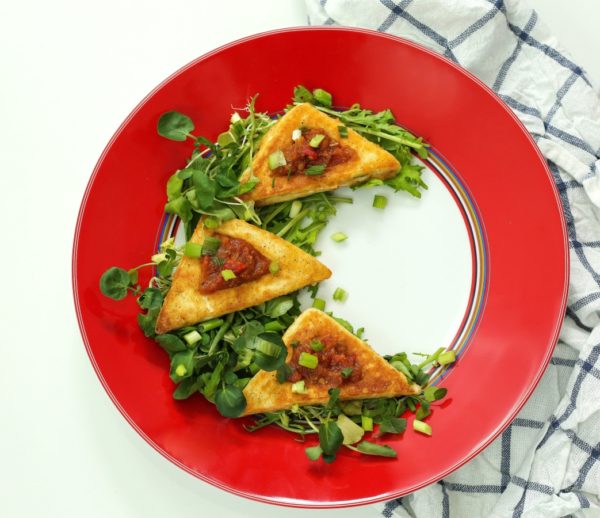 | | |
| --- | --- |
| | |
Heat up the olive oil in a small sauce pan. Add in all the tomato jam ingredients and cook over a low flame. The tomatoes will start to break down and turn into a jam.

Meanwhile shape your Halloumi. Slice your block into 1 inch slices. If your block is square like, slice each slice diagonal to form triangles, otherwise play around and form as many triangles as you can. Lay each triangle flat and using a small knife, cut a smaller triangle in he middle, making sure not to cut all the way through, remove the extra cheese to create a triangular indent.

Combine the flour with all the seasonings. Dredge the triangles through the flour, making sure everything is coated, including the sides.

Heat up the olive oil in a frying pan over a medium flame. When the oil is hot lower the flame to small and lay the Halloumi slices in the oil, indent side face down. Fry for 3-5 minutes until golden and crispy and flip the triangles. Repeat until the other side is golden. It is very important to keep it on a low flame otherwise the flour will burn.

Place the tomato jam into the indents and serve the hamantaschen over some greens dressed with a little olive oil, sea salt and freshly cracked pepper.