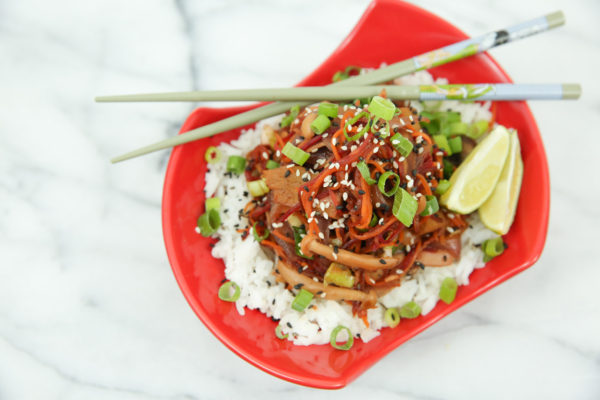 | | |
| --- | --- |
| | |
Whisk together the soy sauce through the honey.

Heat up the oil in a large frying pan over a medium flame. Add in the seitan and sear on both sides, around 2-3 minutes per side. Remove the seitan to a plate.

Add the onion into the pan and sauté until golden and soft. Add in the ginger and garlic and sauté until fragrant, around a minute. Add in all of the mushrooms and sauté until shrunken. Add in the shredded mix and sauté for a minute or two, it will continue to cook and shrink down so need to wait too long.

Add back in the seitan, pour the sauce in and mix well to coat everything.

You can skip this next step if you don't mind your sauce not being too thick and want to save on carbs: make a cornstarch slurry with the cornstarch and water and pour into the pan to help thicken the sauce.

Mix in most of the scallions, reserving some for garnish.

Place some rice on a plate, top with the stir fry, scallions and sesame seeds.