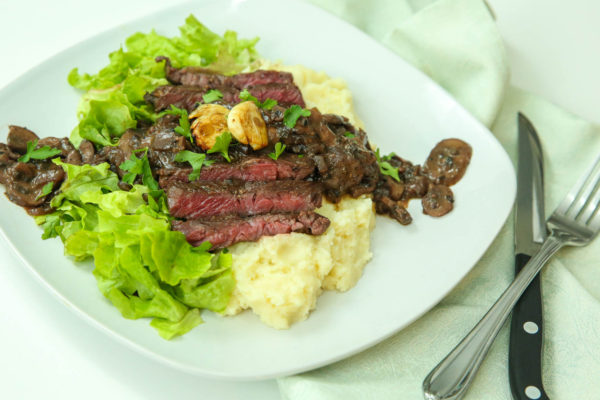 | | |
| --- | --- |
| | |
Sprinkle steak liberally with salt and pepper onto both sides, except if you are using a skirt steak. If yes, only sprinkle pepper as they are very salty.

Set up your immersion circulator (such as Anova, Joule, etc.) in a pot of water and follow the steps listed on the app. It will tell you what tempurtaure and how long to cook the steak, depending on the cut, weight, size of your meat and how cooked you want it. I reccommend medium-rare!

Place your steak into a gallon size freezer ziplock and add rosemary springs on each side of the steak and seal all but one corner of the bag. Slowly lower it into the water bath, until you reach the zip-line. You will see all the air being forced out of the pouch. Seal the rest of the bag. Make sure the meat is completely underwater and then fold the bag over the side of the pot and clip in place. I like to seal the food before the water has heated up, becuase then you can still palce your hands in the water to make sure the meat is comeplety immersed.

Once the amount of time your immersion circulator has reccommeneded is up, remove the steak from the bag and place onto paper towels. Blot both sides well, you want it to be as dry as possible. Season with a little bit more slat and pepper on both sides.

Heat up a cast iron grill pan until it is screaming hot. Your hand should not be able to be above it for more then a second. Pour in a little canola oil, or any oil with a high smoke point. Place the meat onto the hot pan and press down with tongs, but do not move the steak! Count to 30 and then flip over and repeat until you have a nice sear (crust) on both sides.

That's it! Cut your steak and see the difference! You will never want a steak that hasn't been sous vide again!