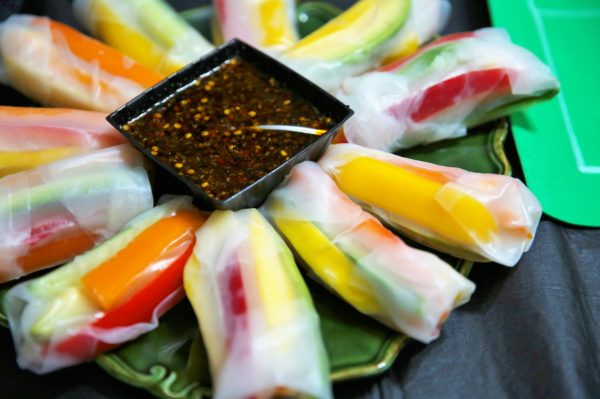 | | |
| --- | --- |
| | |
Set up your station: parchment lined baking sheet for finished rolls, large round plate to roll on, all your fillings and a round cake pan/large frying pan. Fill the round dish halfway with warm water (should be able to put your fingers in easily without burning).

For each wrapper, immerse it in the hot water bath until it softens, which takes about 30 seconds. Watch for it to begin curling, then immediately flip it over. Use both hands to pull it up out of the water once soft, being careful so it doesn't collapse on itself, and spread it immediately on a plate.

Fill the lower center of the softened wrapper with the cut up vegetables/protein of your choice. To roll up your wrap, first fold the two sides in and starting from the bottom roll until it's closed and tight. Place each roll as you finish it on a cookie sheet lined with parchment paper and cover with a damp towel.

Continue to do the above steps until you have run out of vegetables or wrappers. You may need to change out your water if it gets too cold.

To serve, slice in half with a sharp knife place on a bed of alfalfa sprouts and serve with the dipping sauce.