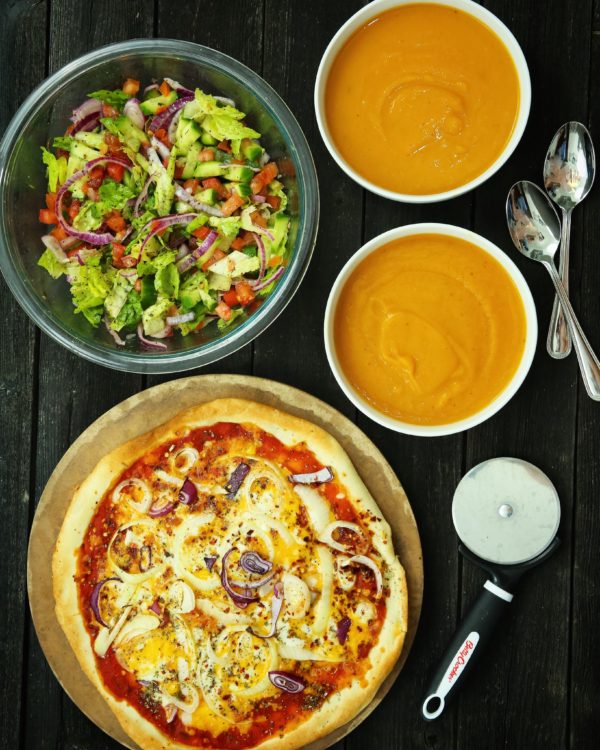 | | |
| --- | --- |
| | |
Place a pizza stone inside your oven on the middle rack. Preheat the oven to 500 F.

In a bowl of a stand mixer, mix together the water, yeast and honey. Let that sit for 10 minutes. Prepare your sauce, cheese and toppings in the meantime. After 10 minutes, mix the flour and salt into the yeast mixture. Mix until the dough comes together in a ball around the dough hook, around 7-10 minutes with a KitchenAide. If the dough is still sticky, use 1 tbsp flour as needed until it becomes silky, you shouldn't need more then 1-2.

When ready to make the pizza, tear off 2 pieces of parchment paper around the size of your pizza stone.

Divide the dough in 2. Working with one piece of the dough at a time, form it into a large circle with your hands and lay it on the parchment paper. Using a roller, roll out the dough until it's around 1/4-1/8 inch thick. Constantly turn the parchment paper around so your rolling out the dough evenly. If your dough keeps shrinking, let it rest for 5 minutes and then continue rolling.The dough will stick to the parchment paper, making it easier for you to roll out.

Once the dough is as thin as you would like place the parchment paper with the dough onto the back of a baking sheet—your going to use this to transfer it to the pizza stone.

Spoon your sauce and spread it out. Top with cheese and toppings. For a classic pizza my favorite is sauce, mozzarella, cubes of cheddar, onions, sea salt, dried oregano, freshly ground black pepper and crushed red pepper flakes for heat.

Pull out the rack with the stone on it and slide your pizza (still on the parchment) onto the baking stone. If you don't have a baking stone, bake the pizza right on the baking sheet.

Bake for about 5 minutes and then rotate the pizza, removing the parchment from under the pizza as you do so.

Bake for another 3 to 5 minutes until the crust is golden-brown and the cheese has melted. Remove the pizza from oven and let it cool.

Repeat with shaping, topping, and baking the second pizza.
Use this dough for any kind of pizza. Try my pumpkin, goat cheese & sage pizza, sausage pizza, sweet potato, pear & gouda, or my mixed veggie one if your not into my unique ones!