A week before our trip back to the US, I had made the decision to not visit the supermarket, my favorite place, and only create dinners using ingredients I had at home. 
I was on a mission to clean out the fridge and not have to throw anything out. Having made a very successful dinner the night before (tofu sushi and Asian slaw for the win) I had a high bar to compete with tonight. Rummaging through my fridge I came out with kohlrabi, cherry and plum tomatoes, fennel, some scraps of red onion and lots of fresh parsley. My first thought was kohlrabi fries! I hadn't made them in such a  long time and I have no idea why. They're such a healthy alternative to regular fries because they are not complex carbohydrates, they're essentially like eating broccoli or kale! Plus I bake them, not fry so what could be wrong.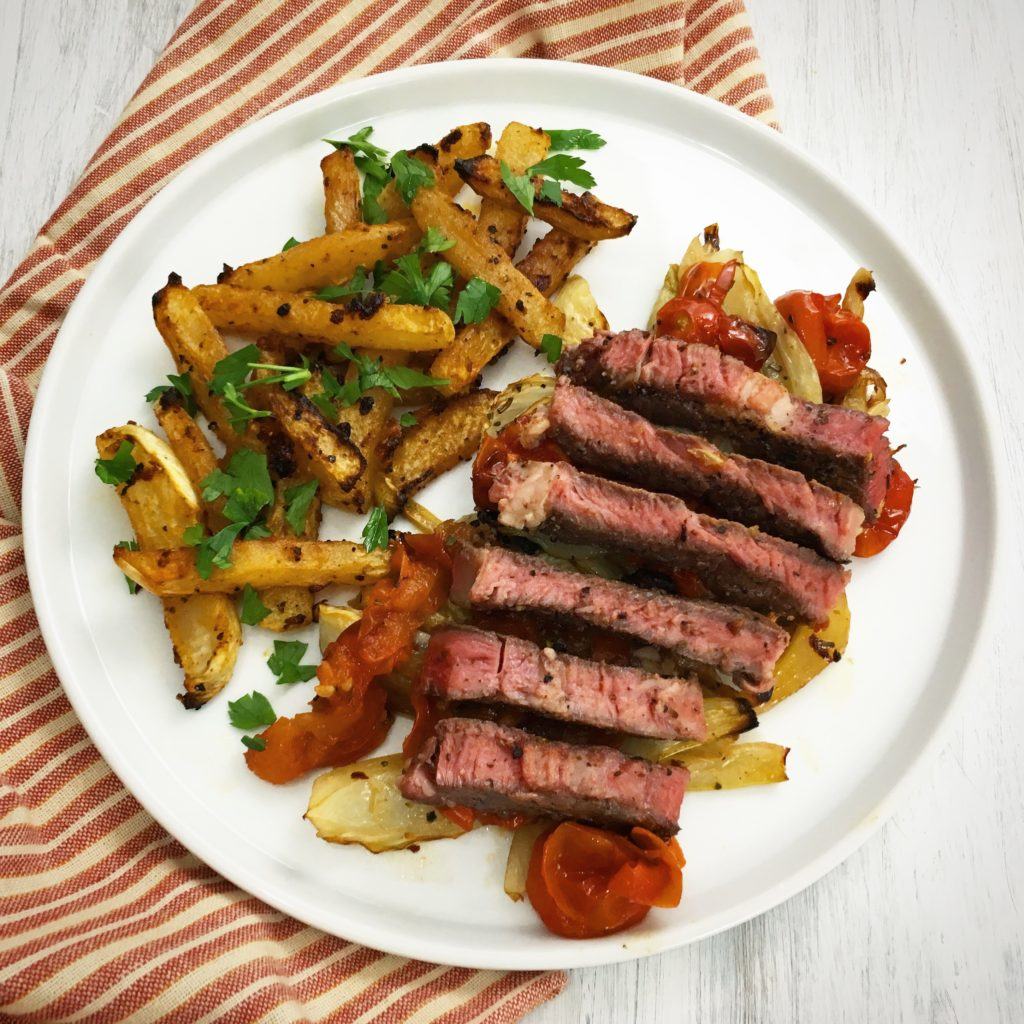 After making that decision, I looked in the freezer of what protein could go with this and I came out with a great dinner idea, a spin on steak, fries, and salad— the salad being roasted tomatoes and fennel. After opening up my package of steak I realized the bone-in ribeye steak I had was cut pretty poorly and was very thin, so naturally, I was nervous of overdoing them. I don't have a sou vide yet— hopefully next week (!!) —so I decided to go with the reverse sear method which automatically guarantees a perfectly cooked steak though it takes more time then just throwing on the grill. If you have ever been disappointed in how overdone and dry your steak is, trust me, you need to try this method. I promise you, you wont mind the 40 minute wait, it's down time, so go do laundry, run an errand, or just prep the rest of dinner.
I was all set with prep, the steak was resting after being cooked low and slow, the veggies and fried were in the oven getting crispy, when all of the sudden my hand had an argument with my glass salt shaker and I was left with a pretty big cut and without the ability to finish the meal. Luckily, I have an amazing sou chef, namely my hubby, and after patching me up, he became my right hand man, quiet literally, which I promise you is no easy task. The kitchen is my domain and I am a perfectionist. But like a trooper, he tossed the veggies mid-bake and seared my steaks to perfection and even cut my steak up into perfect slices, while I sat and gave him directions. We can all say thank you to him for allowing me to finish this dinner and provide you guys with the awesome recipes, now that they have been approved.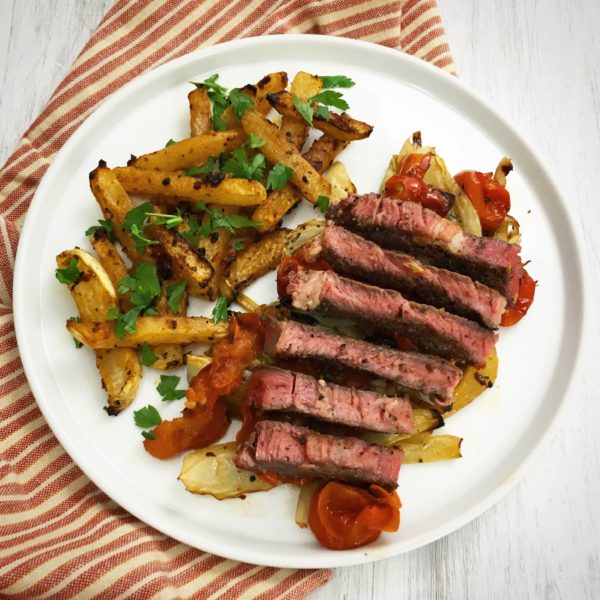 | | |
| --- | --- |
| | |
Instructions
Peel and cut the kohlrabi into sticks.

On a parchment lined baking sheet, toss the kohlrabi sticks with the duck fat, sea salt, paprika, lots of freshly minced garlic and freshly cracked pepper.

Bake at 425 F for 30-40 minutes until golden and delicious!
Recipe Notes
This is not an exact recipe, so definitely adjust the seasonings to taste!