I never really ate store-bought ice cream as a kid.
And we only went out to ice cream about twice a year. One of those times was at the end of the school year if we got good report cards, and the other time was shortly before Pesach when my dad would take our car to the car wash that had a Baskin Robbins across the street. Oh, and the one summer that my sister worked at Carvel, there was some free ice cream to be had. You might be feeling sorry for me right about now—thinking that I missed out on a childhood staple—but in truth, it's the opposite. We never needed to go out for ice cream because my mom made the best homemade ice cream. It started out as just one flavor, but with four kids with very different taste buds, and being the best mom that she is, she started making all kinds of flavors.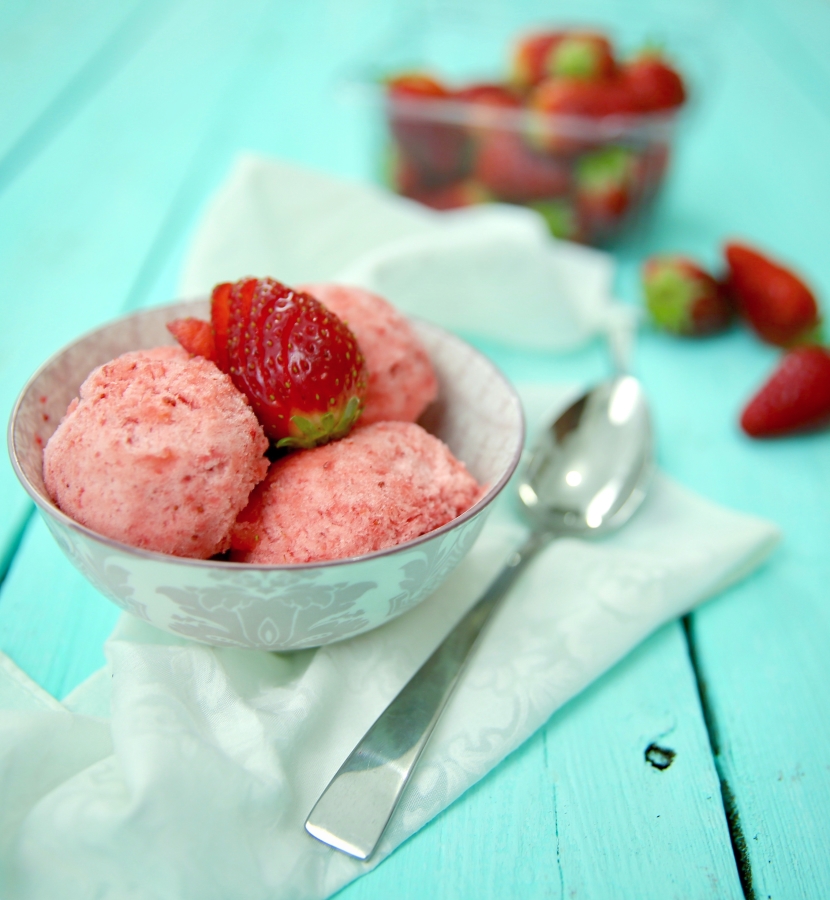 My oldest brother was the chocolate king. He loved my mom's original chocolate and would hoard it all to himself. It had a delicious (homemade) graham cracker crust and had a hint of rum—what's not to love? My next brother was a health freak. He hated candy and anything unhealthy. We have a huge loquat tree in our front yard that gave an abundance of delicious fruit every year, so my mom started making a loquat ice cream that my second brother claimed for himself. Then came me. I am obsessed with strawberries. For one of my birthday parties growing up, I begged my parents to take my friends and me strawberry picking and let me tell you, that was the best birthday party ever! So, of course, I asked for a strawberry ice cream and my mom obliged. I would help her whip the ice cream and always waited to lick the bowl. Luckily no one in the family fought me for it so I always got as much as I wanted. Then there's my little sister—and when I say little, I mean just a year younger, but she will always be my baby sister. She loved the chocolate one too, but my big brother claimed the rights to that. Luckily she also has a love for lemons and lemon tarts, so my mom made a lemon ice cream for her! We all let each other have little bites of our personal favorites here and there, but for the most part we kept to our own flavors.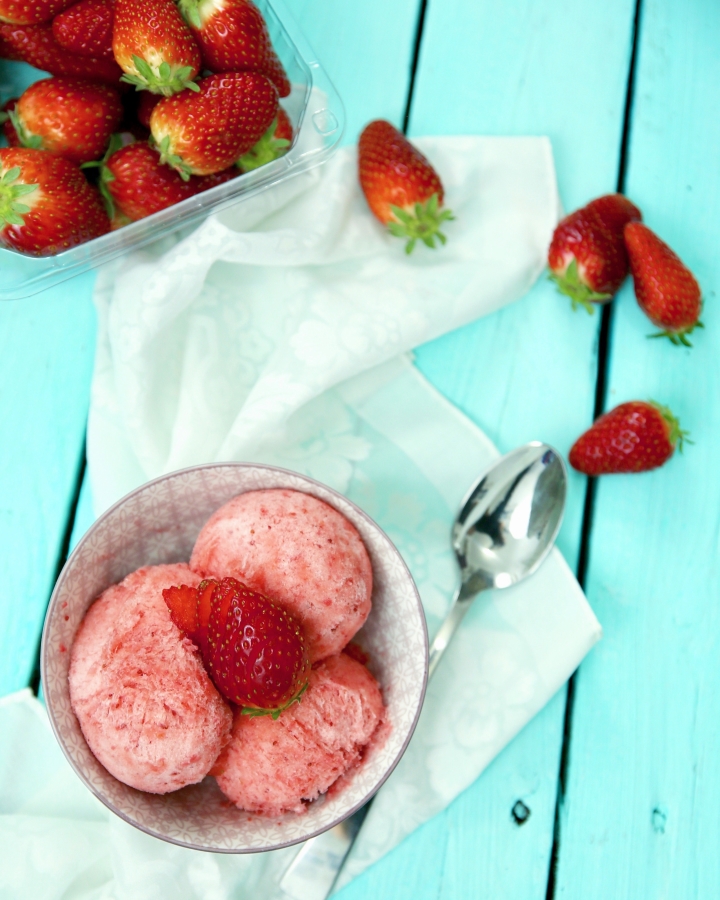 My oldest brother ended up marrying another chocolate manic, and luckily for her, he was willing to share. When I met my husband I quickly learned he HATES strawberries—I mean actually gets repulsed by them. That was a hard one to get over, since I literally can eat strawberries every day, but on the bright side, my strawberry ice cream continues to be just for me! The only exception to that is when I make it for Shabbat and have to share with my guests, but since I love being a hostess that doesn't bother me so much!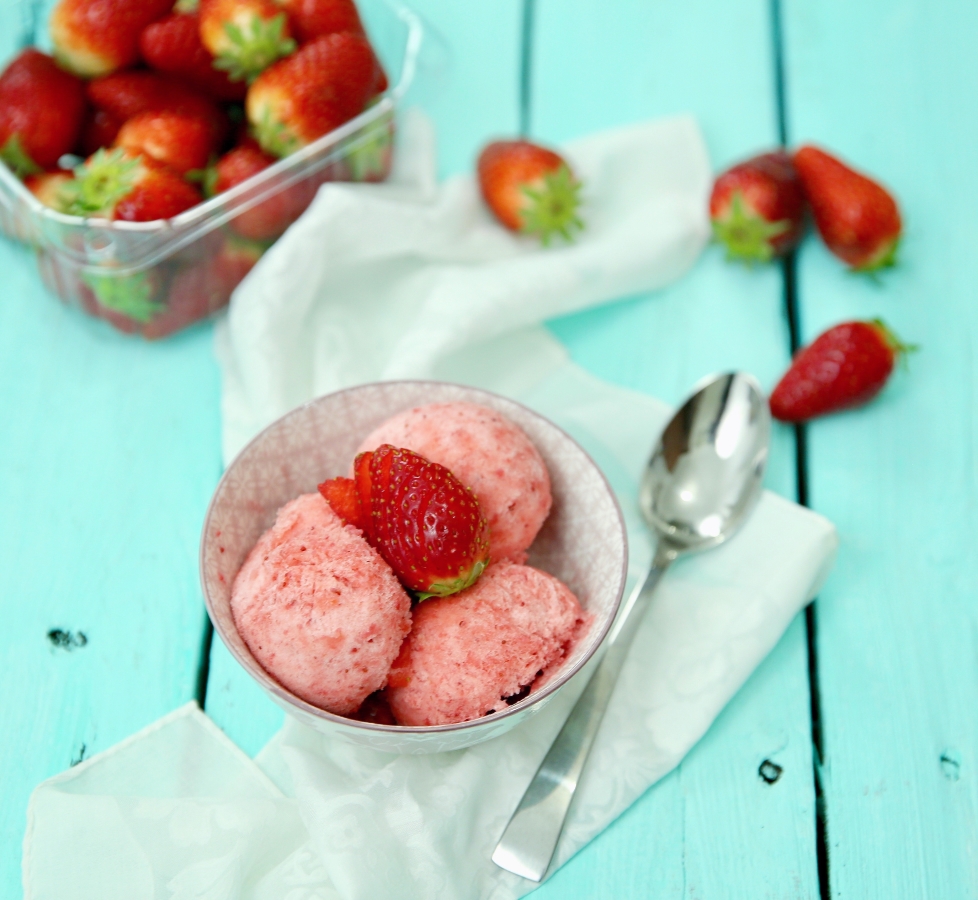 I am so excited to finally share this recipe with you! While it is definitely inspired by my mother's recipe, she is a classic Jewish cook who does a little of this and a little of that without following any strict measurements or guidelines, and that doesn't work when you want to share your recipes! So I finally nailed down the exact measurements, perfectly in time for Pesach. It's kosher for Passover, dairy-free and so refreshing, a perfect way to end all the heavy Pesach meals. I will be figuring out the exact measurements of all the other ice cream flavors too, so keep an eye out for them, but in the meantime enjoy this homemade strawberry ice cream!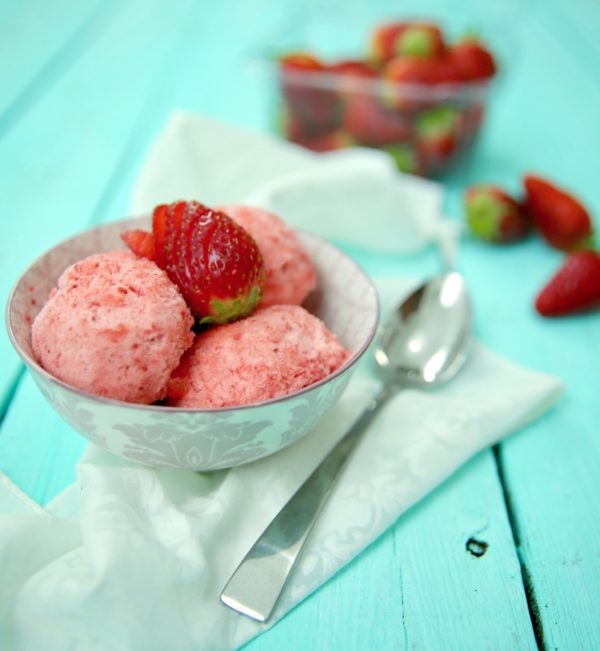 | | |
| --- | --- |
| | |
Wash the strawberries, remove the tops and place into the food processor. Pulse until smooth. A few small pieces are fine.

Place the strawberries into a KitchenAid mixer bowl along with the sugars, egg whites and lemon juice.**See recipe notes

Start your mixer on low and slowly make your way to highest speed. Let it whip until it triples in size, around 10-15 minutes.

Pour into whatever you feel like freezing it in. You can pour it into a Tupperware and then using an ice cream scooper, scoop it out to serve or you can pour into a round pie dish and serve as triangular pie pieces.

Place in freezer and allow to freeze for at least 2 hours and up to 6 months.
*You can make cured yolks with the yolks if you don't want to throw them away. Follow this recipe!
**If you want to know how much sugar to put, first only place the strawberries with the sugars and lemon into the bowl, mix, taste and adjust, then add the eggs.