It's raining, it's freezing, and you're definitely going to want a big hot bowl of this delicious soup for dinner.
A few nights ago, I made this soup with only things I had leftover in my fridge after being away for a week, thinking nothing that great could come of it. By simply changing up a few of the spices, it turned into such a delicious soup with such complex flavors that I actually wanted to share! And when I say complex, I'm not referring to the recipe itself — it's actually a piece of cake to make! It just takes two spices to totally change the flavor profile. The icing on the cake for me was serving it with artichoke! (I happened to have two in my fridge.) The soup was thick enough that I was able to treat it as a dip for the artichoke leaves, and the flavors really complimented each other. It eliminated my instinct to reach for bread (I mean come on, who doesn't love dipping bread into a thick hearty soup?) so it saved on calories and kept this meal light and healthy. Well, except for the bacon…but hey, it's protein! The addition of the crispy sweet bacon combined with the heat from the jalapeños, gave this soup yet another boost that made it a 5-star dinner. I definitely plan on trying something like this but with chicken for the next Friday night dinner I host.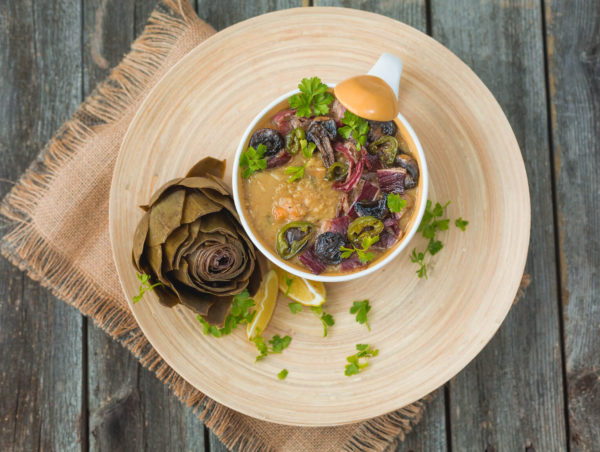 | | |
| --- | --- |
| | |
Heat up the oil in a large stockpot over a medium-high flame. Add in the onions, sprinkle with some kosher salt to draw out the moisture and sauté until golden and translucent. Add in the garlic and sauté for 30 seconds to a minute, just until fragrant. Add the carrots and sauté for 5-7 minutes until beginning to soften. Stir in the spices and allow to toast for a minute.

Add in all the lentils, broth and water, cover the pot and bring to a boil.

Lower the flame and allow the soup to simmer for 30-40 minutes.

If you want to thicken the soup up even more simmer uncovered for an additional 10 minutes.
While the soup is cooking, sauté the mushrooms in a frying pan with a little olive oil. Add in the jalapenos and facon and sauté until the meat is cooked making sure not to burn it, around 10 minutes over a low flame. You want the facon to still be tender and not too crispy.

Stir in the agave and let caramelize for a minute or to and shut the flame.

If not serving right away, reheat over a low flame when ready to serve the soup.
Ladle the soup into bowls and top with the sautéed facon and mushrooms. Add some fresh parsley and serve each soup with an artichoke on the side.
Artichoke recipe can be found here, but  skip the poached egg instruction.