I am really not a smoothie person. I don't even own a blender.
But the whole world seems to be obsessed with this smoothie bowl fad! If you follow as many food bloggers and foodies as I do, you'll see at least 2-3 pictures of smoothie bowls every day! They're everywhere, and I must say, they are gorgeous. With such vibrant colors and even more vibrant toppings they are definitely works of art. And these masterpieces take all of 5 minutes to prepare, so why have I never tried? Well, I'm not really a breakfast kind of person. To be honest, I usually forget to eat until around 2/3 PM when my stomach finally puts its foot down. I know it's not the healthiest way to go, I'm just so busy throughout the morning and everything else seems more important than eating.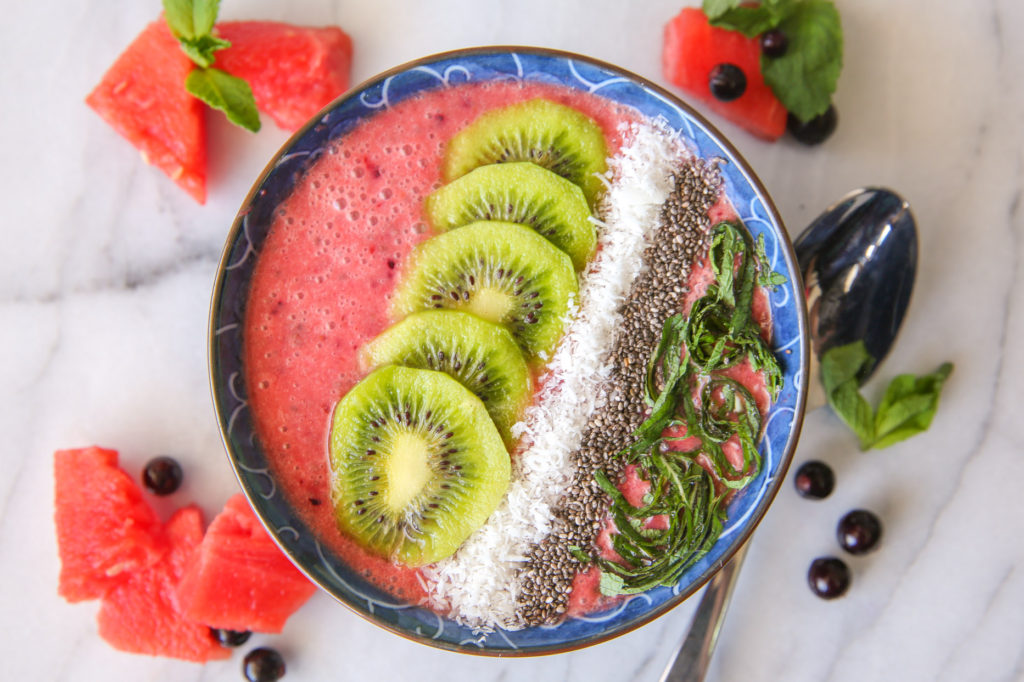 This past week I cleaned the fridge one morning and I pulled out a few fruits that needed to be eaten in the next day or so. I decided I could take five minutes out of my day to try and make a quick brunch for myself, and with the fruit in hand, it seemed like the perfect opportunity to try a smoothie bowl. And honestly, it really only took five minutes. I know myself though, and that I would not get full on fruit alone. I would just end up needing to eat something else again soon, which would be a waste of the whole brunch thing, so I decided to try adding some chia seeds which are packed with protein, fiber, omega-3 fatty acids, antioxidants, and calcium. That all sounds good to me! I also love their consistency when they blend with water – very tapioca-like and thought it would make the perfect addition to my smoothie for a nice and filling brunch. It definitely was!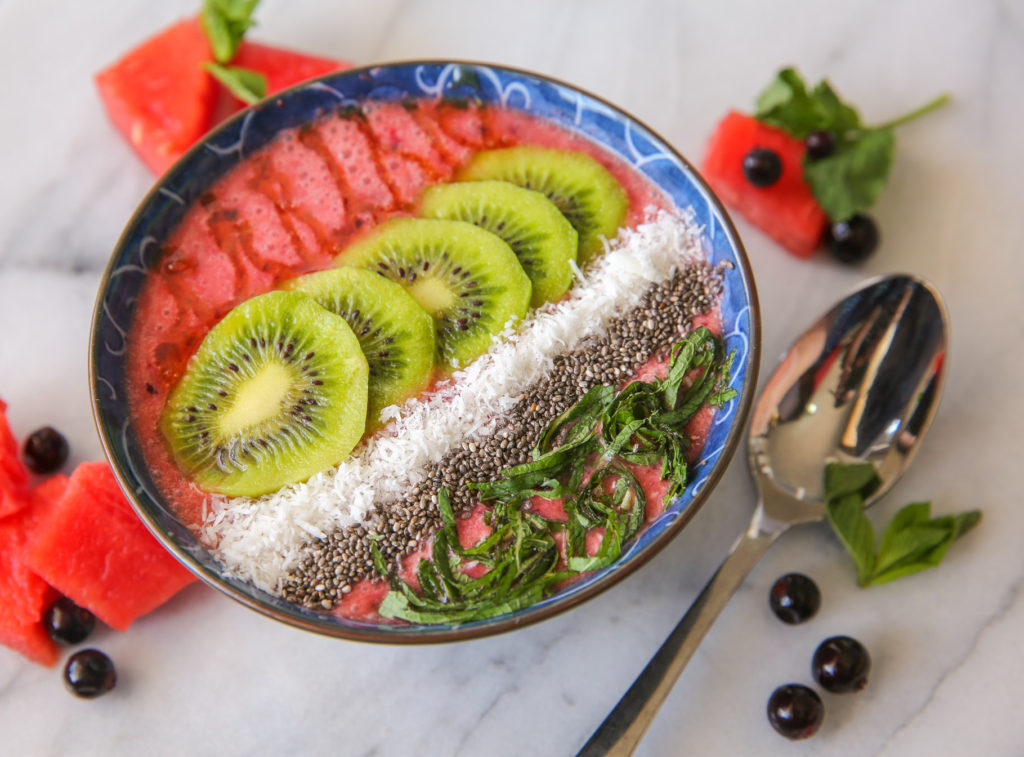 As I said, I don't own a blender, so I made this in the food processor. That worked for me, because – just like gazpacho – I like my smoothies chunky. But if you're on the other end of the spectrum and want a smooth smoothie, just throw it into the blender! Also, if you're not a coconut person (if that's even possible) substitute for almond or soy milk or even go dairy! You can also serve this as a refreshing soup on a hot summer day!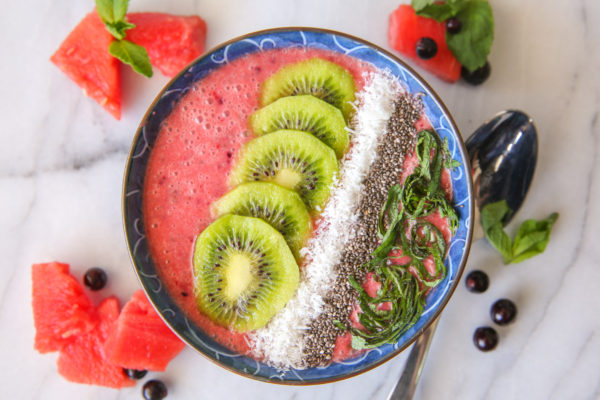 | | |
| --- | --- |
| | |
Instructions
Place everything into a food processor or blender ( a food processor will yield a chunkier smoothie, which is my preference) and blend until your desired consistency.

Stack the mint leaves and tightly roll up starting at the stem edge. Thinly slice the log of mint leaves and create mint chiffonade (super-thin ribbons).

Place the smoothie into a bowl and top with kiwi, coconut flakes, mint chiffonade and more chia seeds and silan.