How healthy does this look?! And honestly, it's just as delicious! I'm sort of over dairy and even meat, at least for tonight, so I turned to my favorite alternative: tofu bites! They are so flavorful and crispy! If you don't agree, then you haven't tried them prepared the right way yet—and that's where my tofu-bites recipe comes into play! It's so versatile. They can be used to top off this photogenic zoodle bowl, salads, stir-fries or even use them in your sushi to keep it vegan! Tonight, I was in the mood for zoodles, and lo and behold I had three-colored summer squashes in my fridge—perfect for satisfying the colorful requirement. This dinner took about 20 minutes to make (no joke), so definitely try it when a healthy but quick dinner is in order.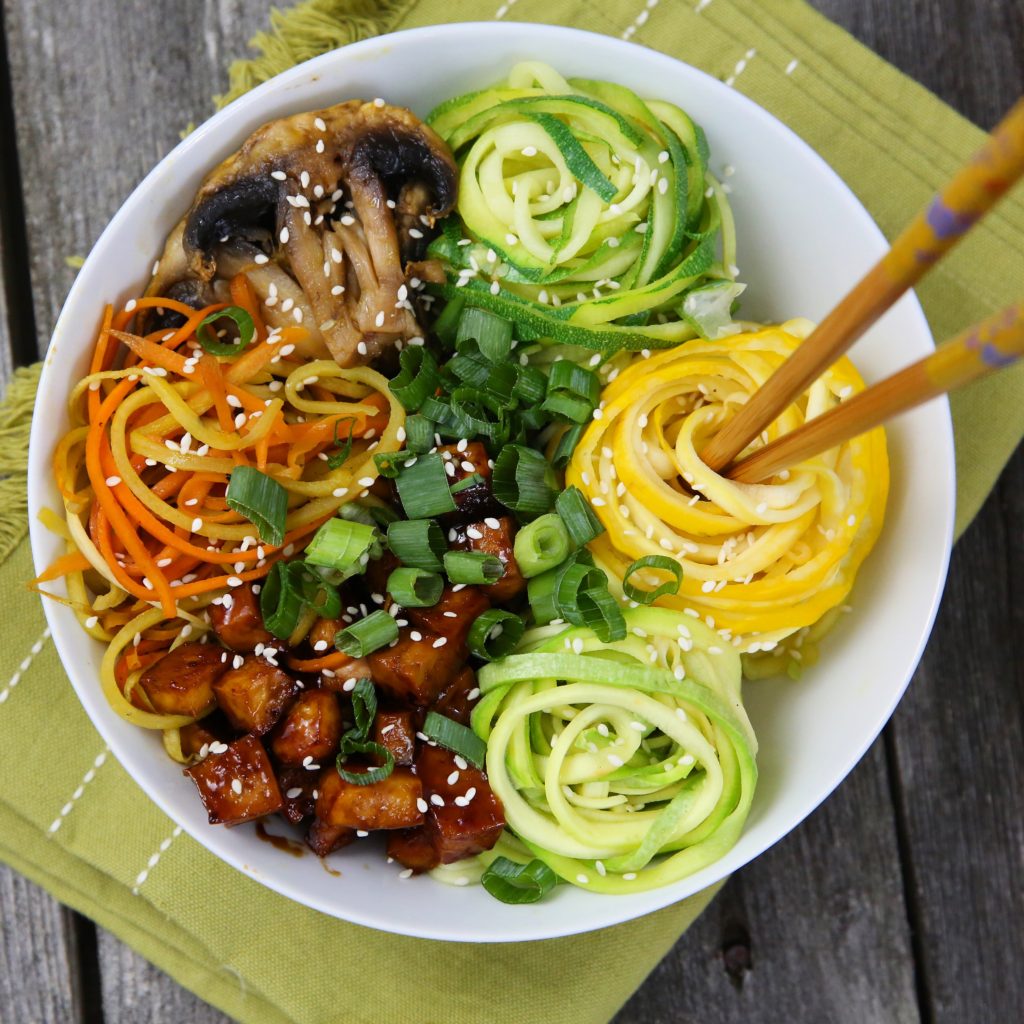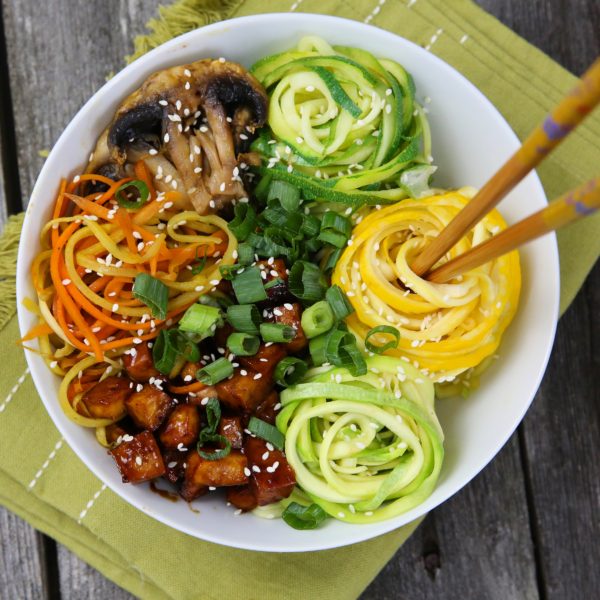 | | |
| --- | --- |
| | |
Instructions
Using a spiralizer, spiralize your 3 kinds of squashes. Julienne the carrots. Slice the mushrooms.

Add olive oil to a large saute pan and heat up over a medium flame. Add in the carrots and mushrooms and sauté until soft. If you would like to keep everything separate like I did in the picture, remove the carrots and mushrooms to a plate. Sauté each of the squashes separately also for 2-3 minutes each, just until lightly softened. Otherwise just add in all the squashes to the carrots.

Places the veggies on a plate, top with the tofu bites, scallion greens and sesame seeds. Use a tiny bit store bought garlic chili sauce for seasoning.
Recipe Notes
If making for Passover, top with Passover-friendly toppings and sauces!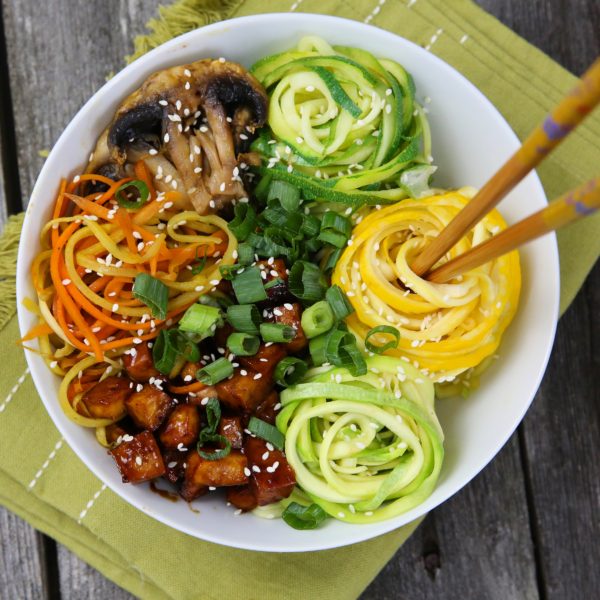 | | |
| --- | --- |
| | |
Instructions
Drain the tofu and place the block of tofu on several layers of paper towels. Cover tofu with several more layers of paper towels. Top with a heavy pan. Let stand 30 minutes to remove the moisture.

Meanwhile whisk together your marinade.

Cut tofu into 1/2 inch cubes if for a salad or stir fry or into 1/2 inch matchsticks for sushi.

Place in marinade, mixing gently to coat all the tofu. Let it marinate for 1/2 hour but if you don't have time you can leave in for 10 minutes.

Preheat the oven to 400 F. Remove the tofu from the marinade (reserving the marinade) and place the tofu onto a parchment lined baking sheet.

Pour the marinade into a small saucepan, add in 2 tsp cornstarch and boil until it thickens.

Bake the tofu for 30 minutes, flipping them halfway through and brushing with the marinade right before the flip and on the other side after the flip. Brush with remaining marinade right before removing from oven and let bake for 5 more minutes.