Arriving home late from a family Chanukah meal, I was still craving some savory food.
Because let's face it, Chanukah parties are all about the sweets! So I headed over to the fridge and found myself a nice bowl of leftover soup to heat up and enjoy! That's what leftovers are for, after all. Enjoying my butternut squash chestnut soup with roasted chestnut, fresh thyme and candied pastrami topping.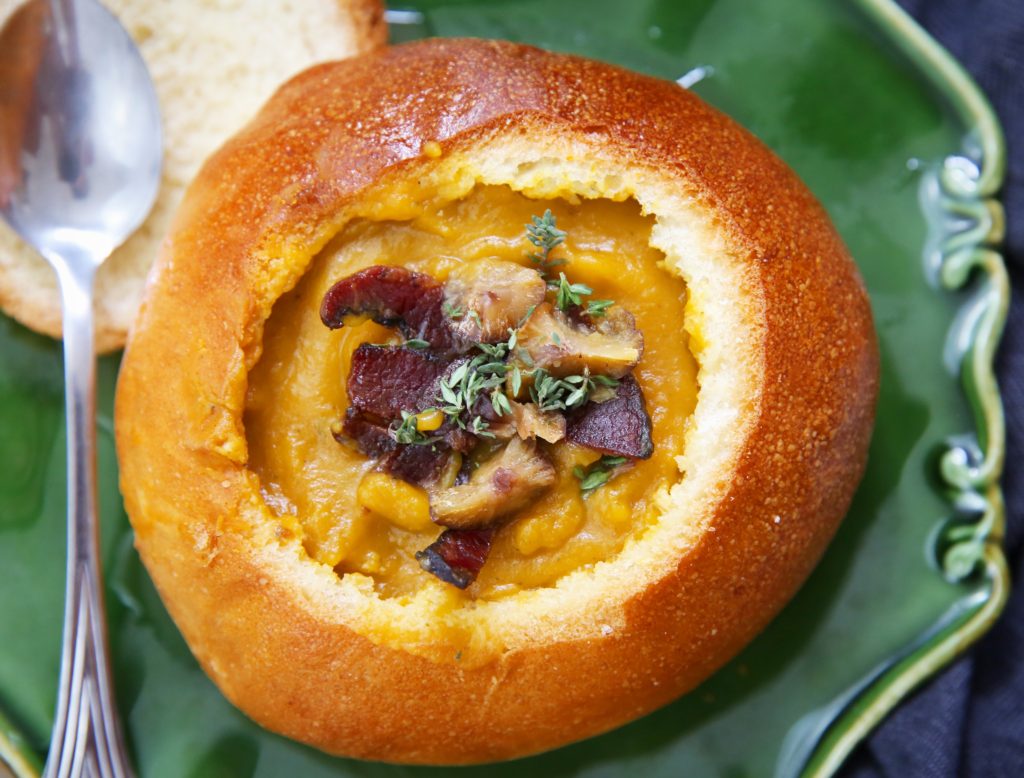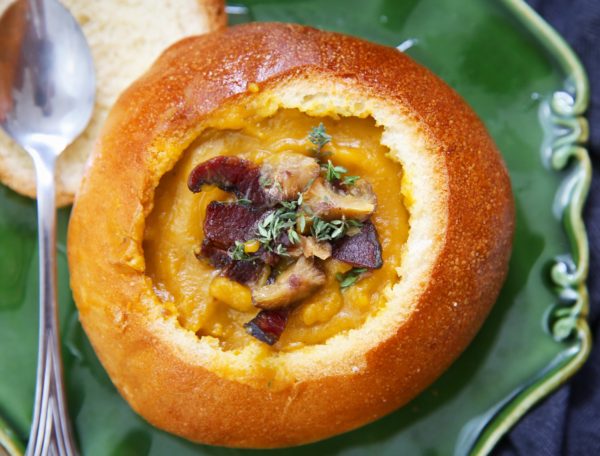 | | |
| --- | --- |
| | |
Preheat your oven to 400 F.

Wrap the sweet potato and butternut squash in aluminum foil and bake for an hour or until can easily be pierced with a fork.

In a stock pot, heat up the olive oil over medium flame. Add in the leeks and sauté until golden. Add in the sage, thyme and garlic and sauté for 2-3 minutes. Add in the bourbon and cook for a few minutes. Add in the roasted and now soft sweet potato and butternut squash (remove the skins and seeds after they were roasted). Add in 1 bag of chestnuts and give everything a good mix and add in the stock/water.

Bring to a boil and lower to a simmer for 20 minutes.

Remove from the flame and blend the soup using an immersion blender.

Add in the honey, salt and freshly cracked pepper.

Serve in bread bowls or bowls with candied pastrami*, roasted chestnuts and some fresh thyme
Adapted and combined from Kosher by Design Brings it Home (sweet potato chestnut soup) by Susie Fishbein and The Silver Platter (sweet potato & squash soup) by Danielle Silver.
*Candied Pastrami: Slice a package of pastrami thinly. Sauté in maple syrup until golden and crispy.

| | |
| --- | --- |
| | |
Combine dry yeast and sugar in a measuring cup. Add in the warm water, give it a quick stir and set aside to proof for 10 minutes.

In the bowl of a stand mixer add in the milk, oil, salt and eggs. Start your mixer and then add in 3 1/2 cups of the flour. Mix well.

Once the yeast is proofed—it should be very foamy and have a distinct smell, if not, it's not alive and you should start the first step over again—add the yeast to the flour mixture and mix until all ingredients are well incorporated, adding another 1/2 cups of flour slowly (it usually takes my KitchenAid between 7-10 minutes to knead the dough).

Once the dough has formed into a ball around the hook and the dough is smooth and elastic to your touch, remove the dough, coat the bowl with cooking spray and place the dough back in the bowl and cover with a towel. Set aside to rise for 1-2 hours or until doubled in size, in a warm, draft-free spot like the inside of your oven when it's off.

Once it's risen, uncover your dough and punch the dough down. Divide the dough into 3 or 4 pieces—I think this recipe is perfect for 3 to 4 bowls and I usually double it to make 6 to 8.

Take each piece and pull down the sides towards the bottom to create a smooth top, creating a smooth ball. Place the rolls, seam side down, on a parchment lined baking sheet, leaving around 2-3 inches in between each roll. Let rise for another 30-45 minutes.

Preheat the oven to 425 F.

Whisk together the egg wash and brush the wash on the bowls.

Bake for 20-25 minutes until golden brown and cooked through.

Remove from the oven and allow to completely cool on a wire rack before cutting off top and scooping out the inside. If you want to serve them hot, carve the bowls out when they are cool and then warm up again because you won't be able to carve them hot.
I substitute for soy milk when cooking for a meat meal and have also used coconut milk, orange juice or more water, whatever you have at home.
Fill these bowls up with delicious onion soup, butternut squash chestnut soup, creamy chicken soup, chili and so much more!