A few years ago, the hubby and I went on a honeymoon to Hawaii.
Well, technically it was like our third honeymoon. We went to Arizona right when we got married and then to Italy in conjunction with our pilot trip to Israel. But when should newly married couples stop calling their vacations honeymoons? Anyway, Hawaii was always a dream of mine since I was a little girl. All my friends from LA vacationed their growing up, but my dad hates sand (not sure how I'm his child) so we never went! Instead, we always road tripped all over America and Canada — which is so beautiful, so if you've never explored North America, get to it! But as I was saying, Hawaii still seemed like this beautiful exotic location and I made it my goal to go one day. When our Aliya seemed to be a definite and relatively near term goal, I decided we needed to go to Hawaii first because, in my mind, once we moved to Israel the chances of us ever going would drop to about 0.00001%. It's just way too far! So we found great tickets, planned our vacation and went to fulfill my childhood dream.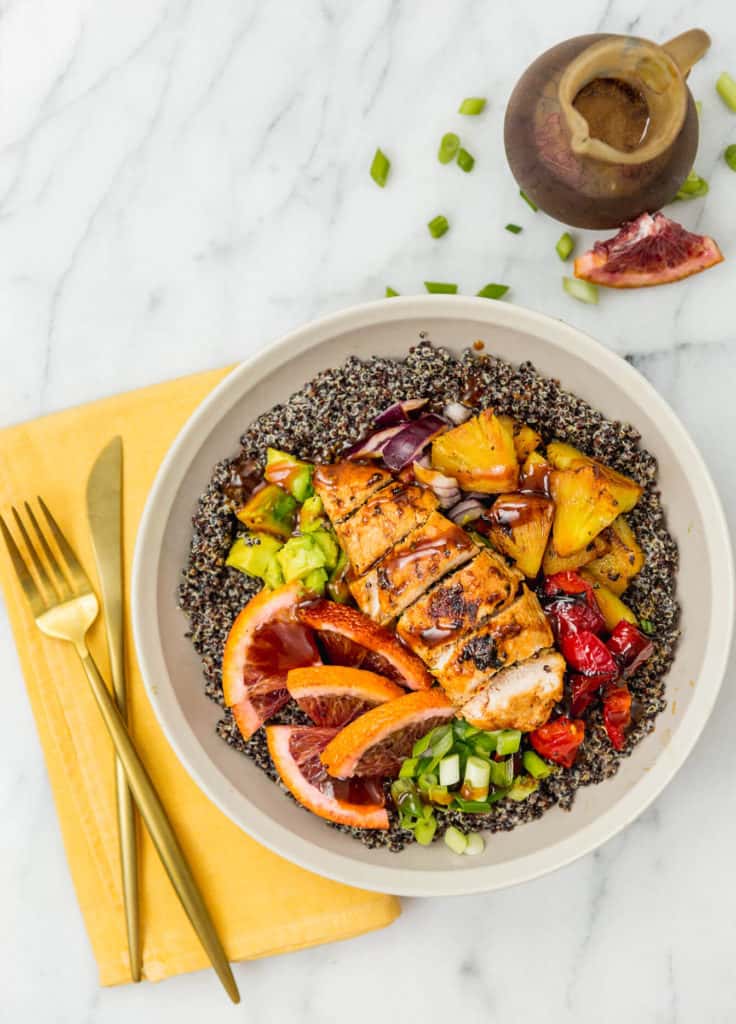 Hawaii was everything I hoped for and more. We saw volcanoes, hiked in the lava tubes, swam with colorful fish, and drove the road to Hana in a Mustang convertible (apparently it's a thing), but my absolute favorite thing that we did there was to see so many different colored sand beaches! We saw red sand (which were actually tiny sharp pebbles and our feet got pretty cut up but it was truly beautiful and worth it 😂), we saw green sand (which was only reachable by driving in the back of a pickup truck through what I can only describe as trenches, absolutely insane but again an experience of a lifetime), we saw black sand, white sand, yellow sand and lastly salt & pepper sand.
And that's the image that inspired this dinner. I put a Hawaiian chicken bowl in my meal planning tool awhile ago, but when I sat down to actually plan out the dinner, I wanted it to bring me back to that incredibly soft sand beach, with the most turquoise warm water lapping at my feet, and the incredibly diversely colored fishes swimming all around me. That's the image I tried to capture in this dinner. First up, we have our salt & pepper sand AKA black and white quinoa mixed together, delicious Hawaiian chicken marinated in pineapple juices and warm from the grill alongside grilled pineapple, a staple in Hawaii, and all our colorful fruits and veggies that bring life to this bowl! So if you haven't had a chance to go to Hawaii or it's just not on your list of things to get to, try this dinner out to feel like you're in Hawaii for just one night, the flavors will make you so happy you did!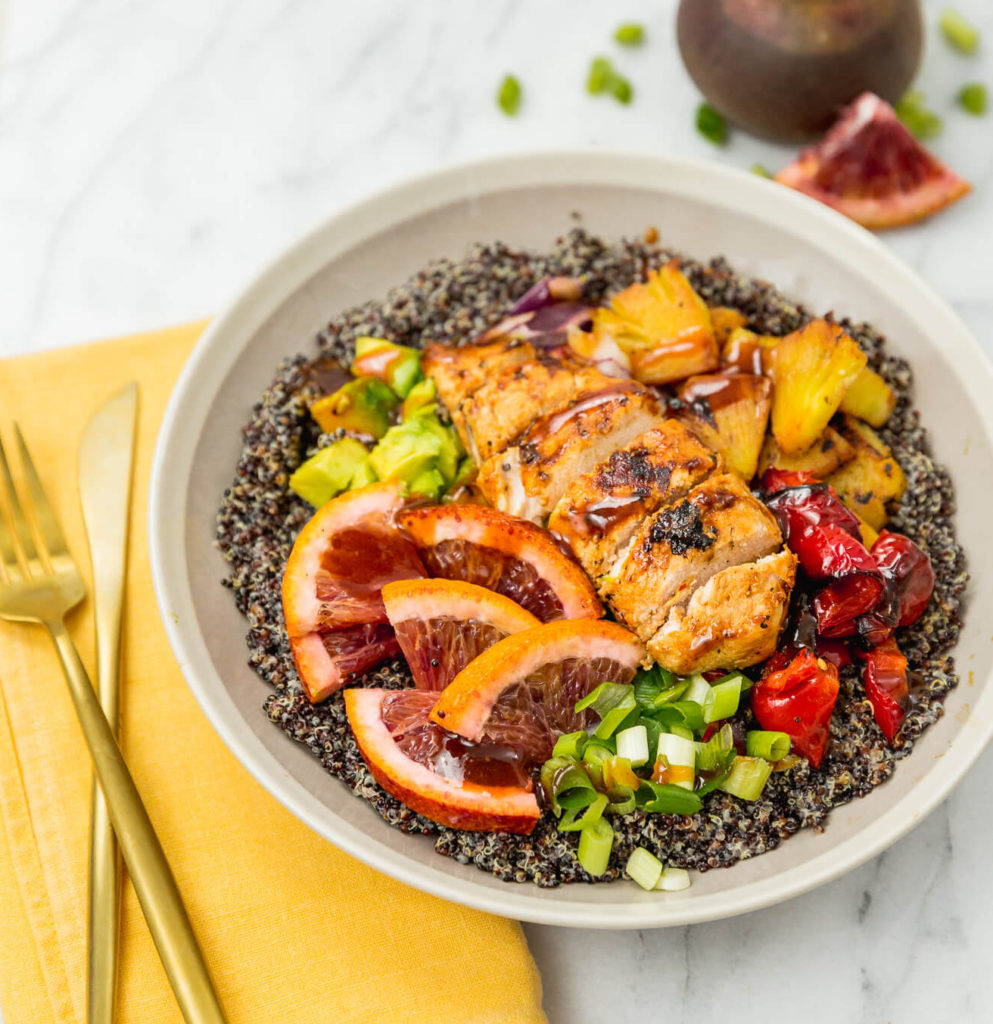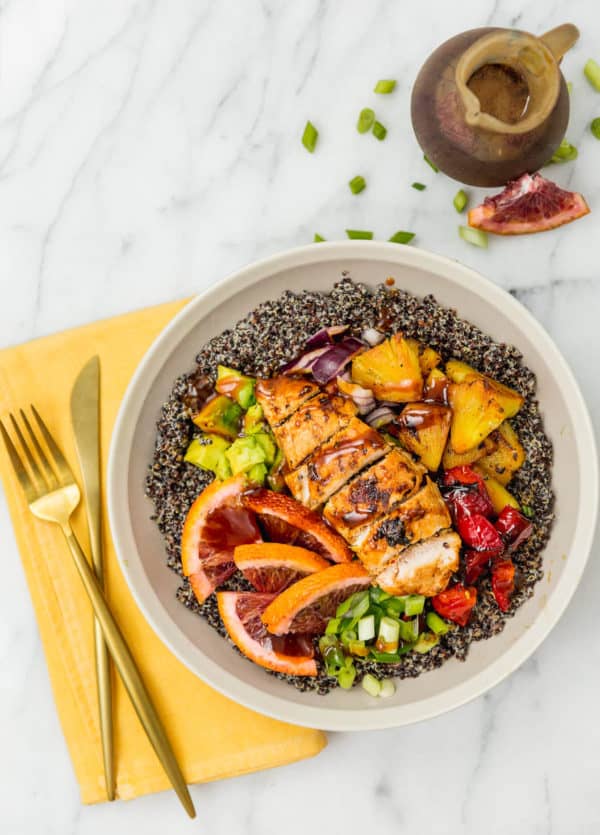 | | |
| --- | --- |
| | |
Cut the red pepper into chunks. Toss with olive oil, salt and pepper. Roast at 400 F until skin starts to blister. Turn the oven to broil and broil for 2 minutes, just until crispy.

It's time to make our bowls! Place quinoa at the bottom of the bowl. Layer sliced chicken, peppers, pineapples, avocado, scallions, red onions and blood red oranges.

Drizzle with leftover marinade that we had put aside. Enjoy!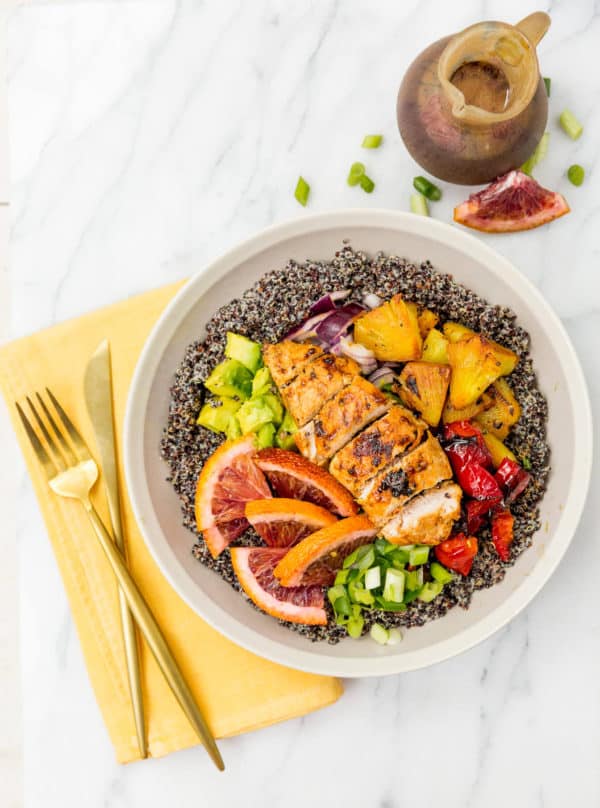 | | |
| --- | --- |
| | |
Season both sides of the chicken with salt, pepper and crushed red pepper.

Place the chicken in a bag.

Mix the sauces together. Separate around 1/3 of it and reserve it to use as a dressing for the Hawaiian chicken bowl. Pour the rest over the chicken. Place in the fridge and let marinade for at least 15 minutes up to overnight.

You can cook the chicken using The Kitchn method for perfect chicken breast or grill on the BBQ or on a grill pan, around 5-7 minutes each side. While grilling use the leftover marinade and baste the chicken.

Slice the chcikena dn use in the Hawaiian chicken bowl.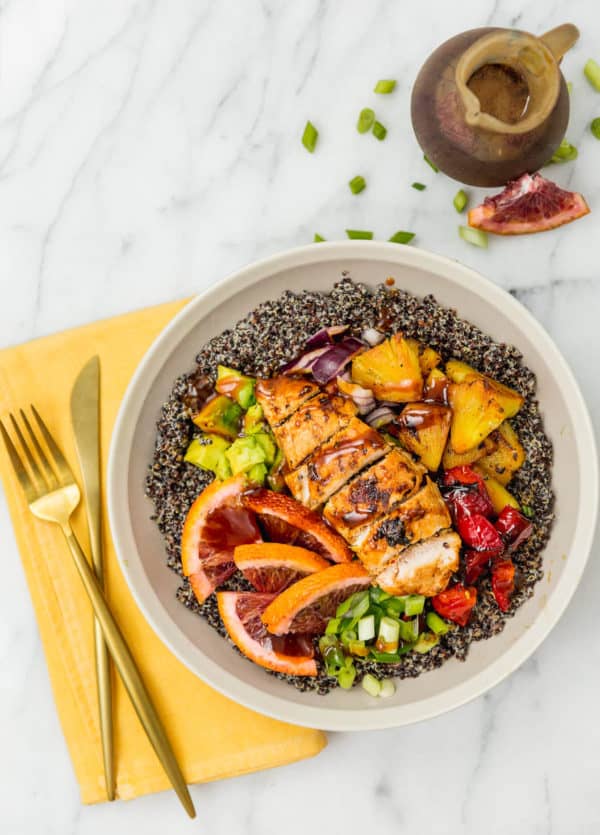 | | |
| --- | --- |
| | |
Rinse the quinoa and drain.

Heat up the olive oil in a sauté pan. Add in both quinoas and stir. Allow to toast for a minute or two, make sure not to let it burn.

Add in the milk, water and salt and stir. Bring to boil and cover.

Lower the flame and simmer for 15 minutes, until the water and milk has been absorbed.

Fluff with a fork and serve as the base for a Hawaiian bowl.