If you have been following me on Instagram, you probably know that I'm obsessed with miso soup.
I love how it's a meal-in-one and so easy to prepare. I have been making it for so long and have so many different pictures of this creation. So for this post, I thought it would be fun to go back and post all of my Instagram posts from each time I've made this dish, along with their pictures, starting with my very first miso soup—2 years ago! It's also so fun to see how my photography has changed in just two years. Really makes me smile! The recipe for this amazing soup that will become part of your regular repertoire can be found below!
"Shabbat Shalom from my non-traditional Friday night soup to you! Switched up my miso soup veggies this time!"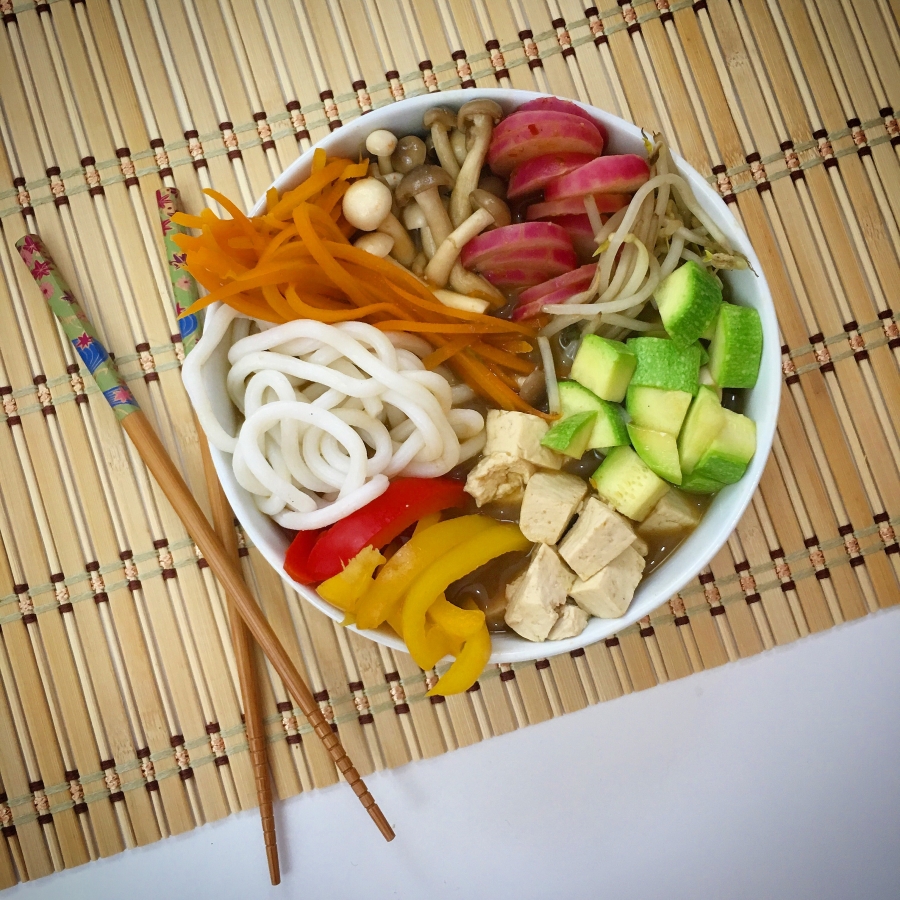 "What could be more perfect! I was in the mood for my miso soup, but being a million degrees outside made that sounded much less appealing (even with the AC running on high!) But then it started to rain. Who would have thought that I would be happy about that! And yet, I was because it made me in the mood for miso soup once again! So here's another take on my classic soup with a mushroom spin!"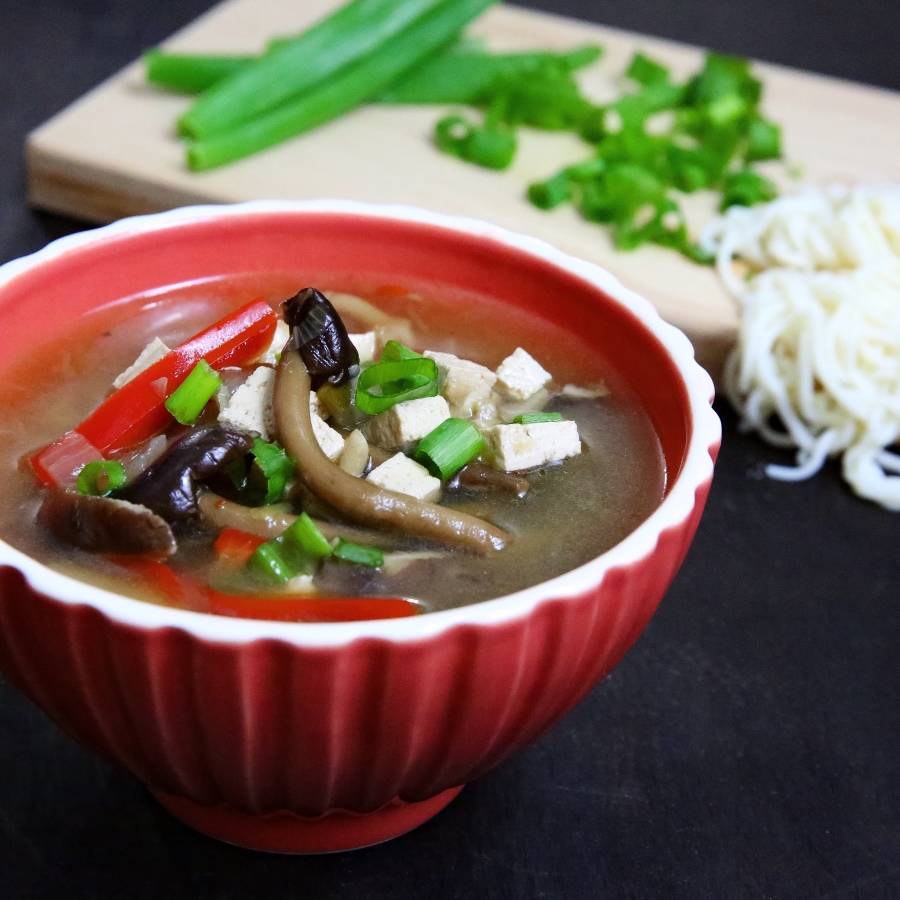 "If you followed my Instastory yesterday, you saw me making this delicious miso-veggie soup with rice noodles. I always make a huge pot because I know I'm going to want it over and over again! It's basically my go-to snack until it runs out! I finally wrote down exact measurements for you guys this time, so definitely make this on your next rainy day! Or really any day, just turn the AC on and pretend it's cold!"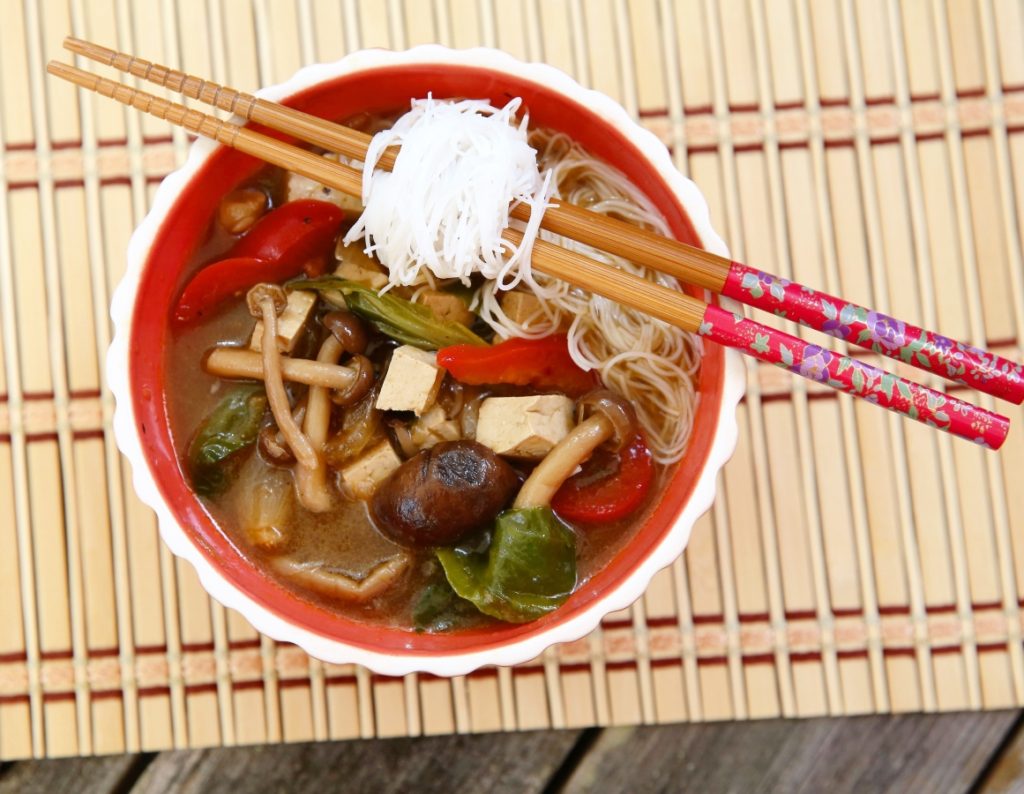 "One of the things I'm worst at is writing down recipes. I can't tell you how many times I set out to make something and promise myself that this time I'll remember to write the whole thing down but somehow I usually get distracted and forget. That's why I only sometimes post the recipes. If I don't know the exact amounts, then I don't want to steer you wrong. This mis-tofu-rice noodle-veggie soup is a perfect example! I know which ingredients I use, but I always change around the amounts according to what I'm in the mood for and of course a pen and paper are never nearby (or more likely I misplaced my phone). Sometimes I like it saltier so in goes more soy sauce and sometimes I want it sweet so I'll double the honey. Instead of posting a concrete recipe, I'll give you the list of ingredients and instructions for this one and feel free to make it your own!"
"A big bowl of tofu miso soup after a long snowyday. We were out all day doing our wedding album (finally!!) and hanging out with my bestie, Julia Axelbaum, from out of town, this is the perfect dinner to come home to: fast, easy and oh so delicious! Shout out to my father-in-law for providing me with my new favorite background! Other people's old is my gold."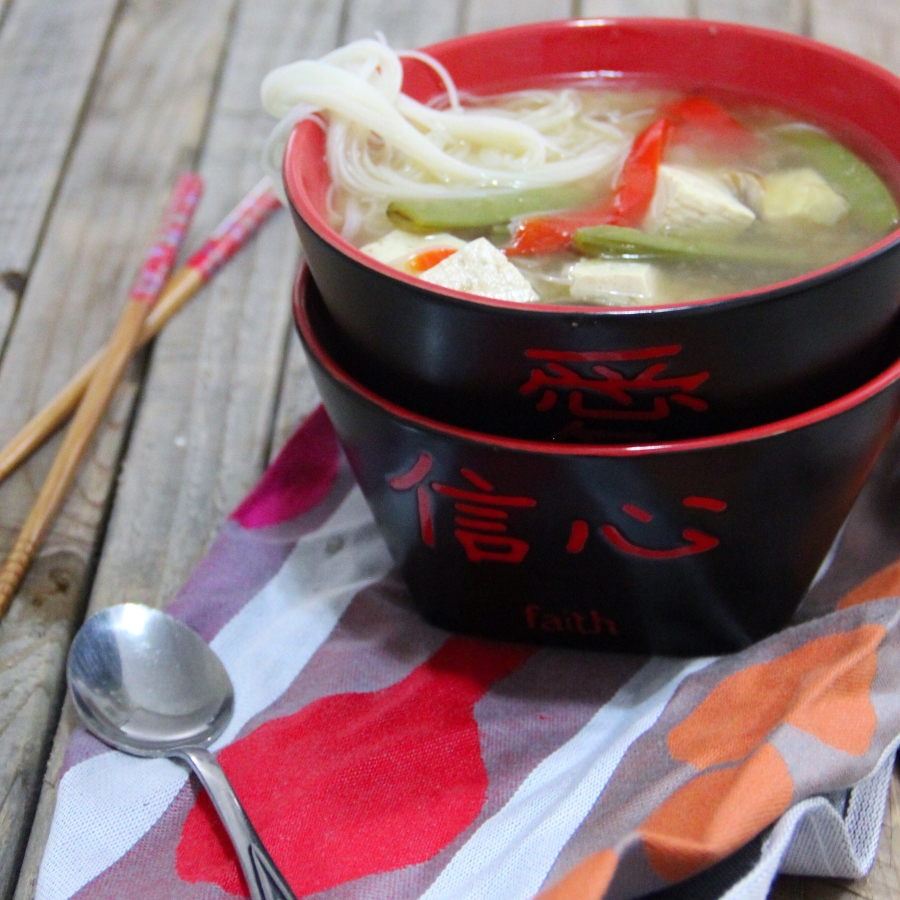 "Meatless Monday strikes again! This time I'm getting rid of everything in my fridge before our big trip to Hawaii, so soup it is! Miso soup is so forgiving, you can throw in anything, which is exactly what I did: red pepper, mushrooms, celery, spinach, onion, ginger and garlic. Add some cubed tofu and rice noodles and you got yourself a meal-in-one dinner."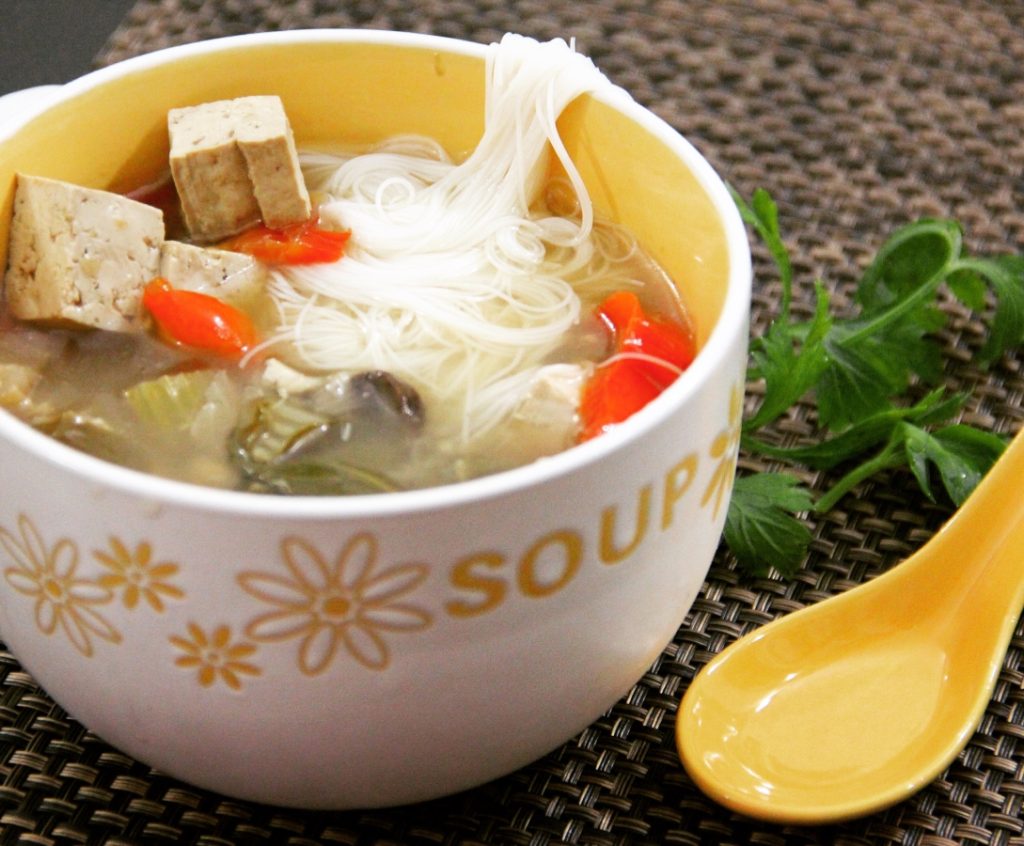 "On Monday night when I get back late, I need a quick and easy dinner and this udon noodle miso soup with poached egg, tofu, bok choy, shitake mushrooms and ginger did the trick! It's packed with protein, veggies, and flavor so you can't go wrong. If you want to keep it vegan, it's still great without the egg!"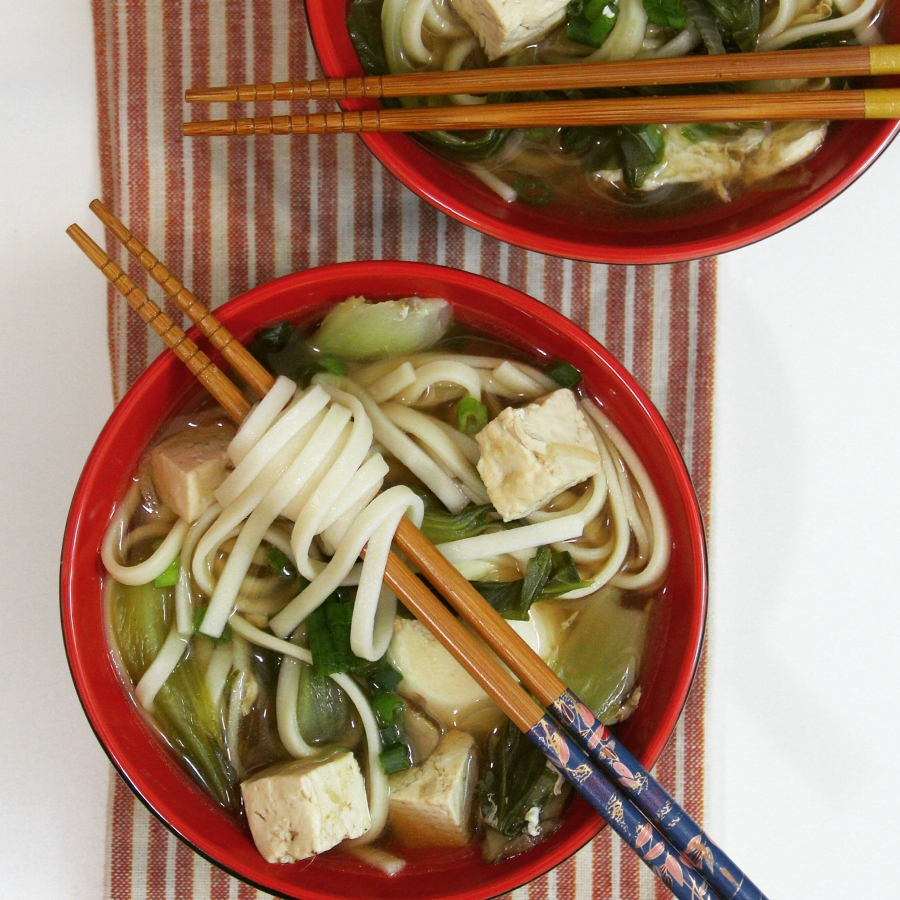 "For once we're doing meatless Monday. I made a Miso tofu soup with thin rice noodles. This amazing soup has your protein, starch and greens all in one! Special shout out to my awesome brother for getting me these beautiful authentic Japanese tea cups from Japan, and mazel tov on his engagement!"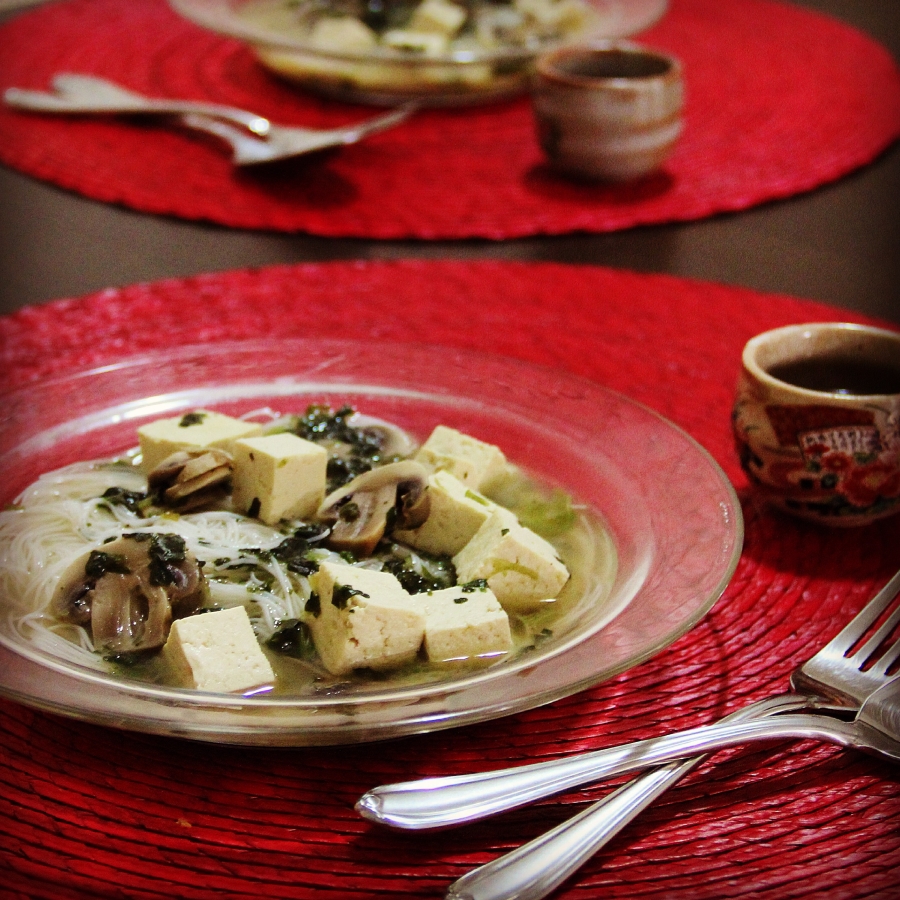 "Sometimes you just make what you're craving and don't worry about whether it all goes well together. Tonight was definitely one of those times! Zucchini fritters don't have much in common with rice noodle-tofu-veggie-miso soup except that they both were delicious! Note: the apple sauce for the fritters is not optional."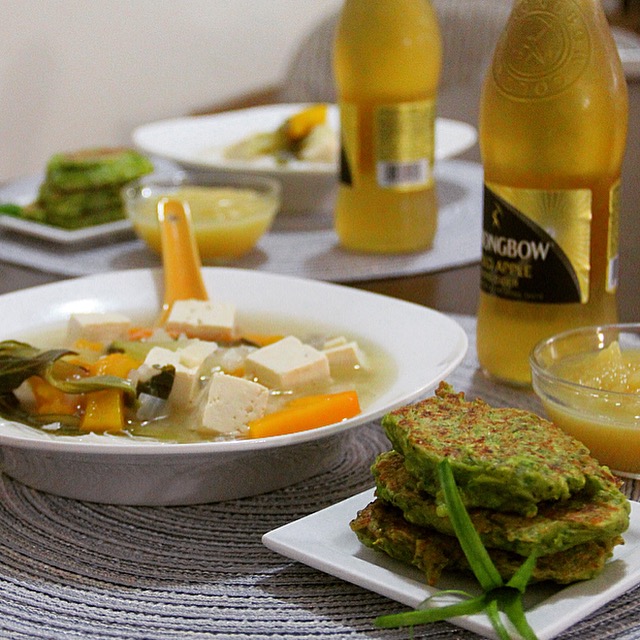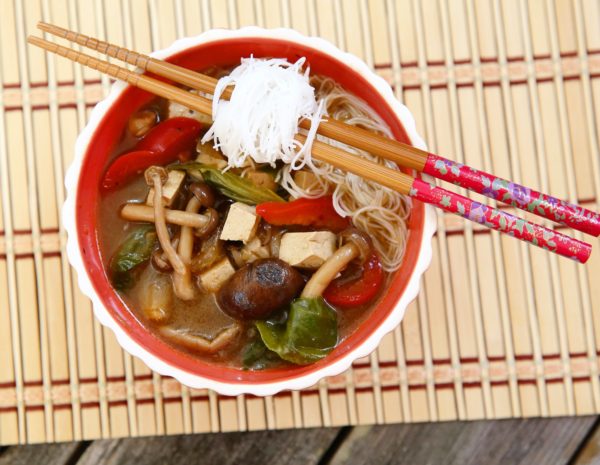 | | |
| --- | --- |
| | |
Instructions
SOUP
Cut up tofu into cubes and place on a clean kitchen towel or paper towel with something heavy on top to drain.

Prepare the rice noodles according to package direction (I usually just place in a large bowl and pour boiling water to cover it.) Let sit for a few minutes, breaking up with a fork. Drain after 5 minutes and rinse under cold water.

Heat up olive oil in a big pot over high heat. Lower the flame and add in onion, garlic, scallion whites and ginger. Fry everything until golden, making sure to not let it burn. Add in the red pepper and mushrooms and stir for another 3-5 minutes.

Add vegetable broth and water. Bring to a boil and then simmer for ten minutes.

Using a measuring cup, take out around 1/4-1/2 cup hot soup and whisk the miso paste into that really well. Once the miso paste has dissolved and isn't clumpy, pour back into the pot and add in soy sauce, rice vinegar, Mirin, honey, red pepper, salt and pepper, adjusting to taste.

Dice the tofu block into 1/2 inch cubes and add in the tofu cubes. Simmer for another ten minutes.

Five minutes before you are ready to serve the soup, add in the scallion greens, bok choy and basil and simmer. Place the rice noodles in the individual bowl, ladle the soup in and enjoy!
OPTIONAL ADD-ONS
Bring a small saucepan of water to boil. Crack each egg into a glass bowl or measuring cup, something you can use to gently lower the egg directly into the water. Once the water has boiled, lower it to a simmer, added a splash of vinegar and slowly lower in the cracked egg. Set a timer for 3 and a half minutes. When the timer finished, using a slotted spoon remove the egg and place it onto paper towels to drain. Place into the soup, season with some sea salt and freshly cracked black pepper.

If you want to top your soup with meat, sou vide the cut and finish according your sous vide's directions, slice and place on top of soup.
Recipe Notes
You can replace the rice noodles with lots of different things. My other favorites are shirataki noodles, just open the package, drain, rinse well and they are ready to go.
Also fresh udon noodles, they come in plastic bags and feel kind of cooked already, just drop into boiling water for 2-3 minutes, drain, and place into individual bowls.
Feel free to just use regular spaghetti though the top three options give it a move Asain feel!