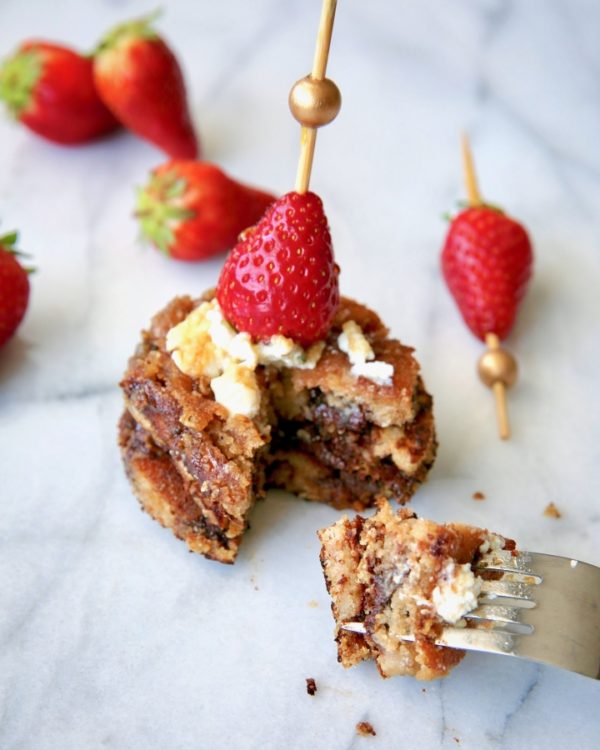 | | |
| --- | --- |
| | |
In a large bowl whisk together the almond flour, baking soda and salt.

Add in the milk, honey, ricotta, eggs, vanilla extract and lemon juice. Whisk until combined well.

Add in the chocolate chips and mix until evenly distributed.

Heat up a frying pan (non-stick is best) over a low flame. Spray a kosher for Pesach cooking oil or put a very little amount of oil such as walnut, coconut and sunflower oil. Lay down round egg/pancake molds (if they are not non-stick, then spray with a little oil).

Pour a small amount of batter into each mold. Cook the pancake for about 3-4 minutes, until the bottom is golden. Loosen from the mold with a spatula, remove the mold, and flip the pancake. Cook until the second side is golden brown. Repeat until all the batter is finished.

Top the mini pancakes with ricotta cheese, silan and fresh berries.
Tip #1, make them mini pancakes rather than big ones as the batter is too thick to flip on large pancakes.
Tip #2, they burn quickly! So cook over a low flame and keep an eye on it!
Tip #3, definitely sweeten these up with some silan and ricotta cheese - it really adds to the overall flavor.