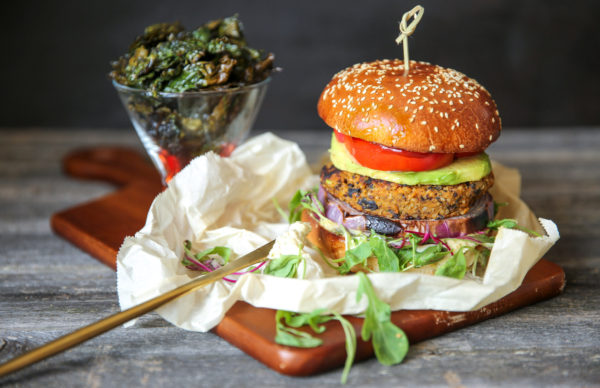 SWEET POTATO BLACK BEAN BURGER
| | |
| --- | --- |
| SWEET POTATO BLACK BEAN BURGER | |
SWEET POTATO BLACK BEAN BURGER
Preheat the oven to 400 F.

Wrap the sweet potato in tinfoil and place on an aluminum lined baking sheet. Bake for around an hour or until the flesh can be easily pierced with a fork.

In a large bowl mix together 2 cups of the mashed sweet potato, black beans, bulgur, shallots, mint, chili lime seasoning, salt and pepper to taste. Form into burgers and place on an oiled baking sheet.

Heat up the oil in a large frying pan over a medium flame. Add in the burgers and fry on both sides until crispy and charred, around 5 minutes per side.
Mix together the mayo, garlic, chili lime seasonings, lime zest and juice
Serve the burgers on a hamburger bun with greens, tomato slices, purple onion, avocado slices, the garlic lime mayo and BBQ sauce.
You can either use canned black beans or cook them yourself. Place black beans in a pot of water making sure they are covered by an inch of water. Cover and bring to a boil. Lower to a simmer and cook for around 3 hours, or until soft.