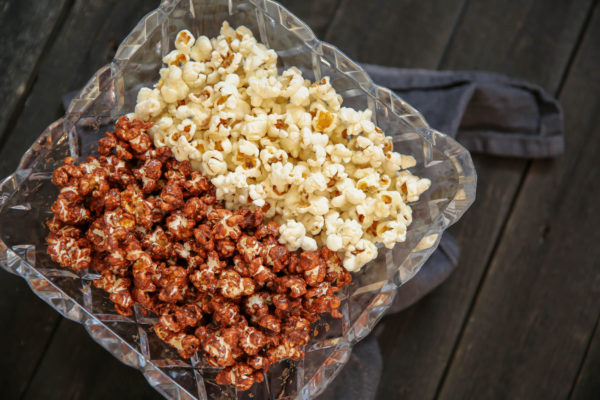 | | |
| --- | --- |
| | |
Heat the 3 tbsp of oil in a large stock pot over a medium flame.

Place 3 kernels into the oil. When they pop, add in the rest of the kernels, cover the pot, lift off the heat and shake around for 30 seconds. This allows for all the kernels to get to the same heat so they pop at the same time.

Place back on the flame. Once the kernels start popping, slightly open the cover to let the steam out, but not too much or you will have popcorn everywhere, trust me, I've tried.

Once the popping has basically stopped, remove from the flame, uncover and transfer popcorn evenly between two big bowls.

In a glass bowl/measuring cup, place the white chocolate chips first and add a teaspoon of canola oil. Place in a 300-350 oven for five minutes. Remove (don't forget its hot!!) and swirl with a rubber spatula, if the chips melt then it's done, if the chips still keep their form put back for another 2 minutes.

Pour over the popcorn and mix well using a spatula. Add some maldon salt and mix well.

Spread onto a parchment lined baking sheet in a thin layer.

Repeat with the brown chocolate chips, adding in the cookie butter if you wish.

Place in refrigerator for 1 hour and then you can transfer to a ziplock bag. Store in refrigerator.
Recipe technique adapted from Perfect Popcorn by Elise Bauer on Simplyrecipes.com