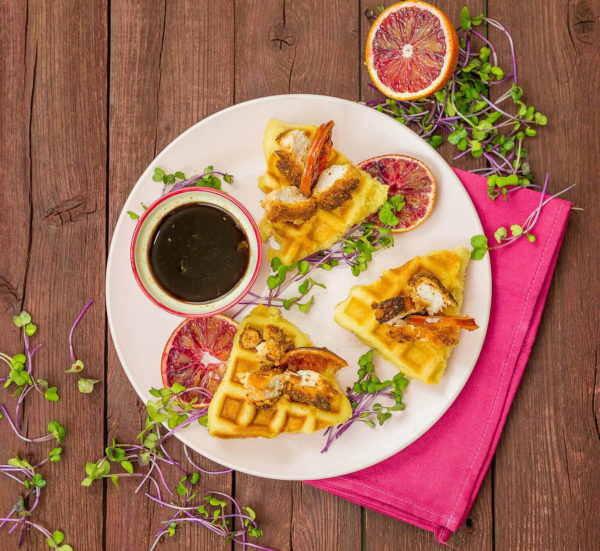 | | |
| --- | --- |
| | |
Combine the soy milk with the blood orange juice and let sit for 10 minutes. This will make a parve buttermilk.

Mix the dry ingredients together in a large bowl.

In separate bowl, beat the egg whites until stiff peaks form.

In another bowl, mix together the egg yolks, parve buttermilk, oil, and vanilla until combined.

Add the wet ingredients to the dry ingredients and mix well.

Oil the waffle maker. Place a triangle mold (or you can make your own, using aluminum foil, alternatively, you can also make regular square waffles and then cut them on the diagonal into triangles though they will be wider triangles) and pour around 1/4 cup batter into the mold. It will spill out a little but you can clean the edges up after. Cook in the waffle iron according to your waffle iron instructions, around 5-7 minutes, until golden.

Place on your serving platter and scoop out a little of the waffle from the middle of the waffle. Add your deep fried chicken and candied oranges and serve with the bourbon maple syrup.