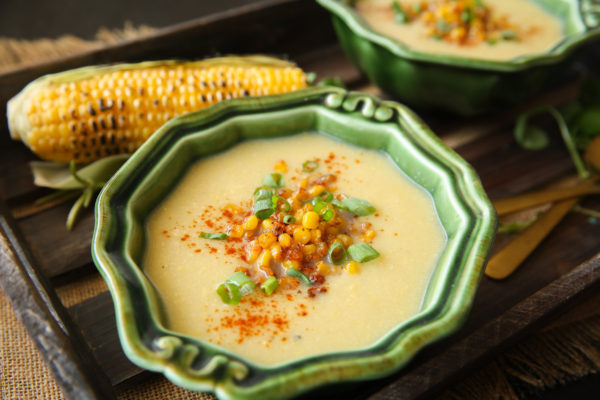 | | |
| --- | --- |
| | |
Cut the kernels off the corn cobs.

Place a stock pot over a medium flame, and heat the oil. Add the onions and garlic in and sauté until translucent. Add in the Yukon potatoes, and saute for 2 minutes.

Add in the corn cobs (yes that's right, the ones that don't have any kernels on them anymore), the bay leaf, vegetable stock and the water. Cover and bring to a boil. Lower the flame and simmer for an hour.

Remove the cobs and bay leaf, discard them and then add in most of the corn kernels to the soup, reserving some to use as garnish.

Simmer the soup for another 20 minutes.

Meanwhile mix the remaining kernels with some olive oil, salt, freshly ground pepper and paprika and roast on 400 for 7-10 minutes until crispy, make sure to keep an eye on them because they quickly go from perfection to burnt.

Blend the soup to your desired consistency, I prefer mine with some chunks. Season with salt and pepper to taste, but it really doesn't need much. Serve hot or cold!
Top the soup with the crunchy corn and sprinkle some extra paprika and chopped scallions.