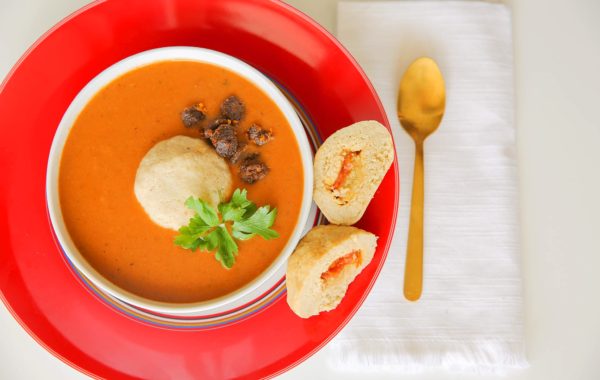 | | |
| --- | --- |
| | |
Place the cut side of the plum tomatoes down on a parchment lined baking sheet. Set the oven to broil and broil for 5-10 minutes until tomato skins have blackened. Remove from oven. Allow them to cool and then remove the skins and discard.

In a large stock pot, heat up the olive oil. Add in the shallots and garlic and sauté until golden and fragrant, about 2-4 minutes. Add in the tomato paste and sauté for another minute or two. Add in the roasted plum tomatoes and the can of whole peeled tomatoes. Using the back of your mixing spoon, break up the whole tomatoes to let out the juices and allow to cook for 5 minutes. Add in the bread crumbs and mix well, until absorbed with the tomato juices. Add in the stock, water, sugar, fresh and dry herbs.

Cover the pot and bring to a boil. Lower the flame and allow to simmer for 20-30 minutes.

Remove the soup from the flame. Add in the sour cream and using an immersion blender, blend the soup until creamy. Adjust with salt and pepper to taste.
1.You can either made store bought croutons or make them yourself. To make yourself, preheat the oven to 400 F. Take around half a loaf and cut up into 1-inch cubes, crust and all. Drizzle with olive oil and sprinkle with salt, pepper, oregano and basil. Toss to coat. Place on a parchment-lined baking sheet in a single layer. Bake for 10-15 minutes, until golden. Keep an eye on it so it doesn't burn.
2. For the merguez sausage croutons, chop up a few sausages into bite size pieces and sauté until golden, thats it!
Recipe loosely adapted from Kosher by Design Entertains by Susie Fishbein