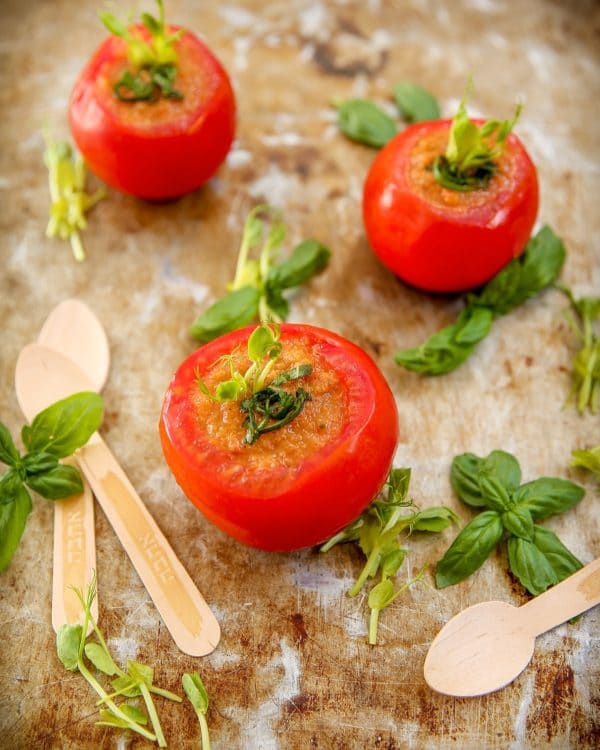 | | |
| --- | --- |
| | |
Using a serated knife, cut an X in the bottom of the tomatoes, just piercing through the skin and flesh.

Bring water to a boil water and drop the tomatoes into the water for 1-2 minutes, until the peel starts to curl off. Take out of the water and run under cold water.

Peel the tomatoes and cut in half. Remove the cores from the tomatoes. Remove the seed from the tomatoes, placing the seeds and pulp into a fine mesh sieve set over a bowl in order to catch the juice. Press as much of the juice through as possible—I get almost 1 cup.

Chop up the tomato flesh and place into a large bowl along with all the other vegetables and seasonings. If you do not like your food spicy, omit the jalapeño or add a little at a time seeing how much you can handle.

Using an immersion blender, blend the soup to however smooth or chunky you would like. Using an immersion blender will give you a chunky soup. If you want a smooth soup use a blender and if you want an even smoother soup, drain it through a cheese cloth after the blender to remove all pieces.

If the soup is a little too chunky and thick, add in the tomato juice as needed and adjust salt and pepper to taste.

Cover and chill for at least an hour. Serve chilled in tomato cups with basil chiffonade as garnish.
Check if your tomato stands steady, if not, slice off a little layer from the bottom, just enough for it to be steady. Make sure not the pierce the flesh or your bowl will leak.

Slice off a cap from the tomato, around 1/4 inch down. Scoop out the inside and place the seeds and pulp into a fine mesh sieve set over a bowl in order to catch the juice to use for the gazpacho.

Store in an air-tight container in the refrigerator until ready to use. Can be made up to 2 days in advance.