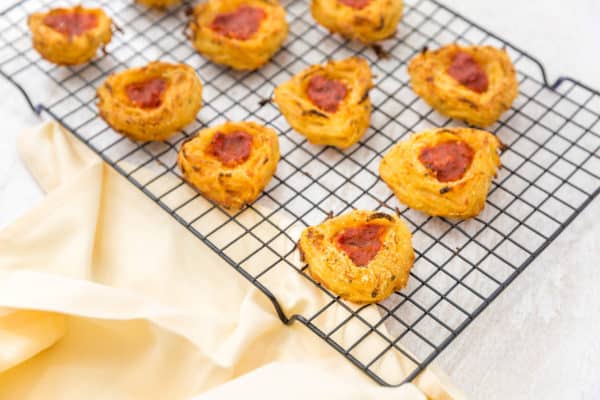 | | |
| --- | --- |
| | |
Preheat your oven to 400 F.

In a saucepan, melt the butter over a medium-high flame. Slowly add in the flour, mixing it into the butter, pouring a little flour at a time. Mix until you have a roué (a golden paste).

Add in all the spices and mix until thoroughly incorporated. Add in the milk and lower the flame to medium. Stir occasionally until the milk has thickened — around 5 minutes. Make sure to not let the bottom burn. Add in both cheeses and mix until melted.

Pour the cheese sauce over the pasta and mix well until all of the spaghetti is covered with cheese sauce.

In a small bowl, mix the breadcrumbs with the spices and parmesan.

Using around 1/4 cup spaghetti at a time, twirl with a fork to create round spaghetti nest. Using either a triangle mold or just your hands, pinch and tug the corners to form a triangle. Create an impression in the middle to hold the marinara sauce.

Place onto a parchment-lined baking sheet.

Form all the spaghetti into hamantaschen, then sprinkle breadcrumbs over the top of all of them.

Spoon around 1-2 tsp of marinara sauce into the middles of all the hamantaschen.

Bake for 15-20 minutes, then turn the oven to broil and broil for 2-3 minutes, just until golden and crispy.

The man 'n' cheese hamantaschen taste delicious right out of the oven, but hold up great to eat as finger food when they have slightly cooled down.