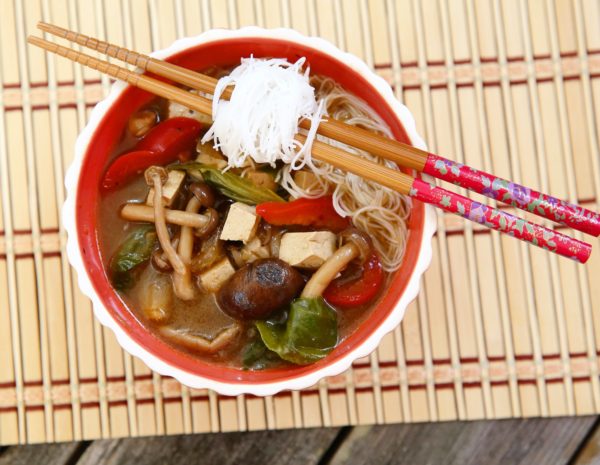 | | |
| --- | --- |
| | |
Cut up tofu into cubes and place on a clean kitchen towel or paper towel with something heavy on top to drain.

Prepare the rice noodles according to package direction (I usually just place in a large bowl and pour boiling water to cover it.) Let sit for a few minutes, breaking up with a fork. Drain after 5 minutes and rinse under cold water.

Heat up olive oil in a big pot over high heat. Lower the flame and add in onion, garlic, scallion whites and ginger. Fry everything until golden, making sure to not let it burn. Add in the red pepper and mushrooms and stir for another 3-5 minutes.

Add vegetable broth and water. Bring to a boil and then simmer for ten minutes.

Using a measuring cup, take out around 1/4-1/2 cup hot soup and whisk the miso paste into that really well. Once the miso paste has dissolved and isn't clumpy, pour back into the pot and add in soy sauce, rice vinegar, Mirin, honey, red pepper, salt and pepper, adjusting to taste.

Dice the tofu block into 1/2 inch cubes and add in the tofu cubes. Simmer for another ten minutes.

Five minutes before you are ready to serve the soup, add in the scallion greens, bok choy and basil and simmer. Place the rice noodles in the individual bowl, ladle the soup in and enjoy!
Bring a small saucepan of water to boil. Crack each egg into a glass bowl or measuring cup, something you can use to gently lower the egg directly into the water. Once the water has boiled, lower it to a simmer, added a splash of vinegar and slowly lower in the cracked egg. Set a timer for 3 and a half minutes. When the timer finished, using a slotted spoon remove the egg and place it onto paper towels to drain. Place into the soup, season with some sea salt and freshly cracked black pepper.

If you want to top your soup with meat, sou vide the cut and finish according your sous vide's directions, slice and place on top of soup.
You can replace the rice noodles with lots of different things. My other favorites are shirataki noodles, just open the package, drain, rinse well and they are ready to go.
Also fresh udon noodles, they come in plastic bags and feel kind of cooked already, just drop into boiling water for 2-3 minutes, drain, and place into individual bowls.
Feel free to just use regular spaghetti though the top three options give it a move Asain feel!