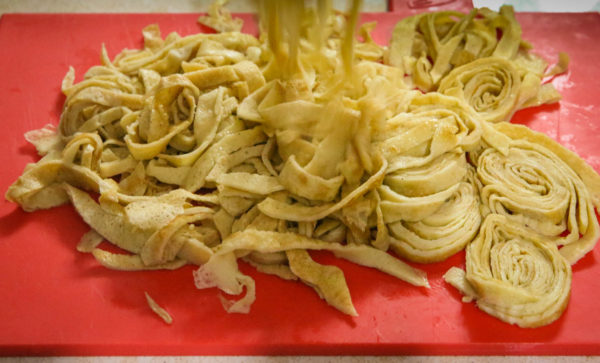 | | |
| --- | --- |
| | |
Whisk the eggs until fluffy. Add 1/2 cup potato starch, the water, salt and pepper and whisk well. It should resemble batter for an omelet. If the mixture is too liquidy add in another tablespoon potato starch at a time. If the mixture is too thick add in one tablespoon of water at a time. You should need more than 1 or 2 in either direction.

Heat up a large nonstick frying pan and spray with cooking oil. Right before ladling out more batter to fry always give the mixture a good stir as the potato starch will settle down at the bottom. Add a spoonful of batter to the pan, creating a very thin circle. Fry for 2-3 minutes until very yellow with a hint of gold and then flip to the other side. Fry for another 2-3 minutes and remove to a plate. Repeat until all the batter is done.

To create the noodles, take your stack of egg pancakes and roll into a log as tightly as possible. Starting at one end slice thin slices to create spaghetti-like pieces.

Use in soup, as a base for a stir fry or even top with cheese!