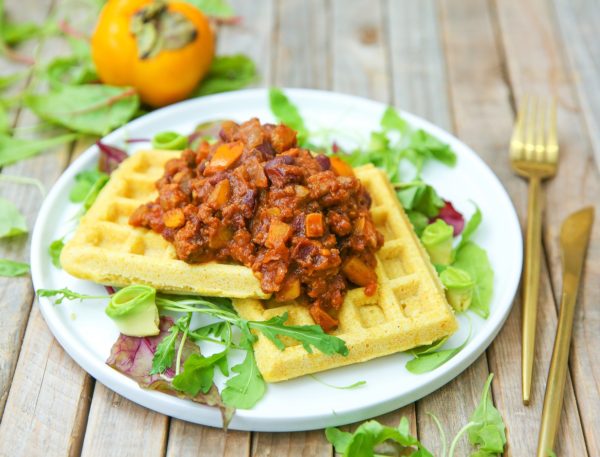 | | |
| --- | --- |
| | |
Heat up a large pan over a medium flame and add in the meat. Brown the meat and remove to a plate.

Add the onion into the pan and sauté until golden. Add in the garlic and sauté for 1 minute, just until fragrant. Add in the persimmon and mix in and stir for a few minutes just until they begin to soften. The more ripe your persimmons are the less time you need to sauté them.

Add in both cans of sauces, kidney beans, sugar, salt, cumin, garlic powder and chili powder and mix to combine. Start with a little less sugar and chili powder and adjust according to your preferences. Also some persimmons are sweeter then others so you might not need any sugar at all!

Bring the mixture to a simmer and lower the flame. Cook for 20-25 minutes.

Serve hot over cornbread waffles.