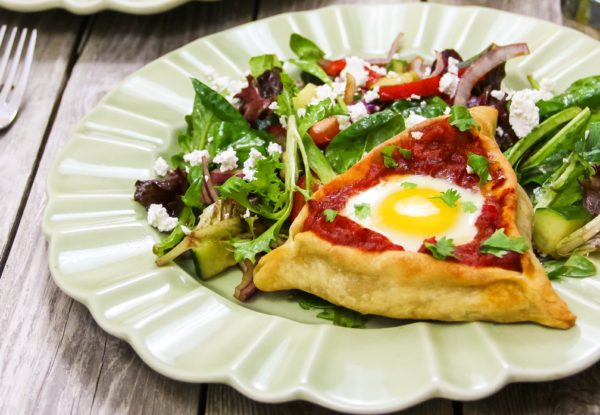 | | |
| --- | --- |
| | |
Preheat the oven to 400 F.

Combine smart balance and milk and heat in the microwave until butter is just melted.

In a large bowl, combine flour, salt, butter and milk.

Knead for a few minutes until it is smooth. Add extra flour if the dough is too sticky.

Wrap with plastic wrap and rest at room temperature for 30 minutes.

Cover your counter with flour, cut dough into 12-14 pieces and roll into balls. Cover the ones you aren't working with so that they don't dry out. Flatten each ball into a 1/4 inch thick rounds.

Place the rounds onto a baking sheet directly. Spoon your favorite shakshuka recipe in and close up like a regular hamantaschen, making sure to seal the edges really well.

Put into the oven and bake for 15-20 minutes, until the dough is starting to look golden and holding its shape.

Remove from the oven and lower the oven temperature to 300 F. Using a spoon take out some of the sauce from the center creating a well, reserving it for later. Crack an egg into each one. I find it easier to crack an egg into a cup and then slowly tilt out some of the white into a spare bowl and then pour the remaining yolk and little bit of white into the center of your hamantaschen, otherwise it will overflow.

Place back in the oven and bake until the yolk is set just the way you like it. Garnish with torn parsley.