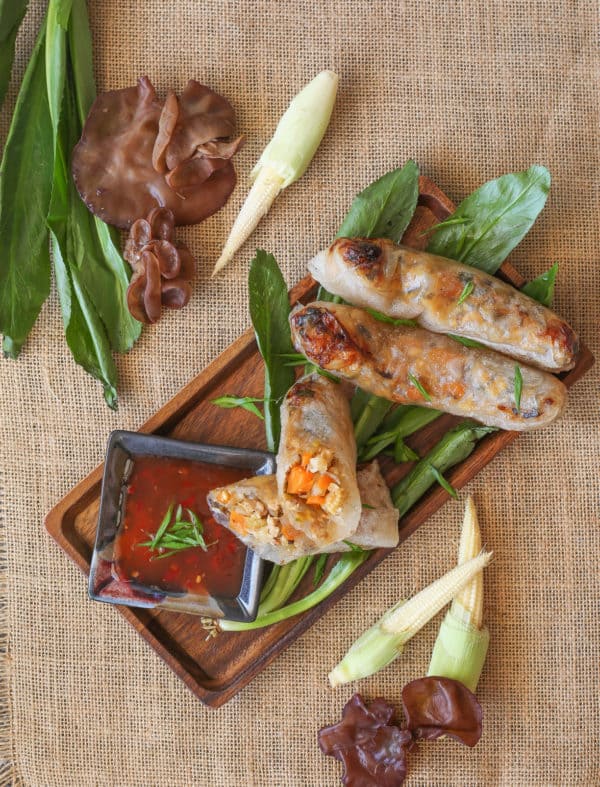 | | |
| --- | --- |
| | |
Place the glass noodles into a large bowl and cover with warm water. Make sure all the noodles are under water and stir to separate.

In a large wok heat up the oil over a medium high flame. Add in the garlic and sauté for 1 minute, just until fragrant. Add in the shallots and stir for another minute. Add the chicken and carrot and cook until the chicken is cooked through. Add in the mushrooms, corn, cabbage and bean sprouts and mix well. Ass in the fish sauce, mushroom sauce, sriracha and sugar and stir well. Add in the garlic chives, mix in and remove from heat. Allow to cool.
Place a square rice wrapper as a diamond on a flat surface and using your hand, rub water all over it until coated, but not too much, you do not want it to get too wet.

Take a small handful of glass noodles from the bowl and place in the corner closest to you, around 2-3 inches away from the corner, laying it horizontal and in a thin log. Scoop 2-3 tablespoon of filling on top of it.

Lift the corner closest to you over the filling, away from you, going until the filling has been covered. Place the corner down and using your hands skootch back the filling so there's no extra air. Roll it twice and then do the same thing with the sides, skootching the filling inwards so that its packed tightly inside the roll. Fold the sides over and finish rolling up the roll.

Heat up 2-3 inches of oil in your wok and add in the rolls once the oil is hot, making sure to not overcrowd the wok. Fry for around 1-2 minutes on each side, until slightly golden. Flip over and do the same.

Remove to a plate covered with a paper towel to drain and serve hot with sweet chili sauce.
Heat up a wok with 2-3 inches of oil. Once its hot, turn of the flame allow to cool for a minute. Add in the round rice wrapper and allow to harden for 1-2 minutes. Remove to a paper towel lined paper plate. If you add it in and it becomes white and shrivels up very quickly, the oil is too hot. Allow it to cool a bit more and try again.

To serve: Top your crunchy rice bowl with glass noodles, and the chicken filling and serve with sweet chili sauce on the side.
Try finding a parve fish sauce so that you can mix it with the chicken. If you cannot find one, then skip the chicken or replace with some soy/tofu crumble, but don't skip the fish sauce.
Watch the video below to see how to roll the spring roll properly!