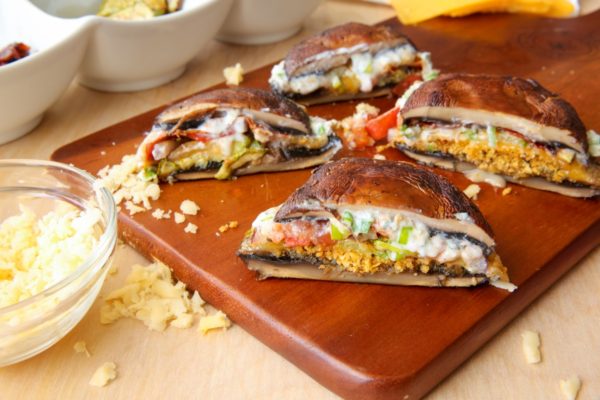 | | |
| --- | --- |
| | |
Preheat the oven to 400 F.

On a parchment lined baking sheet, place the mushrooms caps, gill side up. Spray with olive oil and sprinkle with salt and freshly cracked black pepper. Roast for 10 minutes. Meanwhile, mix the breadcrumbs with the olive oil and spices. After 10 minutes remove the mushroom caps from the oven. Drain the juices that have pooled in the center of the mushroom into a container and save— this makes amazing mushroom broth! If you have no need for the broth, keep it in the mushroom. Top 4 of the 8 mushroom caps with the breadcrumbs and return to the oven to bake for another 7-10 minutes, until breadcrumbs are golden.
At the same time, on another parchment lined baking sheet, lay down the tomatoes on half and the peppers on half. Drizzle both with olive oil and sprinkle the tomatoes with salt, pepper and garlic powder and the peppers with zatar, salt and pepper. Bake for 10-20 minutes, depending on your desired crispiness. Follow the instructions for zucchini rounds and bake them now too.
Mix the cream cheese, ricotta, scallions and oregano together and set aside.
Take 2 mushroom halves, one with breadcrumbs and one without. Slather the cream cheese mixture on the non-breaded half. Top the breaded half with a slice of cheddar, zucchini rounds, red onions, peppers, tomatoes and shredded goat gouda. Place the non-breaded mushroom half on top of the stack to close off the sandwich.

Spray a skillet with cooking spray and heat up over a medium flame. Gently place the sandwich in the pan and press down on the top half. Grill for 3-5 minutes on each side, until each side is golden and the cheese has started to melt.
You can use Kosher for Passover "breadcrumbs" to make this sandwich gluten-free and KFP!
Click here for the Zucchini Rounds recipe.