Since moving to Modiin I have constantly been seeing the Take-a-Meal for new moms pop up on my newsfeed.
I guess back in New York I did not know anyone having a baby, but here it is baby mania. When my friend had a baby, a couple hours after I saw the sign-up sheet, I went in to sign up and already the next three weeks were already booked. The first date available was when I was going to be in the US for my brother-in-law's Bar Mitzvah and I really wanted to bring them a meal.  I called up a friend that I noticed managed to get an earlier slot and asked if she could switch with me. Great, I was signed up to bring a meal in two weeks!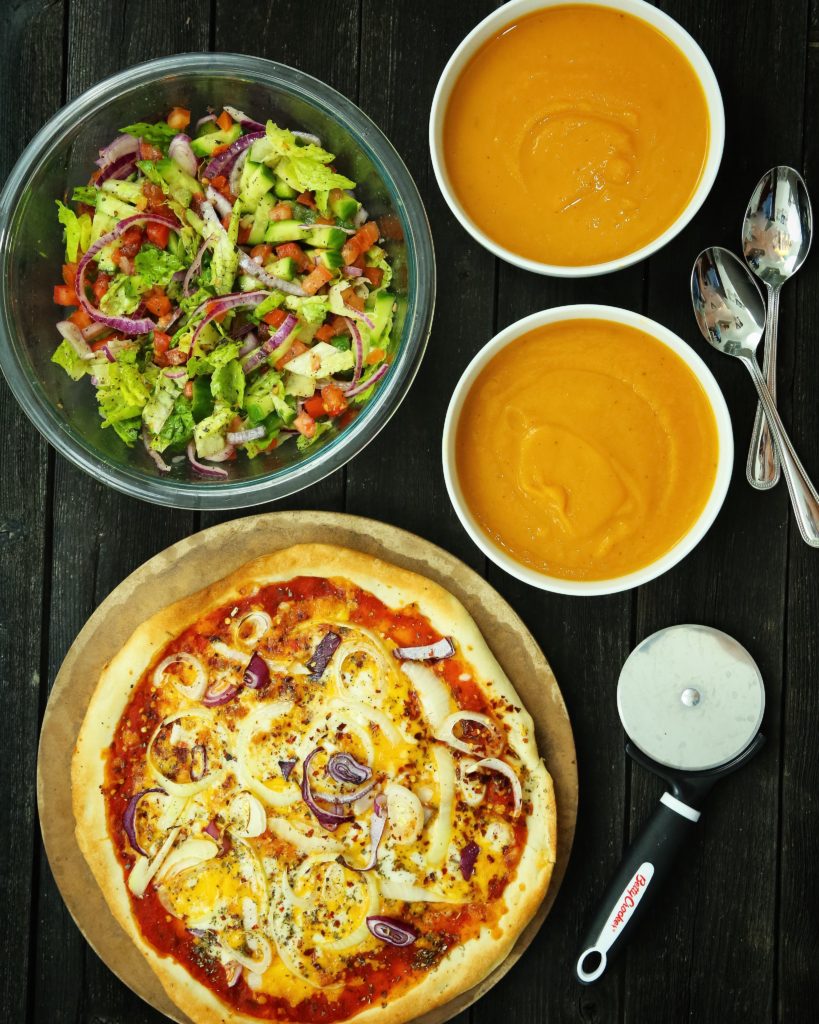 Two weeks later, my other friend gave birth and I had learned my lesson— I went into the Take-a-Meal page right away and decided to sign up for the same night as I was already bringing the other new mom a meal—two birds with one stone and all that. One of the couples was a vegetarian and I was making the same meal for both so I decided to go with my amazing homemade thin-crust pizza, greek salad, and butternut squash soup. Wanting to make their life as easy as possible, I went to the disposable store and bought everything disposable from pizza trays to dressing containers. This way not one thing that I had brought them would have to be washed or returned.
This was all happening the day before the soccer party I was planning for my husband so as you can imagine I was pretty busy. This is one of the many reasons why I am obsessed with my KitchenAide. I threw in my ingredients for my thin-crust pizza and it did all the work, no kneading for me. At the same time I chopped up all the salad ingredients to make three salads — I obviously was making the same dinner for us that night too — and mixed together the salad dressing. For the soup, I like to roast my veggies first before I add them to the soup, so all their natural sugars come out, so once they are fork-tender, I add them to the sautéed onions with some stock and the soup is basically done. All you do is let it come to a boil, simmer for 15 minutes and then blend it. A couple of hours later, a meal for three couples was done and delivered and I got to meet their precious new babies.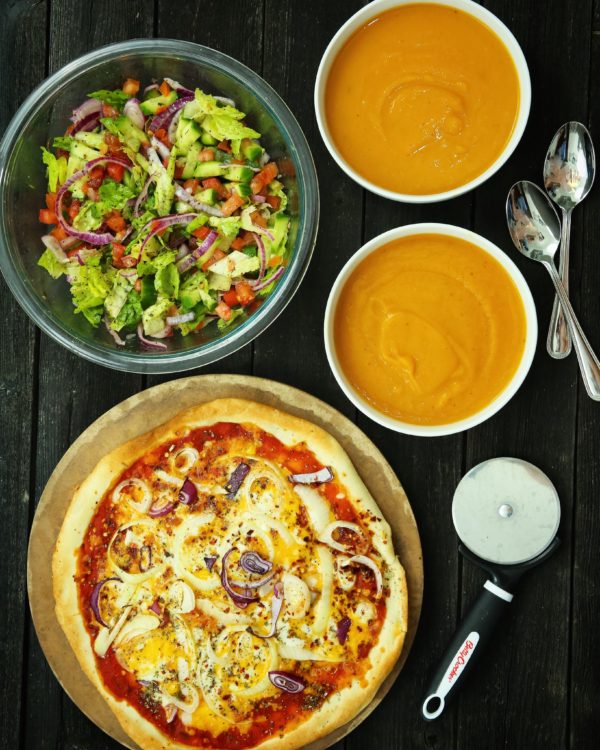 | | |
| --- | --- |
| | |
Instructions
Place a pizza stone inside your oven on the middle rack. Preheat the oven to 500 F.

In a bowl of a stand mixer, mix together the water, yeast and honey. Let that sit for 10 minutes. Prepare your sauce, cheese and toppings in the meantime. After 10 minutes, mix the flour and salt into the yeast mixture. Mix until the dough comes together in a ball around the dough hook, around 7-10 minutes with a KitchenAide. If the dough is still sticky, use 1 tbsp flour as needed until it becomes silky, you shouldn't need more then 1-2.

When ready to make the pizza, tear off 2 pieces of parchment paper around the size of your pizza stone.

Divide the dough in 2. Working with one piece of the dough at a time, form it into a large circle with your hands and lay it on the parchment paper. Using a roller, roll out the dough until it's around 1/4-1/8 inch thick. Constantly turn the parchment paper around so your rolling out the dough evenly. If your dough keeps shrinking, let it rest for 5 minutes and then continue rolling.The dough will stick to the parchment paper, making it easier for you to roll out.

Once the dough is as thin as you would like place the parchment paper with the dough onto the back of a baking sheet—your going to use this to transfer it to the pizza stone.

Spoon your sauce and spread it out. Top with cheese and toppings. For a classic pizza my favorite is sauce, mozzarella, cubes of cheddar, onions, sea salt, dried oregano, freshly ground black pepper and crushed red pepper flakes for heat.

Pull out the rack with the stone on it and slide your pizza (still on the parchment) onto the baking stone. If you don't have a baking stone, bake the pizza right on the baking sheet.

Bake for about 5 minutes and then rotate the pizza, removing the parchment from under the pizza as you do so.

Bake for another 3 to 5 minutes until the crust is golden-brown and the cheese has melted. Remove the pizza from oven and let it cool.

Repeat with shaping, topping, and baking the second pizza.
Recipe Notes
Use this dough for any kind of pizza. Try my pumpkin, goat cheese & sage pizza, sausage pizza, sweet potato, pear & gouda, or my mixed veggie one if your not into my unique ones!
The soup recipe is from The Silver Platter by Danielle Silver, though I like to wrap my butternut squash and sweet potatoes with foil, place on a foil-lined baking sheet (to catch any drips, and I promise there will be, I learned the hard way) and bake at 400 F for 40-60 minutes, until fork tender, before adding to the soup.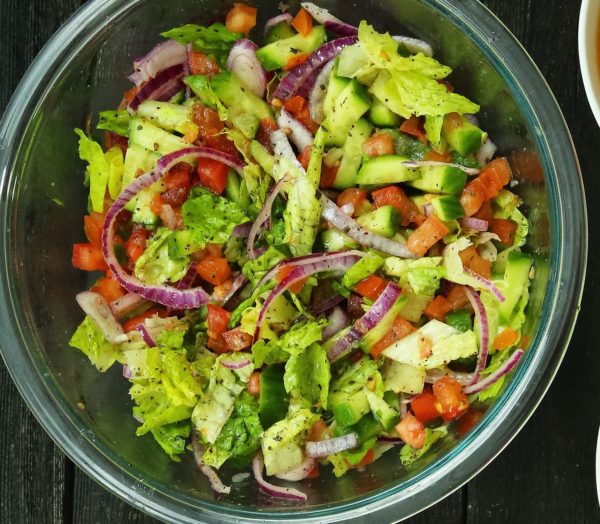 | | |
| --- | --- |
| | |
Instructions
Throw all the veggies together in a bowl.

Using your taste combine the dressing ingredients. It's best to start with a little and you can always add more. The vinegar to oil ratio is generally 1/3 but I tend to have more vinegar because I like its shard taste.

Once your satisfied with the dressing, pour over your salad, add the feta and mix.
Recipe Notes
This is not an exact recipe!