Back when I was in New York, I found kosher fish sauce and was so excited.
I had been waiting to make authentic Pad Thai for so long and it never seemed like a possibility since there was no kosher fish sauce. Enter Red boat, they came out with a kosher batch, I bought it, tried it and hated it. So not for me, sadly. After that disaster, I went back to my good old way of making Pad Thai, my inauthentic yet absolutely delicious way. I am constantly being surprised at how many Asian products I had such a hard time finding or finding Kosher back in the US, I find readily available here. I'm talking rice noodles, sauces, curry paste, dried hot peppers, lemongrass and so much more. And these aren't even at some special Asian market, these can all be found at all of my local supermarkets. Guys, if you love to cook Asian cuisines yourself, move here! But not if you like eating Asian out, the restaurants definitely have room to work on their Asian game. Now that I have so much more products than before, I am constantly tweaking and changing up all the recipes I had developed back in New York.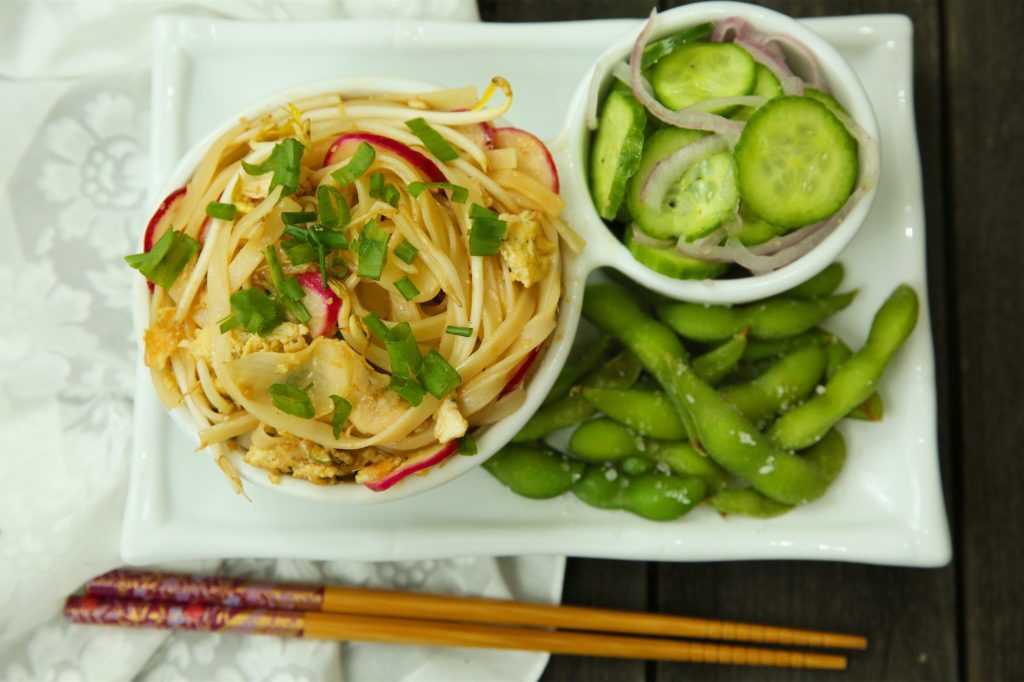 My friend Rachee was coming over tonight to help me with my blog and I had promised her dinner—that is my currency after all. I went to the fridge and looked at the possibilities that I could make within an hour and texted her chicken Pad Thai, shakshuka or tofu miso soup.
She texted back "Chicken Pad Thai! :)". Dinner was decided.
I pulled out all the ingredients I would need to make dinner and noticed some lemongrass in my fridge and thought that would be a great addition to my sauce, and I was definitely right! I made the sauce before I did anything else and added in the bruised lemongrass so it had time to omit its flavor. I then went on to prepare everything else giving the lemongrass its time to work its magic. I even kept it in when I added sauce to the pan and let it heat up with everything else. Pad Thai is really a meal in one but you know me, I wasn't satisfied with just that, plus I was having company. It is very carb heavy so I went with a refreshing cucumber salad and salted edamame, you can't get more simple than that!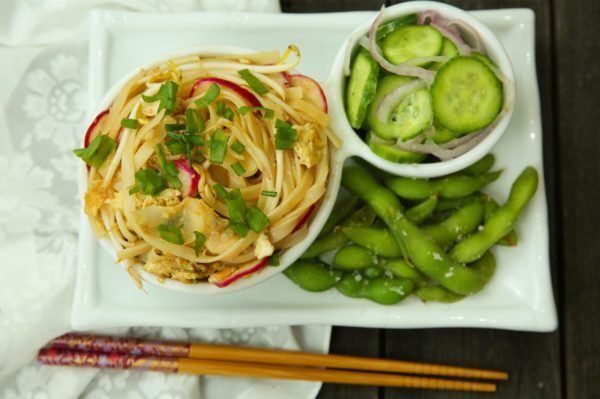 | | |
| --- | --- |
| | |
Instructions
Cook noodles according to package. Drain

Season the chicken with salt and freshly cracked black pepper and cook the chicken according to The Kitchn method for cooking perfect chicken breast

Whisk together all sauce ingredients and set aside.

In a large nonstick skillet, heat olive oil over medium-high heat. Add onions and sauté until golden. Add in scallion whites, garlic and ginger, stirring constantly, until fragrant, about 30 seconds. Add eggs, scraping up the eggs to break it up.

Dice up the chicken, add into the pan and cook for 2 minutes.

Add the noodles and scallions green.

Add the sauce and toss to coat the noodles.

Add the bean sprouts and radishes, cook for 2 minutes and serve hot.