Basbousa is a native Egyptian and traditional Middle Eastern sweet cake made from semolina flour. It usually is dairy, has coconut and topped with a deliciously sweet syrup containing orange flower water or rose water. I made this version parve but feel free to substitute the soy sour cream, fake butter nad coconut milk for the real stuff!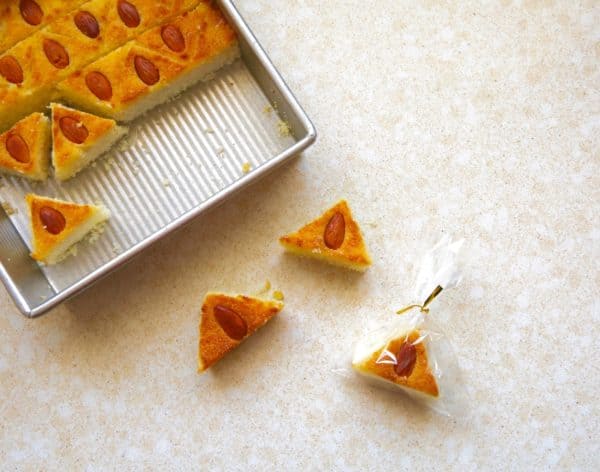 | | |
| --- | --- |
| | |
Preheat the oven to 350 F.

In a large mixing bowl, mix together the flour, sugar, coconut and baking powder. Add in the sour cream, melted butter, coconut milk and vanilla extract and mix to incorporate. The batter should be very thick and not liquidy at all.

Pour the batter into a greased baking dish around 9x9, you don't want it to be more then 1 inch thick.

Using a knife cut a design into the top of the cake, it will hold as the batter is thick (see image for reference). If you're making it for Purim, cut lines for triangles that you will later cut out into hamantaschen. If making in general then cut any design you would like, diamond is most common but squares/rectangles work too.

Press an almond, or any of your favorite nuts into each square, diamond, triangle.

While the cake is baking, make your syrup. In a small sauce pan, add in all the ingredients and heat over medium flame until the sugar is dissolved and the syrup is thick and clear.

When the cake is done, turn your broiler on and broil for 2-4 minutes until golden, make sure not to burn it!

Remove the cake from oven and pour the syrup to cover the whole top. Cover the cake and let it cool, allowing the syrup to be absorbed. Using the lines you created, cut out pieces, and enjoy!