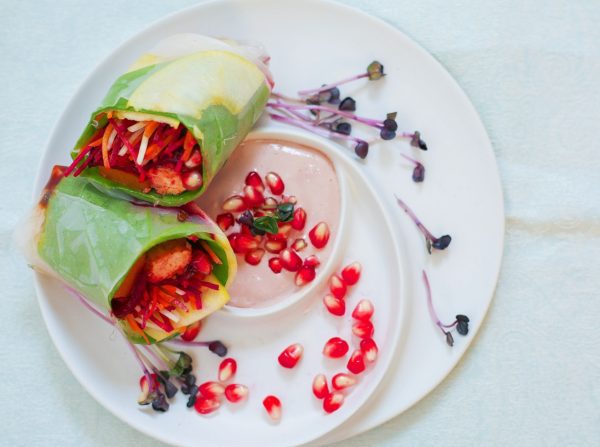 | | |
| --- | --- |
| | |
Preheat the oven to 400 F.

Place the butternut  squash onto a parchment lined baking sheet. Drizzle with olive oil, salt, pepper, allspice and maple syrup to taste. Toss to coat. Bake for 40 minutes or until tender.

Wash the beets well and pat dry. Wrap them in aluminum foil and bake for 40 minutes or until can easily be pierced with a fork. Remove from oven and once cool, peel. Using a mandoline, thinly slice the beets into rounds.

Thinly slice the salmon fillet into thin strips, like matchsticks. Place onto a parchment-lined baking sheet and baste the fish with the pomegranate bbq sauce liberally. Bake for 15-18 minutes, until flaky.

Its time to assemble the summer rolls!

For each wrapper, immerse it in the water until it softens, which takes around 1 minute. Watch for it to begin curling. Use both hands to pull it up out of the water, holding it over for a few seconds to drain. Spread it immediately on a rimless plate, making sure there are no folds.

Place the spinach leaf at the lower center of the softened wrapper with the pointy part furthest from you. Add on top some of the salmon, butternut squash, beets, apple, shredded carrots and pomegranate seeds. To roll up your wrap, first fold the two sides in and starting from the bottom roll until it's closed and tight, using a tuck and roll method.

Place each roll as you finish it on a cookie sheet lined with parchment paper and cover with a damp towel.

Continue to do the above steps until you have run out of vegetables or wrappers.

To serve, slice in half on a diagonal with a sharp knife place and serve with beet sprouts and the pomegranate tahini dipping sauce.