When beautiful strawberries — your absolute favorite fruit — are just 99¢ a box in the winter, you just have to buy three boxes!
You might remember from all the way back in October that my sister's favorite dessert is strawberry shortcake so when I asked her what I should make with all my strawberries she, of course, said strawberry shortcake without any hesitation. Since it's almost Purim and I have been on a foodie mission to make creative hamantaschen, I thought why not a strawberry shortcake hamantaschen! I was a little skeptical about how it would turn out because shortcake dough is very sticky and hard to mold, but I figured I would give it a try and worst case scenario I'd have a messy all be delicious cake on my hands, poor me.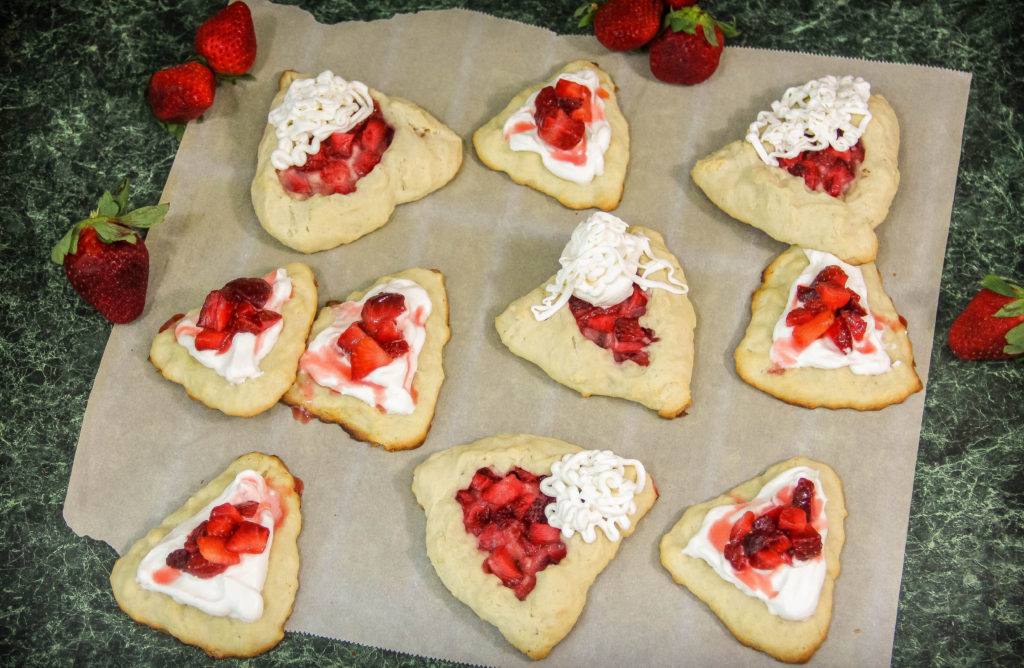 I first tried just shaping the dough into individual triangles (to add the strawberry filling after baking), and even though it was very sticky, it kept its form! Since that worked out, I figured I should also try making the classic hamantaschen shape with the filling baked in so I shaped out individual circles spooned a little of the strawberries in the middle and folded it over carefully just as you normally would. Popped them into the oven and topped with whipped cream right when they came out for the full effect! So here's my recipe for two-way strawberry shortcake hamantaschen! I kept it dairy-free but you can easily substitute for dairy products.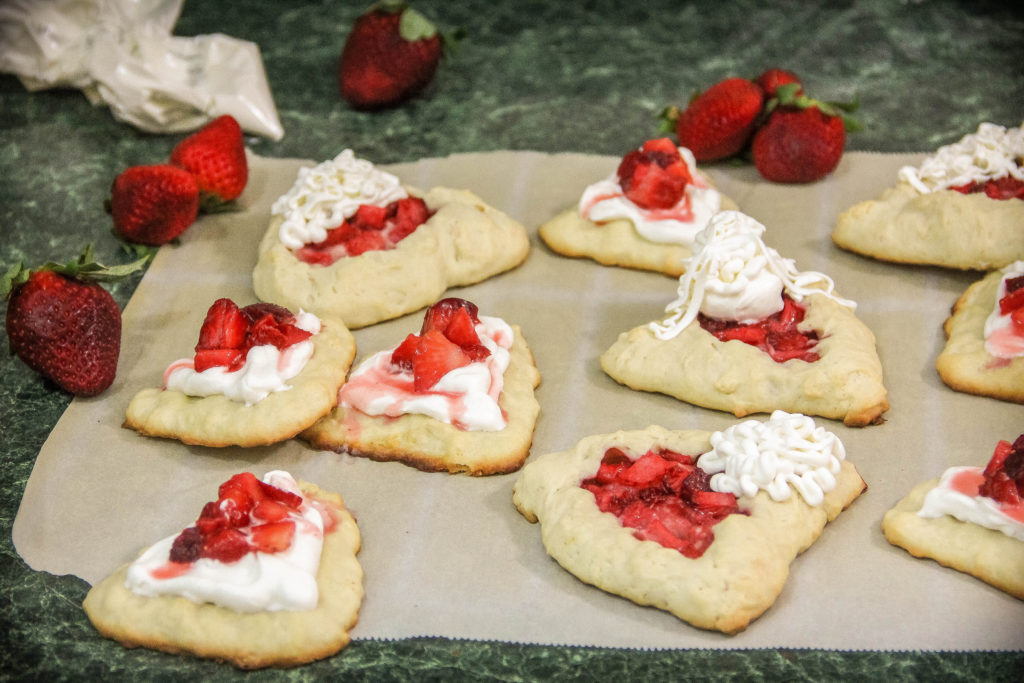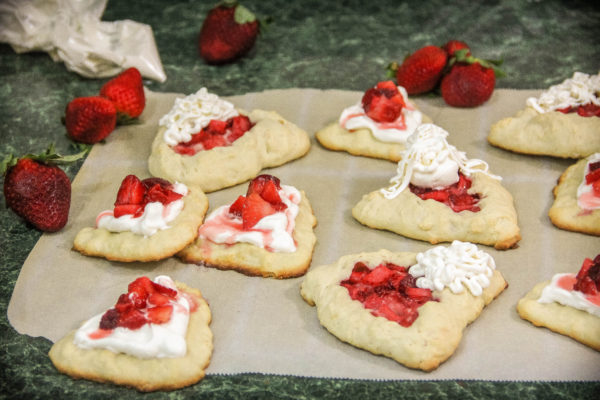 Instructions
Toss the strawberries with the sugar and lemon in a small bowl and adjust to taste. Refrigerate while juices develop, at least 30 minutes.

Preheat the oven to 400 F. Prepare a baking sheet with parchment paper and spray with cooking spray.

Mix together 2 1/4 cup flour, sugar, baking powder and salt in a medium bowl. Cut in the butter/margarine until the mixture resembles coarse crumbs. Make a well in the center and add the beaten egg and milk. Stir until just combined. Only if it's really too liquidy, add up to another 1/4 cup flour, it should look more like a batter then a dough. It will not come together in a ball like regular hamantaschen dough, so DO NOT try adding flour until it does.

To make triangles shape: Spoon around one 2 tablespoon of batter into the parchment paper at a time and using your hands shape into a triangle shape. Your hands will get dirty but the batter will relatively not stick to you.

To make the filled hamantaschen: spoon around 3 tablespoons of the batter on the parchment paper and form a 1/4 inch thick circle. Spoon a teaspoon of the strawberries into the middle and lift the edges over the filling to form a classic hamantaschen shape. It won't have crease lines like regular ones do , it will meld together.

Once you have shaped all your batter as you would like, place into the oven and bake until golden, 12-15 minutes. Remove shortcake from oven and transfer to a rack to cool slightly.

While the shortcakes are baking make the whipped cream. Using a mixer, beat the heavy cream, sugar, vanilla, and lemon zest until soft peaks form.

When you are ready to serve, spoon some whipped cream and shape into a triangle onto the plain triangle shortcakes and top with the strawberries and their juices. For the filled ones just pipe some whipped cream on top and serve some more of the fresh strawberries on the side.

This can be made in advance, just store the whipped cream, strawberries and shortcakes separately in the fridge. When you are ready to serve warm up the shortcakes at 200 F for a few minutes and assemble right before serving.