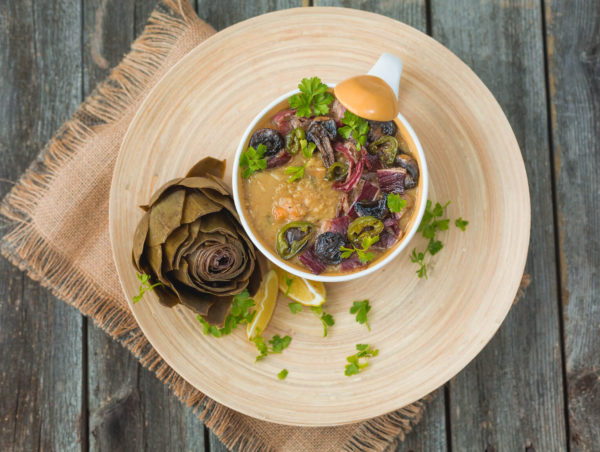 | | |
| --- | --- |
| | |
Heat up the oil in a large stockpot over a medium-high flame. Add in the onions, sprinkle with some kosher salt to draw out the moisture and sauté until golden and translucent. Add in the garlic and sauté for 30 seconds to a minute, just until fragrant. Add the carrots and sauté for 5-7 minutes until beginning to soften. Stir in the spices and allow to toast for a minute.

Add in all the lentils, broth and water, cover the pot and bring to a boil.

Lower the flame and allow the soup to simmer for 30-40 minutes.

If you want to thicken the soup up even more simmer uncovered for an additional 10 minutes.
While the soup is cooking, sauté the mushrooms in a frying pan with a little olive oil. Add in the jalapenos and facon and sauté until the meat is cooked making sure not to burn it, around 10 minutes over a low flame. You want the facon to still be tender and not too crispy.

Stir in the agave and let caramelize for a minute or to and shut the flame.

If not serving right away, reheat over a low flame when ready to serve the soup.
Ladle the soup into bowls and top with the sautéed facon and mushrooms. Add some fresh parsley and serve each soup with an artichoke on the side.
Artichoke recipe can be found here, but  skip the poached egg instruction.