After planning an Asian themed dinner for an upcoming client, I got really in the mood for one of the main dishes: Asain bowl!
It basically a base broth, topped with whatever your heart desires! I went for vegetables in my fridge, a soy sauce-marinated six-minute egg, shirataki noodles and perfectly cooked steak for a perfect dinner-in-a-bowl! How did I get a perfectly cooked steak? I finally tried out my new sous vide! And I'm totally sold on it by the way. This steak came out so perfectly cooked and delicious, it was unbelievable, it literally cut like butter. The true test for the sous vide will come when I try it out on chicken breast, so check back later for that! But if it was anything like tonight, it'll definitely be perfection.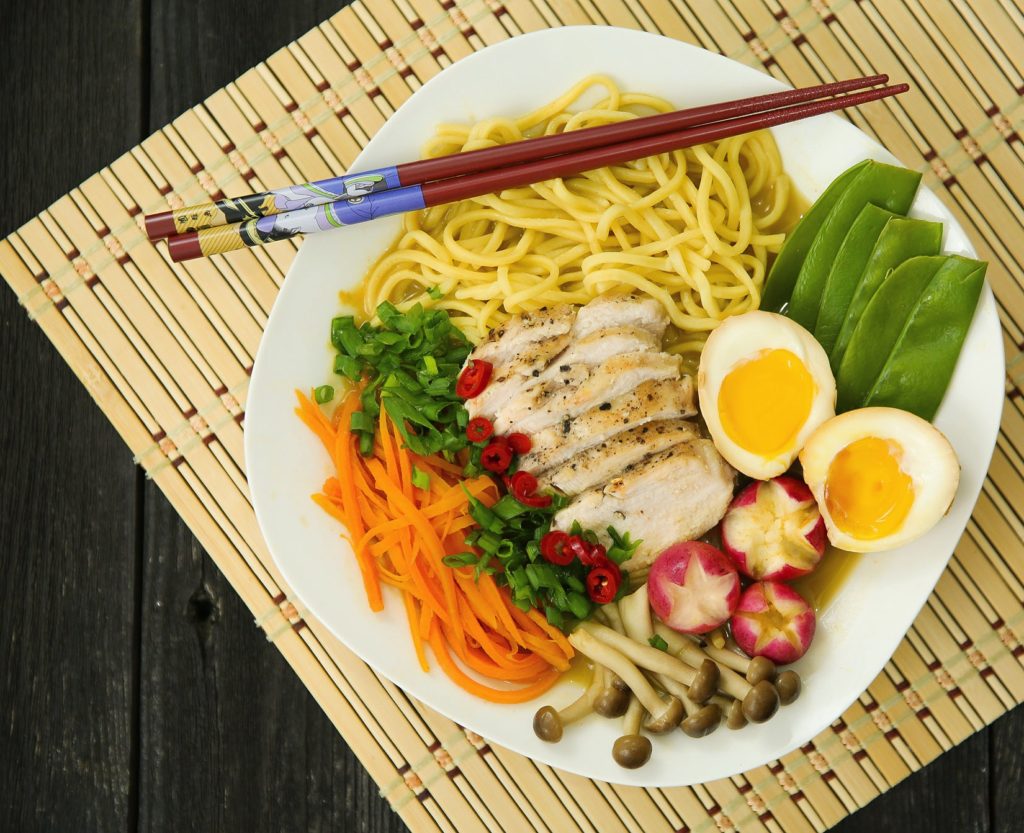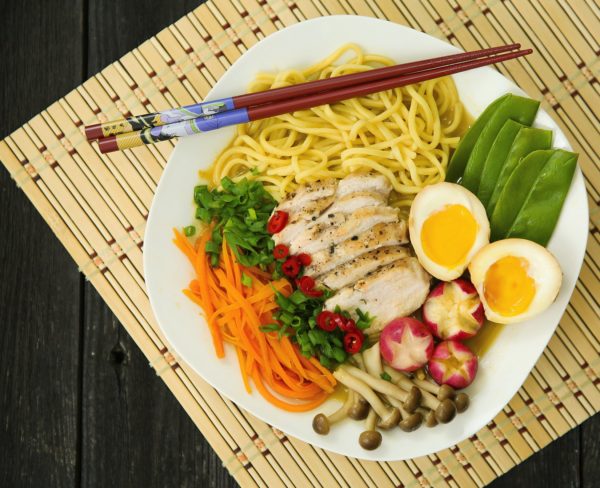 | | |
| --- | --- |
| | |
Place stock, water, ginger, onion, garlic, jalapeño, lemongrass, soy sauce, rice vinegar, mirin, salt, pepper and the curry paste if adding, in a pot and bring to a boil. Most people simmer their broths for 20-25 minutes but I like really strong flavored broths so I simmer mine for 40 minutes to really let the aromatics do their thing.

Remove the aromatics (ginger, garlic, jalapeno, and lemongrass) from the broth. Discard everything else.

Now is when you can really have fun with your bowl. Choose any vegetables you would like. I have choose, shredded carrots, snow peas, radishes, zucchini noodles, enoki mushrooms, bok choy, chili peppers and scallions. Theirs no limit to what you choose, you can do any kind of mushrooms, kale, radishes, carrots, peppers, you get the point.

Using a large mesh spoon, lower each veggie into the broth and cook to your desired tenderness and remove to a plate. I like most veggies pretty soft but a few things like radishes and carrots I like with a bite, so cook to your desired tenderness.

Now it's time to build your bowl. Choose a noodle. I used shiratake (tofu noodles) this time as it's literally no fuss, open the package, drain and it's ready, but I have used rice noodles, regular spaghetti, ramen noodles, udon etc. Prepare whichever you choose according to package directions.

Fill your bowl with the noodles and vegetables of your choice, ladle in the broth and top with a meat of your choice (I made sous vide boneless rib eye) and the soy sauce egg. To keep it vegan skip the egg and meat!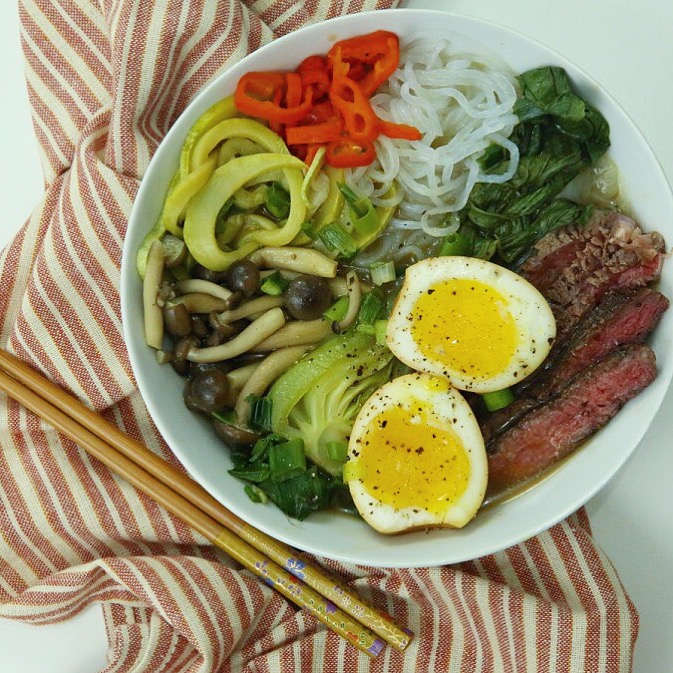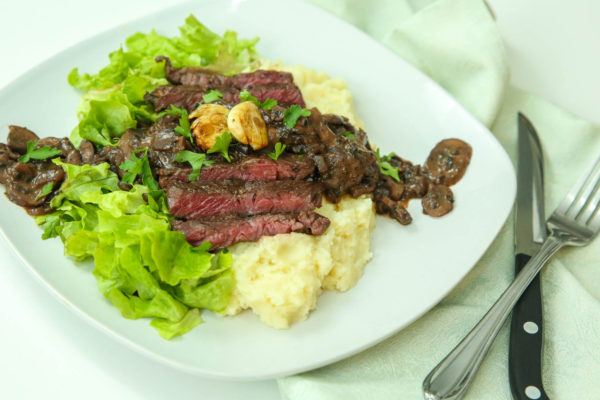 | | |
| --- | --- |
| | |
Sprinkle steak liberally with salt and pepper onto both sides, except if you are using a skirt steak. If yes, only sprinkle pepper as they are very salty.

Set up your immersion circulator (such as Anova, Joule, etc.) in a pot of water and follow the steps listed on the app. It will tell you what tempurtaure and how long to cook the steak, depending on the cut, weight, size of your meat and how cooked you want it. I reccommend medium-rare!

Place your steak into a gallon size freezer ziplock and add rosemary springs on each side of the steak and seal all but one corner of the bag. Slowly lower it into the water bath, until you reach the zip-line. You will see all the air being forced out of the pouch. Seal the rest of the bag. Make sure the meat is completely underwater and then fold the bag over the side of the pot and clip in place. I like to seal the food before the water has heated up, becuase then you can still palce your hands in the water to make sure the meat is comeplety immersed.

Once the amount of time your immersion circulator has reccommeneded is up, remove the steak from the bag and place onto paper towels. Blot both sides well, you want it to be as dry as possible. Season with a little bit more slat and pepper on both sides.

Heat up a cast iron grill pan until it is screaming hot. Your hand should not be able to be above it for more then a second. Pour in a little canola oil, or any oil with a high smoke point. Place the meat onto the hot pan and press down with tongs, but do not move the steak! Count to 30 and then flip over and repeat until you have a nice sear (crust) on both sides.

That's it! Cut your steak and see the difference! You will never want a steak that hasn't been sous vide again!
Instructions
Whisk the marinade together and set aside.

Bring to a boil a pot of water. Have a timer set to 6 minutes. Once it's boiling lower to a simmer and gently place all 6 eggs in and immediately start your timer. For the first 2 minutes, stir the water so that the yolks will set in the middle of the egg whites.

When the timer is done, immediately drain the pot and rinse the eggs under cold water.

After 2-3 minutes when the eggs have completely cooled, peel them gently.

Place into the soy sauce marinade and refrigerate for at least an hour up or to a week.

Slice open when ready to eat, top with maldon salt and freshly cracked black pepper and enjoy!