It's about time for an impromptu blog post!
With my trip to Thailand in only a few days, my clean-the-fridge menus are underway and I'm really pleased with how they've turned out so far. Using up everything I have is a great feeling. So often we forget what we have in our fridge and end up with so much waste — I know I've been guilty of that on more than one occasion. Taking everything out of the fridge, staring at it, and sorting it into piles helped me come up with 6 different dinners, using only ingredients I already had at home. The only thing I needed to buy were the proteins for two of them since I don't keep a stock of fish and tofu in my freezer.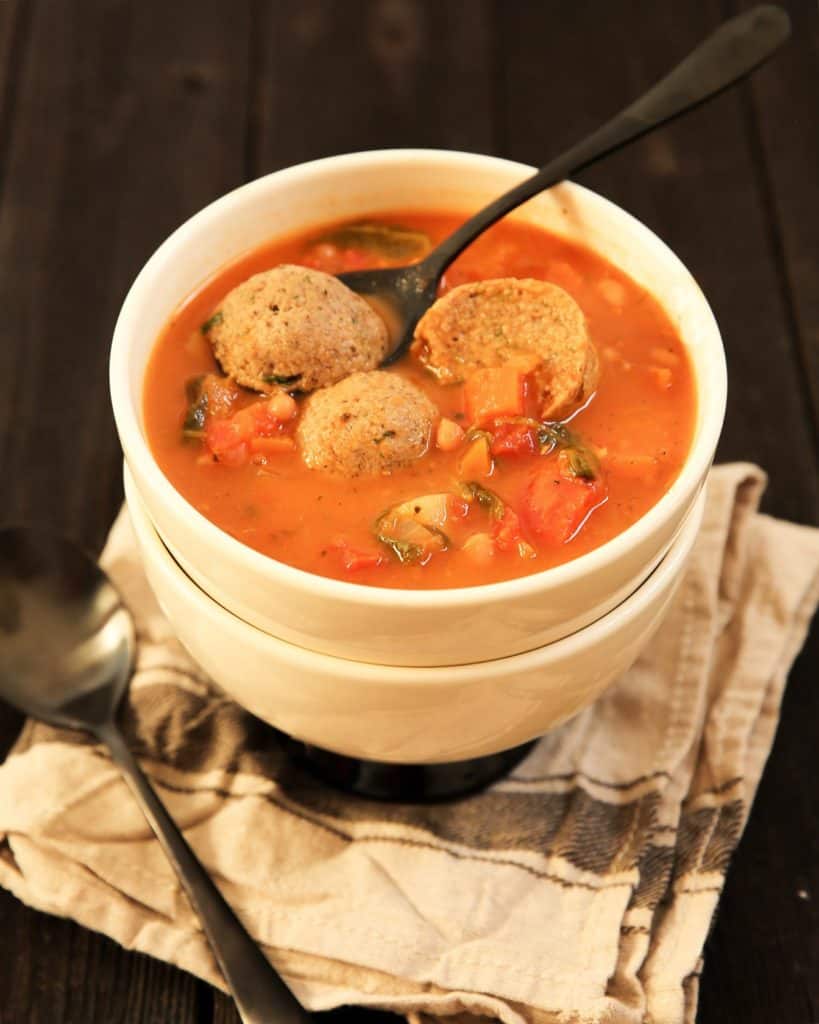 With the beginning of the seasonal change in weather underway — I am so ready for tights and boots already, come on! — I really felt like having soup. I originally had one penciled in for Friday night, but after getting invited out for that meal I decided I couldn't wait any longer. The ingredients that I had on hand screamed minestrone soup, so there was no question where this meal was headed. Every time I've made minestrone soup before I feel like I did something different, so this time I actually put the effort into writing it down so I could share with you! I figured it was a perfect blog post since there hasn't been one of those in awhile. This soup is perfect for warming up your bones, especially if you're out in freezing NY (or so I hear from my lucky sister).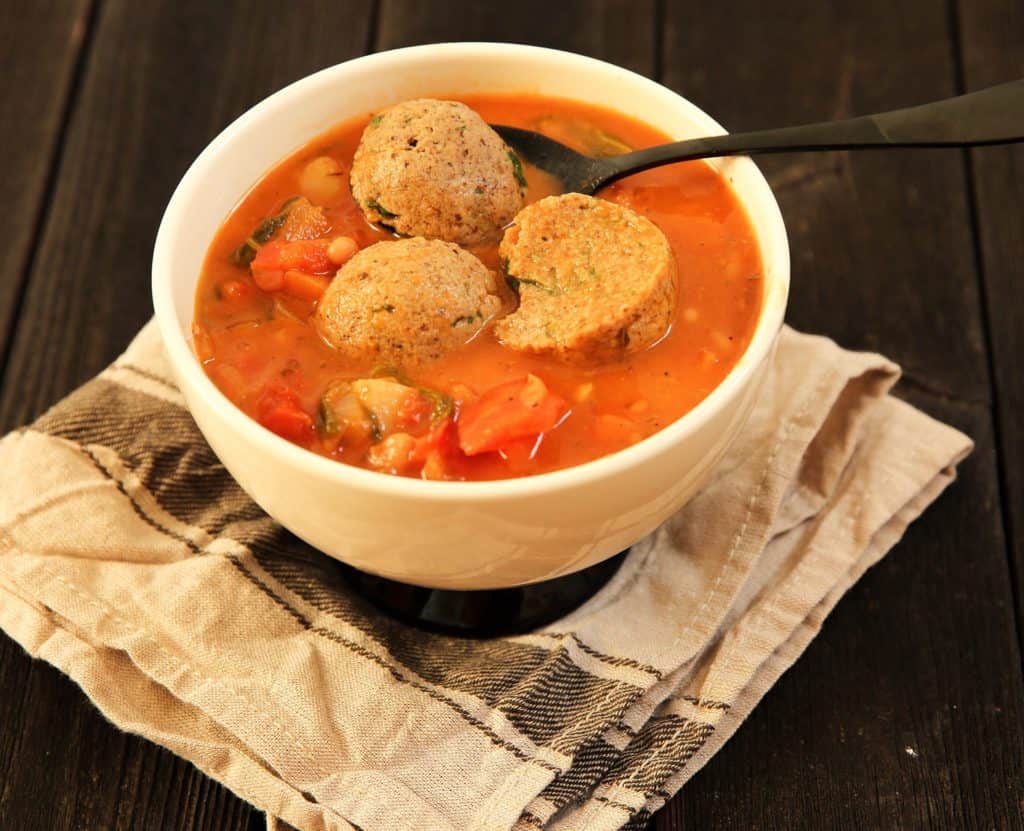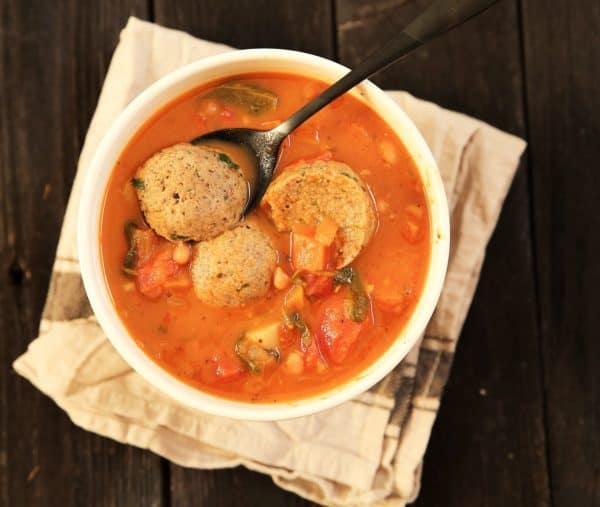 | | |
| --- | --- |
| | |
Instructions
In a large stock pot heat up the oil over a medium flame. Add in the onions and sauté until golden, around 5 minutes. Add in the garlic and sauté for 1-2 minutes, just until fragrant.

Add in the carrots and potatoes and sauté for 10-15 minutes until they begin to soften. Add in the tomato paste and mix to coat everything. Allow to caramelize, around 2-3 minutes.

Add in both kinds of tomatoes, beans, broth, water and all spices. Mix everything, cover and bring to a boil. Once boiling, reduce the flame and simmer for 30 minutes or until vegetables are to your desired tenderness.

Add in the spinach and simmer for another 5 minutes or until serving. Tatse and adjust seasoning.

Ladle into bowls with spinach matzo balls or classic Minestrone noodles or orzo.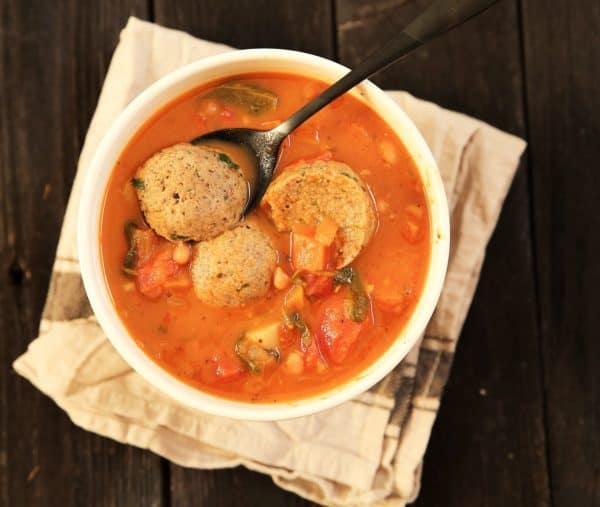 | | |
| --- | --- |
| | |
Instructions
Whisk the eggs together in a bowl. Add in the melted margarine/butter.

In a separate bowl whisk together the matzo meal, baking powder, salt, onion, garlic, and pepper.

Slowly mix the dried ingredients into the egg batter, making sure to not over mix the batter. If your batter is too crumbly add in the 1/4 water as needed, to achieve a thick batter.

Add in the spinach and mix.

Cover the bowl with saran wrap and place in the refrigerator for 30-60 minutes.

Bring a pot of water seasoned with salt and pepper to a boil. You want a wide pot for this, rather then really deep, so you can cook as many as you can at once .

Remove the matzo mixture from the fridge. Using your hands form into small golf- sized balls.

Place the matzo balls into the pot, making sure not to overcrowd them. Cover the pot and let cook for 20-30 minutes without lifting the lid!